LeBron James' Rigorous Workout Routine And Clean Diet Fuel His Immaculate Performances
LeBron James remains consistent with his diet, workout, and sleep to stay in top shape.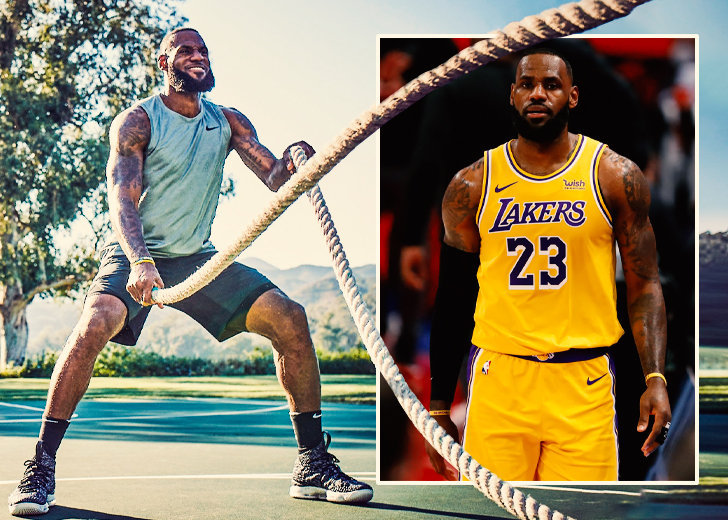 LeBron James is one of the world's best athletes. With four National Basketball Association (NBA) championships and four Most Valuable Player (MVP) Awards to his name, he is widely regarded as one of the best players to have ever played basketball.
Having joined the NBA in 2003, James has dominated the sport for over fifteen years. And at 36, he is still in as good a shape as he was in his prime.
To deliver the performance expected of a star player like him, James goes the extra mile to ensure that his body can keep up.
From diet and exercise, to how he deals with injuries and recovery, the Lakers' shooting guard is immaculate about taking care of his body.
James Takes Care of His Body Religiously
Aside from being one of the most gifted players physically, James also has a basketball IQ that's off the charts. But those aren't the only reasons he has been so successful - what sets him apart from others is his longevity.
Despite having spent a fair time on the court, James's performance has always been remarkably consistent. And the secret to his consistency is the way he takes care of himself.
On top of his strict work ethic, he is also willing to spend on his health and fitness. A 2016 report estimated that James spent $1.5 million on his body every year.
The NBA star's house is equipped with a gym, ice tub, and hot tub, as well as a hyperbaric chamber. He also has a team dedicated to helping him stay in top shape. The team comprises a recovery coach, trainers, biochemists, personal chefs, masseuses, and nutritionists.
NBA player Kevin Durant, after working out with James, said that the latter took care of his body exceedingly well.
He knows that in order for him to play that long, his body has to be up. He has to keep that in shape. Like, he works on his body, like, religiously.
Diet & Workout
When speaking to GQ, Mike Mancias, James's longtime trainer, shared the four-time NBA MVP's diet.
James eats about five times a day: a traditional breakfast with turkey bacon or turkey sausage, lunch, and dinner with a couple of snacks placed between those meals.
The snacks primarily comprise dehydrated fruits with mixed nuts and a protein shake.
Mancias also revealed that James's diet wasn't always this way, and that they had adjusted many things to fit him better. For example, the star stays away from red meat and pork now.
But while James's nutritionist and chef prepare a well-planned diet for him, he doesn't shy away from indulging a little now and then.
He is a wine aficionado and often has a chocolate chip cookie to break from his usual diet.
As for his workout, James shared his workout routine during quarantine on Instagram. The routine included three sets of every exercise listed below:
Kneeling cable push/pull 8 each side
10 pushups
ball crunch with squeeze
3 point renegade row (8 each)
10 Kneeling cable reverse fly
10 Lateral band walks
8 Standing barbell curls

LeBron James's workout routine (Image: James's Instagram)
The routine also had six rounds of 30 seconds sprint and three rounds of 30 seconds 1 leg mat balance.
Aside from diet and workout, James has stressed the importance of sleep. In an episode of the podcast The Tim Ferriss Show, the NBA star explained that the best recovery was to get eight and, if possible, nine hours of sleep every day.