Stevie Nicks Has Never Been a Witch but Always Been Fascinated by Them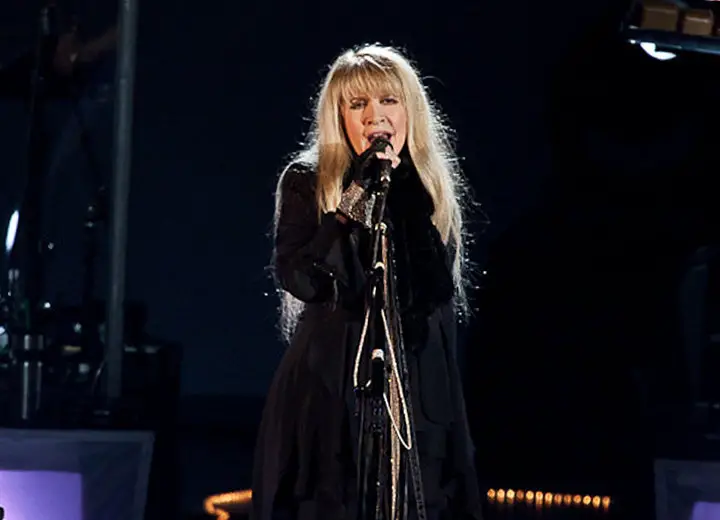 Stevie Nicks is famous for her music and her outfits. The legendary rocker is as well known for her dark witch-like outfits as she is for her time with Fleetwood Mac.
Nicks has always liked witches. The obsession that began early in her childhood has carried over to her adulthood and has influenced almost everything she has ever done.
But, as is the case with everything turned up to 11, so to speak, her tendency to take inspiration from the mystical and the unusual has had its effects on her. It has long been asked if Nicks is a witch.
It is not as easy a question to answer as it looks at first glance.
Is Stevie Nicks a Witch?
The straight answer to that would be no, Nicks is not a witch. But looking at her career and the things she has done over the years, she might as well be one.
What she did for Fleetwood Mac is nothing short of magic, or rather, witchcraft.
She had been a part of the band for a while, but she had not been given the recognition she deserved within the band, at least initially. The outside world, however, saw her as the main attraction of the band.
Her songs 'Rhiannon' and 'Dreams,' for which she took inspiration from the mysterious, effectively turned Fleetwood Mac, a decent-selling band, into what it is today, one of the greatest bands in rock history. 
The release of 'Rhiannon,' especially, had such an influence on the band's fan following that it brought in a new group of fans to the band. A group that was, as The Ringer put it, "decidedly female and casually witchy." And now we come to her outfits.

Stevie Nicks in her witch-like outfit during a concert. (Photo: Stevie Nicks/Instagram)
Nicks has always sported black, a color she leans heavily on. Her outfits are mostly black, with jewelry and other accessories complimenting her mystical look.
Her fascination with witch-like outfits began in grade school. Nicks once dressed up as a witch for three consecutive Halloweens. "I had a definite knowledge of how I should look—even then," she said in her biography (via The Ringer).
She even used to think of her as a one and felt off when she was not in her outfit, which she called her "uniform."
These looks have become a staple within the Fleetwood Mac fanbase, as fans, especially females, regularly turned up (and still do) for their concerts fashioning similar looks.
Along with her looks and her musical influence, another thing Nicks is known for now that makes her a cultural icon and an idol for many is her embracing of everything weird and hyper-femme. Her inspiration for her witchy songs (which she has a few of), her devotion to her looks, and her strength in standing straight when misunderstood have become ideas many of this generation embrace.
Her songs like 'Rhiannon,' 'Gold Dust Woman,' and 'Sisters Of The Moon,' are her witchiest and loved by many even today.
All this to say that while Nicks might not be a literal witch, mysticism has always been a part of her life, belief system, and creative process, and she is definitely a figurative witch.
Stevie Nicks's Outfits and How She Almost Gave up on Them Once
"Twenty years ago I sat down and decided that I would create a really wonderful image, an unforgettable image. And now I'm kind of stuck with it," Nicks once said in a 1997 interview (via Rocks Off Mag).
She developed and perfected ideas for her witch-like outfits after a visit to a boutique store called the velvet Underground in San Francisco, California. The singer narrates this story in her 1982 song 'Gypsy.'
However, as her fame grew, so did her criticisms. In the late 70s, Nicks started receiving threats from people who believed she was practicing witchcraft because she dressed like one.
"In the beginning of my career, the whole idea that some wacky, creepy people were writing, 'You're a witch, you're a witch!' was so arresting," she confessed to the Los Angeles Times in 2014.
She was so put off by the accusations and the unwanted attention that she gave up on black for about a year, instead opting for colors like apricot and sea foam green. But, she did not feel right giving up her favorite look for people she termed "freaks."
So, she went back to wearing black, making a statement about not backing down in the process. She has held that attitude ever since.
In 2014, Nicks portrayed a "white witch" with supernatural powers on American Horror Story: Coven, the show's third season. This is probably why questions like 'Is Stevie Nicks a white witch?' exist.
She thought she should not pass on the opportunity just because of the comments she got three decades prior. So, not only did she portray a fictional version of herself, but she also sang 'Rhiannon,' and a couple of other songs on the show.
Nicks is still performing and still influencing and inspiring a new generation with her music and her confidence in donning something that is still somewhat culturally frowned upon.