Stevie Nicks's Relationship with Joe Walsh Ended as Quickly as It Began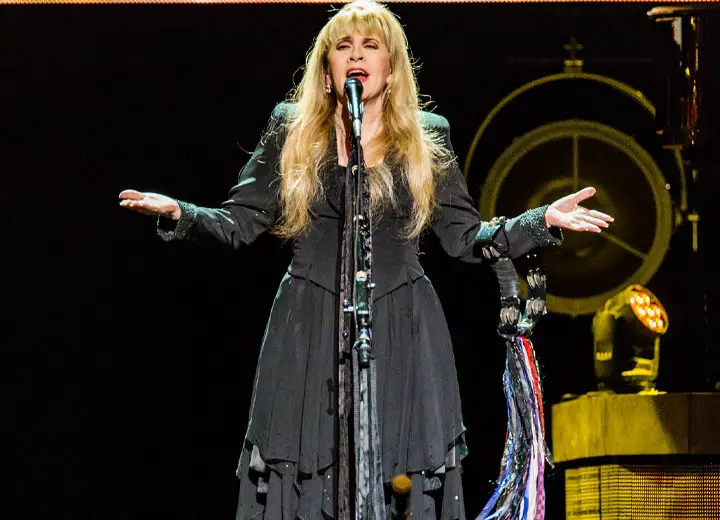 Stevie Nicks, a rock and roll legend, has always put her career before anything else. And that 'anything else' includes children, husbands, and boyfriends.
The singer-songwriter even married, although briefly, but she refuses even to count that as anything significant. She terms the marriage "an odd episode."
However, it is not the case that the singer has never fallen in love or lost love. And of her many relationships over the years, her romance with Joe Walsh, a member of the Eagles, was her most special one.
It was also the most difficult one and the one that lingered on for the longest.
Stevie Nicks and Joe Walsh's Romance Was Special
Nicks's romance with people within the rock and roll scene has been well-documented, whether that be her time with Lindsey Buckingham, Don Henley, Mick Fleetwood, or Jimmy Iovine. All but Walsh.
Nicks went out with Walsh on and off from 1983 to 1986. Theirs was a romance that progressed quickly.
"I fell in love with Joe at first sight from across the room, in the bar at the Mansions Hotel in Dallas," she recalled during her interview with The Telegraph in September 2007. Just minutes later, or rather, seconds later, as she recalled, she "crawled into his lap, and that was it."

Stevie Nicks with her ex boyfriend, Joe Walsh. (Photo: Twitter)
"We were probably the perfect, complete, crazy pair," she said. "He was the one that I would have married, and that I would probably have changed my life around for."
Nicks cared about him very much, and when he shared his experience of losing his daughter, Emma Walsh — he had her with his ex wife, Stefany Rhodes — she wrote a song for him. 'Has Anyone Ever Written Anything for You,' she called the song, and it was a tribute to both Walsh and his daughter.
But they were a bit too set in their ways, and, in a way, that was what ended their relationship. "We were a couple on the way to hell," she termed her romance with him.
Why Stevie Nicks and Joe Walsh Broke Up
Nicks and Walsh, as mentioned above, had an on-again-off-again relationship. They had their careers going alongside them, as well as their drug problems to deal with.
The "on the way to hell" comment comes in this context, as she said that referring to their co-existing, terrible drug issues. Their substance abuse was also the reason they broke up.
He initiated the split in an unusual way — Walsh basically ran away from her.
"I'm leaving Stevie, because I'm afraid that one of us is going to die and the other one won't be able to save the other person," Walsh apparently told one of her friends before boarding a plane to Australia. "Neither of us can live through this [addiction], so the only way to save both of us is for me to leave."
His departure left Nicks broken. "It took me a long, long time to get over it - if I ever got over it," she admitted to The Telegraph in 2007. And even then, when Walsh had remarried and had two sons, she was not sure if she was over him.
Nicks and Walsh never lost love for one another, and in 2012, Walsh said their friendship was still there even though things had changed romantically.
"She's like a soulmate, you know," he told Howard Stern that year, adding he still loved her but more like a sister.
"There was no other man in the world for me. And it's the same today," Nicks told The Telegraph of Walsh, and going by how he was the only man who could have tied her down in a marriage or a long-term relationship, he is probably the one that got away.