Howard Stern Calls Kyrie Irving Top Idiot in the Country over Vax Stance
"I don't know who runs the Brooklyn Nets, but I wish they were running the country," said Stern for the Nets' decision to bar Irving from practice sessions and games.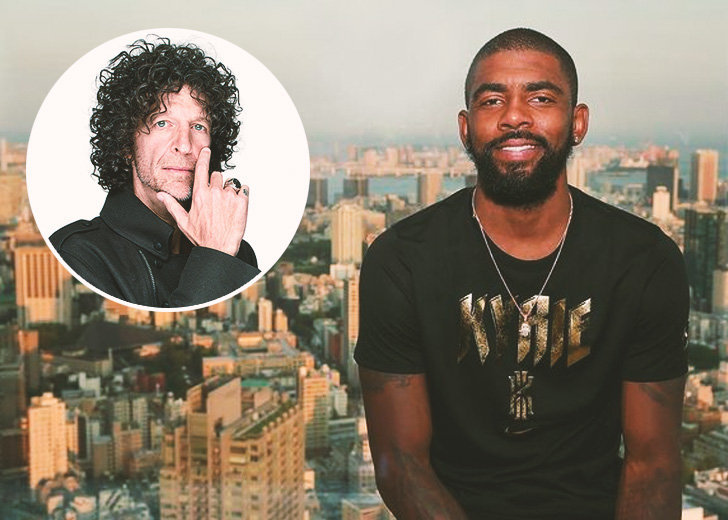 NBA star Kyrie Irving has been adamant about not getting vaccinated because he claimed that it was his life and not getting the vaccine was his choice. 
He further elaborated that he was well aware of the ramifications of not getting the vaccine. Still, he chose not to get it.
Now when someone with the social outreach like that of Irving expressed such a polarizing opinion, there were bound to be people for and against his decision.
Howard Stan's Strong Words Against Kyrie Irving's Anti-Vax Stance
Out of a landslide of people against Irving's decision, Howard Stern's voice seems to be the most heard. During a recent episode of his SiriusXM show, he expounded, if not ranted, about how he could not get his head around Irving's stance. He called out the NBA star and said, 
In terms of idiots, he's got to be the top idiot in the country right now. Guy's got a chance as a young man to make millions of dollars, all he's got to do is get vaccinated but he doesn't want to get vaccinated
Amongst the ramifications that Irving seemed to acknowledge were the financial implications of his decision. Brooklyn Nets have barred him from both practices and games as of last week. Hence, the Nets will officially start the season this coming Tuesday against the Bucks without him unless he gets vaccinated.
Shortly after his team made the announcement, Irving restated that he would not be changing his stance on the vaccine even if it meant he'd lose millions of dollars in paychecks. 
Howard Stern Applauded the Brooklyn Nets
After a solid rant on Irving's stance, Stern moved on to applaud the Nets for their decision to keep the guard away from the rest of the team. He said, 
I don't know who runs the Brooklyn Nets, but I wish they were running the country. I love this. Basically saying, 'Listen, douchebag. You've got to do what is right. That's it.'
Irving's defense on that front was that he was not against the vaccine and that he was in it for a just cause. His stance was supposedly to draw focus on the people losing their jobs over the strict mandates set post-COVID.
Adam Silver on Kyrie Irving's Anti-Vax Stance
Adam Silver, the commissioner of the NBA, also had a few words for the Nets guard refusing vaccination.
He suggested that Irving change his stance first and foremost for himself and his family, then, for his teammates and the community, and also for the league, which Silver knew for a fact Irving loved from the bottom of his heart.
"I'd tell him to get vaccinated, first and foremost for himself and his family. Next, for his teammates and his community and also for the league that I know he cares so much about."

Adam Silver on what he would say to convince Kyrie Irving to get vaccinated pic.twitter.com/CurKihqUVf — Bleacher Report (@BleacherReport) October 19, 2021
Silver further addressed that Irving wasn't the only one in the country with an opinion against vaccinating, so he urged them to consider the science and data backing the vaccine. 
He brought to attention how the vaccines had effectively put tens of millions of people out of harm's way. Even if Irving set the league aside, Silver argued that for him to be an influential member of society, one day, he needs to get vaccinated. To top it all off, Silver even invoked the law in New York which mandates vaccination.