Ethan Klein Says Moses Hacmon Is Enabling Trisha Paytas' Antisemitism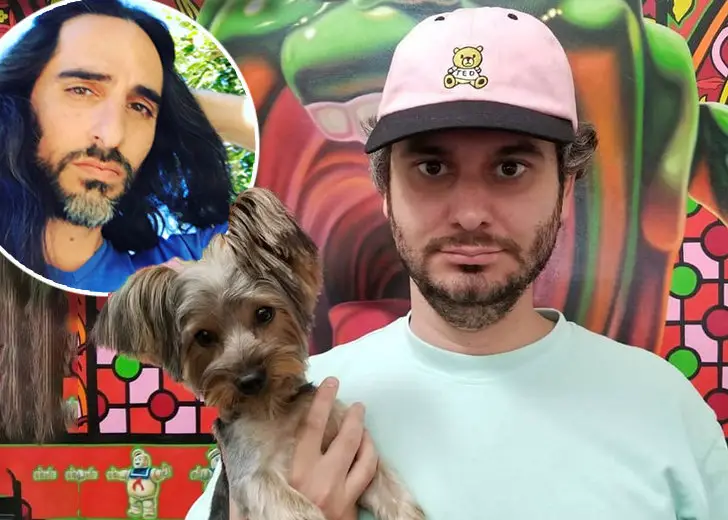 Ethan Klein and Trisha Paytas are fighting publicly again. Recently, the two went back and forth at each other after a couple of months of silence. 
Paytas married Moses Hacmon, Klein's brother-in-law, on December 12, 2021. 
Ethan's wife and Hacmon's sister, Hila Klein, had forbidden Ethan to talk about Paytas till the wedding. 
Paytas and Ethan used to be best of friends when they hosted Frenemies.
But unfortunately, their friendship went down the drain because of monetary misunderstandings and miscommunications. 
Since August 2021, the two have been publicly going back and forth at each other.
The beef between them escalated after Hacmon was accused of stealthing by his ex-girlfriend, Daphney, aka @ms.mercury. 
The Kleins stood beside Daphney, and as a result, they did not go to the wedding.
Hila rarely speaks about her brother and Paytas, but Ethan does not hesitate to call them out. 
Previously, even when Ethan and Paytas hosted Frenemies, he used to call them out for cultural appropriation and antisemitism.
But recently, he was silent about everything while Paytas was talking about various cultures and religions.
People did not know that Hila was behind it until he revealed it on the 22nd episode of this podcast, Off The Rails, titled "Soundbite Of The Year Tournament 2021."
Ethan Klein Says Moses Hacmon Enables Trisha Paytas 
On the podcast, Ethan revealed Hila had banned him from talking about Paytas, Hacmon, and their family. She did so for the sake of her and Hacmon's family. 
But after the wedding was over, Hila's family went back to Israel.
After that, Ethan said he was free to talk about Paytas and call them out for antisemitic, anti-Jewish, and cultural appropriation. 
The Kleins, Hacmon, and their family are Jewish and follow Judaism.
Paytas is not, but since they were marrying Hacmon, they wanted to convert for their husband. 
As a result, they posted various TikToks about Judaism and being Jewish. However, while doing so, they have been disrespectful of the culture. 
Their fans and followers have called them antisemitic and anti-Jewish, but Paytas has denied all accusations. Instead, they claimed Hacmon was Jewish and approved of their contents. 
Recently, they uploaded a TikTok wearing a kippa and dancing to a song about Hanukkah.
Someone is lighting the Hanukkah menorah (presumably Hacmon) in the front while a fully lit Christmas tree is in the background. 
Paytas captioned the video as "When u can't finish conversion classes so u just pay to be Jewish."
Ethan uploaded his response to Paytas' video while live on the podcast. 
He stitched the TikTok and said it was disgusting for Paytas to make such videos.
He accused them of not being serious and caring about the culture to convert correctly. 
He added no rabbi would ever take money to convert people to be Jewish without proper procedures.
Ethan said that Paytas was promoting antisemitism since the video supported the false stereotype of Jewish people being money hungry. 
At last, the H3 Podcast host threw a jab at Hacmon, saying Paytas had people around them who knew better.
He supported his statements on Off The Rails #22 and added more about Paytas and cultural appropriation. 
Ethan accused Hacmon of enabling his wife and supporting antisemitic sentiments.
He said the couple should be "deeply ashamed" for making a mockery of their religion and culture. 
One of the crewmates, Zach, added that Paytas should not be wearing a kippa and that their doing so was offensive. 
Trisha Paytas Responds to Ethan Klein
Soon after Ethan accused Paytas of being a culture vulture, the latter uploaded a YouTube video, responding to the accusations. They claimed that Ethan ruined the happiest week of their life. 
They called him a bully and accused him of inciting hate against them. Similarly, they compared Ethan and his crewmates to David Dobrik and the Vlog Squad. 
They said that Ethan and Hila had a problem with them since Hacmon's family likes them.
But, as usual, they denied all the allegations of being antisemitic and anti-Jewish. 
Paytas said that the accusation was damaging to their image and added that Ethan was obsessed with them.
At the time of writing, neither Ethan nor Hila have responded to Paytas.