Trisha Paytas Exposes Ethan Klein's Mom — Says Her Evil Texts to Fiance Moses Hacmon Still Torments Them
Is internet drama really worth losing family relationships?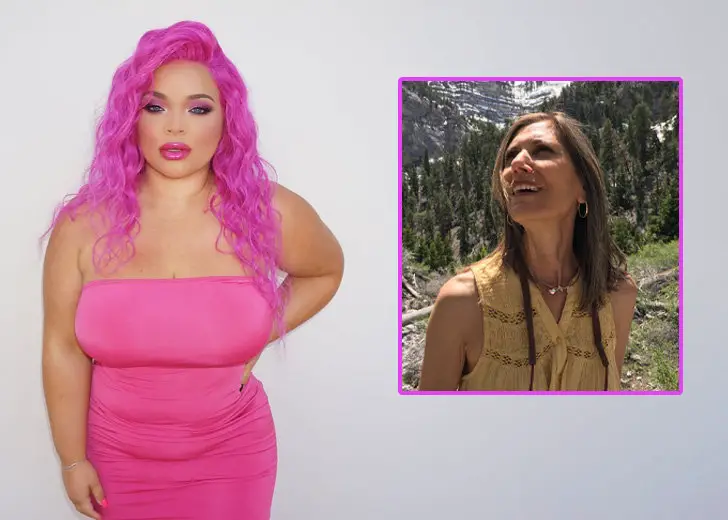 Trisha Paytas is not new to drama. They have been on the internet for 15 years and have fought with many people, especially the YouTube community, including Jeffree Star, Shane Dawson, David Dobrik, Jeff Witteck, Nikita Dragun, Jason Nash, and many more.
Usually, Paytas uses Twitter and YouTube to expose their nemesis. However, when they call out other people, the audience cannot help but question their hypocrisy and actions.
But this has not stopped them from creating more drama. Recently, Paytas attended Daniel Keem aka Keemstar and Faze Bank's podcast Mom's Basement.
Keemstar has a long-standing feud with fellow YouTuber and podcast host Ethan Klein. Since Ethan and Paytas have a rivalry of their own, he called them out for attending his enemy's podcast.
Paytas retaliated and accused Ethan and his mom, Donna Klein, of trying to ruin their relationship. The situation is kind of messy, so let us start from the beginning.  
The History of Paytas-Klein Feud
Paytas used to have a lengthy feud with Ethan. Paytas' spat with Ethan dates back to May 2019, when Ethan mocked Paytas' looks and chastised them for how much they alter their photographs.
On February and March 2020, Paytas came to the H3 Podcast, hosted by Ethan and his wife, Hila Klein. But then, they quashed their long-standing beef and seemed to be on good terms. 
After the first podcast in February, the Kleins planned to create a Bachelorette-style program to help Paytas find a boyfriend. They picked some of their favorite competitors by assessing their video clips.
Then, during the second show on March 14, 2020, they showed an interest in Hila's brother, Moses Hacmon.
Paytas was not supposed to text contestants while the Kleins were looking for a partner for them. At the end of March 2020, the contest was placed on hold because of the COVID-19 pandemic. 
Paytas began breaching the show's rules by starting a relationship with Hacmon behind the Kleins' backs. Ethan and Hila did not know what was going on since Hacmon was avoiding his family.
At first, they were unsupportive of the relationship but slowly accepted Paytas in their family. 
From Enemies to Friends to Enemies
Once again, to quash their beef, Ethan and Paytas took the help of the podcast. But this time, they launched a podcast on September 15, 2020, called Frenemies under Ethan's company H3H3 Productions. 
They sorted out their differences on the podcast, and Ethan helped bring Paytas into a new light. Their viewers started appreciating Frenemies and started accepting the unapologetic Paytas. 
The pair also shed light on problematic YouTubers like the Vlog Squad and Gabbie Hanna. Similarly, when Paytas was engaged to Hacmon on December 25, 2020, Ethan accepted them as his sister-in-law.
However, there was still a little tension between the two. Paytas had several meltdowns on the podcast and claimed to quit the show on December 2020. However, they apologized and moved forward.
But it did not last long. On June 8, 2020, Paytas quit Frenemies over monetary and ownership disputes. Unfortunately, things took a worse turn when Paytas took everything to social media. 
They tweeted horrible things about the Kleins and exposed the private messages and conversations. Since then, the Kleins have shown their disappointment and stayed away from them. 
Donna and Ethan v. Paytas and Keemstar
After Paytas parted ways with Frenemies, Ethan revamped the podcast and named it Families. He invited his mom Donna as his co-host, and the fans have been loving the mother-son duo more than the dynamic between Paytas and Ethan. 
Since the first episode of Families, Donna has shown her dislike towards Paytas. Recently, she has been very vocal about it on Twitter after Paytas went to Mom's Basement. 
On August 15, 2021, Keemstar took to Twitter to upload a picture of himself flipping the camera off with Paytas and Banks on his left. Ethan shared he was disappointed at how his ex-friend and future sister-in-law went to his enemy's podcast.
Donna chimed in and called Paytas a "weasel." Additionally, she also confirmed that she would not be attending Paytas and Hacmon's wedding.
Paytas and Keemstar also have a long-standing rivalry. They justified their decision to go on the show, stating that they "go on podcasts to try to find peace with people."
They also added that they have called out Keemstar and defended Ethan on the upcoming episode of Mom's Basement. However, Paytas was extremely upset with Donna's response. 
As a result, they penned a series of tweets, calling out Donna for trying to ruin their relationship with Hacmon. They called Donna "Satan" and claimed she texted Hacmon "disgusting things" after their fight. 
Paytas also claimed to be the bigger person trying to solve the drama in private but blamed Kleins for making it public. Similarly, Hacmon said that his brother-in-law "didn't even listen" to Paytas' appearance on Mom's Basement.
Neither Ethan nor Donna directly responded to her, but this is not the end of the feud.
Looking at history, the Kleins will surely react to Paytas on their podcasts. 
Similarly, there is a maximum probability that Paytas will retaliate back on YouTube, TikTok, and Twitter.
So, all that is left to do is wait and watch.