Moses Hacmon's Sister Hila Klein Speaks on His Assault Allegations
It is no longer a petty internet drama.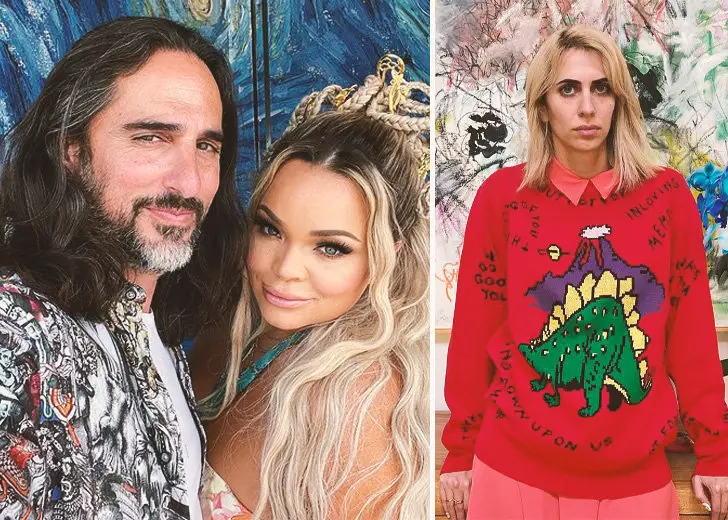 Trigger Warning: Stealthing, rape, molestation, and child pornography. Reach out to National Sexual Assault Hotline (1-800-656-4673), Victim Connect Live Chat (victimconnet.org), and National Teen Dating Abuse Helpline (1-866-331-9474) if you are ever or have been taken advantage of. 
As soon as Trisha Paytas and The Kleins' scandal seem to simmer down, something comes up that is more serious than before. First, it started with Paytas and Ethan Klein's feud about their podcast Frenemies. 
Soon, Paytas' fiancé, Moses Hacmon, inserted himself into the controversy by going on a lengthy rant to expose Ethan and Hila Klein. However, things took a worse turn last week when Hacmon's ex-girlfriend, Daphney, accused him of rape. 
Daphney exposed Hacmon via her Instagram @ms.mercury and accused him of stealthing and emotionally manipulating her. Hacmon tried to defend himself with a lengthy statement and screenshots on Twitter.
Unfortunately, it was all in vain. Daphney then disclosed that Hacmon would leave Paytas after having a child with them. Apparently, Hacmon is with Paytas only for their money. 
Following the controversy, on September 12, 2021, Paytas uploaded a series of tweets and videos about the Kleins, revealing many shocking things. Here is how the drama unfolded. 
Trisha Paytas and Her Lies 
Paytas accused a teacher, name withheld, from Byron, Illinois, of assaulting them in his middle school class. They also accused him of searching for child pornography at school.
The YouTuber went into details about their assault story in the 17th episode of Frenemies, which aired on January 19, 2021.
Paytas claimed that their school principal first dismissed their abuse allegations, but the teacher was eventually arrested for looking for child pornography at school. 
On September 7, a YouTube channel called Mysterious posted a video about Paytas' and exposed their many lies, including the accusations against their former teacher.
According to Mysterious, there are no records of the man's arrest. Similarly, the teacher had passed away in 2019. However, the video soon went viral and caught the attention of Ethan. 
As a result, Ethan decided to take down the Frenemies episode on September 10, 2021. Before the video was taken down, it had been viewed over three million times.
Since then, Paytas has been dealing with a lot of hate on the internet. They have been called out for lying about such a serious issue and putting the teacher's family in danger of doxing. 
Trisha Paytas Exposed Themselves
Paytas believed they started getting massive hate after Ethan took down the episode. As a result, they texted Ethan on their group chat of Frenemies, which included Ethan, Hila, and the production crew members. 
Initially, they did not reveal the texts and instead uploaded a series of videos crying and complaining about their and Hacmon's situation on Twitter. But after a couple of videos, they tweeted that Ethan threatened to reveal the texts. 
However, before Ethan could do it, Paytas did it themselves. The texts showed them begging the Kleins not to talk about them and Hacmon. They said that people were doxing their mother and going after their sponsors. 
In the texts, they confessed they misspoke about the teacher without researching the situation first. Ethan asked them to make a statement about their lies, but Paytas scolded him for telling them how to deal with their assault.
Paytas was also focused on their fiancé and pointed out that Hacmon's career was in danger because of the scandal and abuse allegations. In addition, they said that r/h3h3productions, a subreddit moderated by Ethan and his crew, were harassing the pair. 
Paytas alleged that Ethan and Hila's fans were sending tweets and messages to Hacmon's workplace to fire him following the rape accusations. Similarly, Hacmon's ex-wives were also doxed in the process. 
They tried calling Ethan, but it was evident that he did not want to talk with them. Instead, Paytas talked about Hacmon's case and how he might be sued before Hacmon's sister, Hila, stepped in. 
The Kleins Believe Daphney
Hila replied to Paytas' long texts saying that they are not the only victim in this situation. Because of the allegations against Hacmon, Hila's mom was having a mental breakdown, and her entire family was breaking down. 
More importantly, Hila urged Paytas and Hacmon to take accountability for their actions and stop blaming Kleins for what's happening to them. Paytas said they were taking responsibility, to which Hila retaliated they were "little too late."
Ethan then asked Paytas how they knew Hacmon was innocent. Paytas was shocked by the question and said that the Kleins knew him. However, Ethan replied, saying he does not believe Hacmon anymore and believes the victim. 
Paytas insisted Hacmon was innocent, and the Kleins didn't know the victim. Hila then chipped in, saying Paytas was making the situation difficult for Daphney as well since she was sending hate her way. 
Furthermore, Ethan accused them of spinning the narrative and called Paytas a hypocrite. He said he owed them nothing and shamed them for the entire chaos. 
Following these tweets and videos, Paytas went private on Twitter and Instagram, and Ethan issued a statement saying he was taking a break from the podcasts for a week. He said the short hiatus was for the sake of their mental health. 
Additionally, he also asked his fans and followers not to harass anyone for his and Hila's sake. Neither Paytas nor Hacmon have made any statement following this issue.