Just Married: Inside Trisha Paytas' Wedding with Moses Hacmon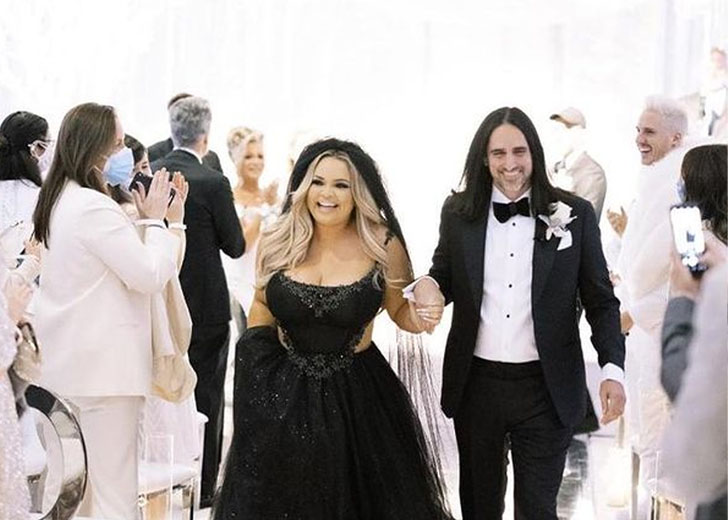 Almost a year ago, Moses Hacmon got on bended knees in an Aladdin costume for Trisha Paytas, who was dressed as Princess Jasmine. 
The two were caught in many controversies after that.
They had a falling out with the Kleins, Hila, and Ethan Klein, Hacmon's sister, and brother-in-law, and Hacmon was accused of stealthing by his ex-girlfriend, Daphney, who goes by @ms.mecury on Instagram. 
But they stuck by each other through it all and clarified that nothing would come between their relationship. And finally, on December 12, the couple sealed the deal and walked down the aisle. 
In true vlogger style, the couple has uploaded snippets of their big day on Paytas' YouTube channel and their TikTok. Here is everything you need to know about their wedding. 
Trisha Paytas and Moses Hacmon's Wedding 
Paytas uploaded a video titled 'WE'RE MARRIED!' where they talked about everything that went down from the good, the bad, and, of course, the drama.
Paytas had made it clear that getting married was one of their biggest dreams as they made many videos in the past related to their special day. 
They had not revealed the specific date and venue for security reasons, but now that the wedding is over, everything is out in the open.
The wedding took place in the four seasons hotel and was attended by many other influencers, but unfortunately, Hacmon's sister, Hila, did not get the wedding invitation.
Paytas was wearing a black wedding dress which reportedly cost around $50,000, which they revealed in one of their older videos. 
They later changed into a shorter white one. Besides their outfit, their wedding vows also made rounds on the internet, which was shared by their guests.
In their video, Paytas shared they were very nervous and worried during the exchange of their vows. 
They explained they were serious, but people started laughing, which embarrassed them.
The newly wedded couple also spent the night singing and dancing and even did a duet to 'What Dreams Are Made Of' from The Lizzie McGuire Movie.
Trisha Paytas' Tight Security
In the video, Paytas and Hacmon also talked about how Hacmon was forbidden from leaving to go anywhere. It seems like Paytas did all they could to avoid a runaway groom situation. 
Hacmon shared that his shirt for the wedding did not fit him, and neither did his backup shirt, so he needed to go down the street to buy a new one.
But he added that the valet guys refused to hand over the keys to him, and Paytas chimed in, saying, "because he thought you were leaving, you were leaving me."
But Hacmon noted that, according to the valet guys, Paytas had given them specific instructions not to give him the car.
When Hacmon told this to Paytas, they were shocked and denied that they ever said it. 
This resulted in awkward silence for a few seconds. No one knows if Paytas did that, but Hacmon got his shirt, he showed up, and the two got married.