Meet Eddie Vedder's Philanthropic Wife Jill Vedder and Their Kids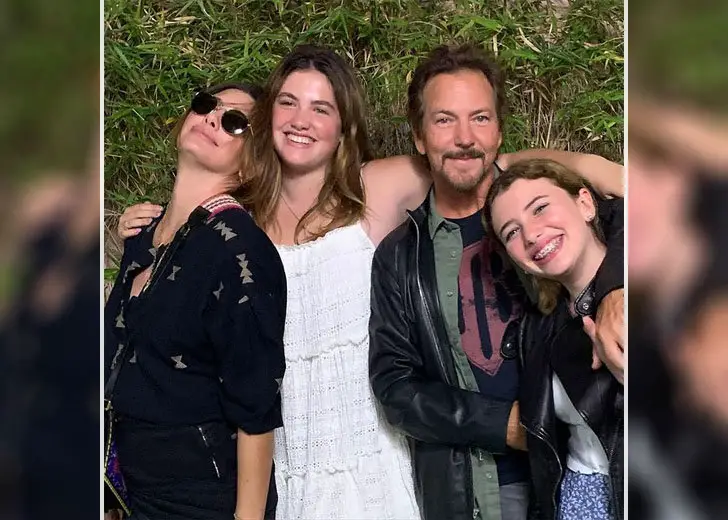 Eddie Vedder has been married to former model Jill Vedder for over a decade. They have a small family with their daughters Olivia and Harper.
But, other than being a former model, Jill does a lot of other things — philanthropy, and activism being some of them.
Eddie Vedder's Life with His Wife Jill and Daughters
Eddie and Jill's love story began in the year 2000. They started dating after his divorce with his first wife, Beth Liebling, that same year.
The two didn't take that long to have kids. Their first daughter, Olivia Vedder, came into this world on June 11, 2004.
And on September 23, 2008, they welcomed their second daughter, Harper Moon.
The kids have taken after their parents in multiple ways.
Olivia, for instance, has become a Global Citizen's youth ambassador. And she sings, too.
Harper, too, is getting into philanthropy.
She has appeared with Jill on campaign videos for her non-profit, EB Research Partnership. And of course, she has vocal talents, too.
Last came their marriage. As US Weekly reports, Eddie popped the question in 2009 while they were at Bruce Springsteen's tribute at the Kennedy Center Honors gala in Washington D.C.
The wedding came a year later as they said their vows in Oahu, Hawaii, on September 8, 2010.
Who Is Eddie Vedder's Wife Jill Vedder?
Jill Vedder (birth name -  Jill Kristin McCormick) was born on November 11, 1977, in Los Angeles, California.
Born into a wealthy family, she started modeling at a young age.
After her family moved to Florida, she immediately signed with Elite Models and thus began her modeling career.
She was 15 at the time.
During her modeling years, she worked under Elite Models and Champagne Trott Management, appearing for magazines such as Vogue, Elle, Marie Claire, and Harper's Bazaar.
Jill gained a good following from her modeling days. But that's in the past now.
Moving on from modeling (which she did a while ago), she now uses her influence for good.
She turned to activism soon after leaving her modeling days.
Jill has a history with a genetic skin disorder called Epidermolysis bullosa — her childhood friend Ryan Fullmer's son had the disease.
This prompted her to establish Heal EB in 2014.
Vedder and Ryan, too, were a part of the initiation. And in 2014, they merged with the Jackson Gabriel Foundation and thus the EB Research Partnership was born.
The former model is now the vice chairman at the foundation.
Other than this, she is also an ambassador for Global Citizen and lends herself to the Vitalogy Foundation and the Moms Demand Action movement.
In 2012, Jill started supporting Every Mother Counts, attempting to make pregnancies and childbirths safe for mothers in the U.S.
And in 2013, along with sisters Denise and Ashley, she established Babies Against Brain Cancer, a charity with an intention of helping people with Glioblastoma Multiforme.
On her latest venture with EB Research partnership, she started Venture Into Cures on November 18, 2020.
The virtual show presents stories about people with EB and raised funds to help them.
Many celebrities such as Selena Gomez, Tom Holland, Lamorne Morris, Ed Sheeran, etc have appeared as guests on the show, including her husband Eddie's band Pearl Jam.
Her foundation recently raised over 2.25 million for the research to cure EB.