How Is The Real Life Chemistry Between Lamorne Morris and His On-Screen Girlfriend Nasim Pedrad? Are They Dating Now?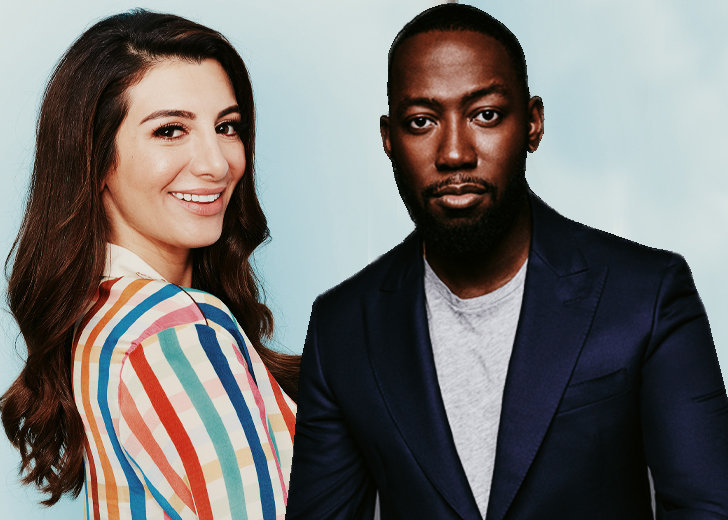 Rumors were rife that American actor Lamorne Morris was dating Nasim Pedrad, his co-star from the hit Fox show, New Girl. Their appearance as a couple in their projects, including the movie, Desperados, added fuel to their dating rumors. 
Morris and Nasim Pedrad's Affair on Screen
Morris and Nasim Pedrad shared outstanding chemistry on screen, first in New Girl (2011) and then in Desperados (2020).
In New Girl, Morris and Pedrad portrayed Winston and Aly, respectively. When their characters first met, Aly acted as if she had nothing to do with Winston except for their work. But, as the series progressed, they became romantic.
First, they were co-workers at LAPD, then they became friends. After that, they fell in love with each other, ultimately getting married and having a child together in the show's last season.
The actors' character plot was different in the Desperados, but they showed the same powerful chemistry.
In the Netflix film, Pedrad portrayed a major character of the movie: Wesley. The film's premise begins when Pedrad's character sends an angry email to her boyfriend, thinking he ghosted her. But he just had an accident in Mexico.
Worried that the email will ruin her relationship, she sets off for Mexico with her two best friends. And on the way there, she meets Morris' character Sean, who she had dated earlier. In the journey to mend her mistake, Pedrad and Morris get embroiled in their own private affairs.
They Are Not Dating in Real Life
Morris' chemistry with Pedrad was so noteworthy that it riled up some interesting rumors and even pleas for him to date her in actual life.
In one of his Instagram posts from July 2, 2020, a follower named @amandapascual_ commented, "Can y'all date in actual life?! YOU GUYS WOULD BE SO CUTE". Another user, @cosmicalbabe, expressed similar sentiments writing, "all need to date irl already..."
But defying the powerful chemistry of the screen, the duo is not dating in reality. 
As per Cinemaholic, Morris cleared the fans' query by clearly stating that he and Pedrad were just friends and nothing more.
However, Cinemaholic provides no source or actual quotes from Morris to back up their information. The site also claims that Morris had reservations regarding relationships because of a heartbreak caused by an ex-girlfriend who cheated on him. But there's not enough evidence for the statement.
His Ex-Girlfriend
Morris has been with one woman publicly, and that is with E! host, Erin Lim. 
While initially Morris never himself admitted about his relationship with Lim, they were spotted together a few times in public. They first sparked public interest when Lim posted a picture of her with Morris on her Twitter account in 2016. Also, they attended their first red carpet appearance as a couple in the 2017 Emmy Awards. 
Lim was with Morris for a little over two years till they broke up. Now, Lim is married to Joshua Rhodes, a creative director of a clothing brand called The Last Adam. As for Morris, he seems to relish his singlehood.