Inside the Internet-Breaking Engagement of Danielle Brooks and Fiance Dennis Gelin
"Richer than Godiva, sweeter than the sugar cane of Haiti, hotter than the Carolina sun," Danielle Brooks captions her engagement photos.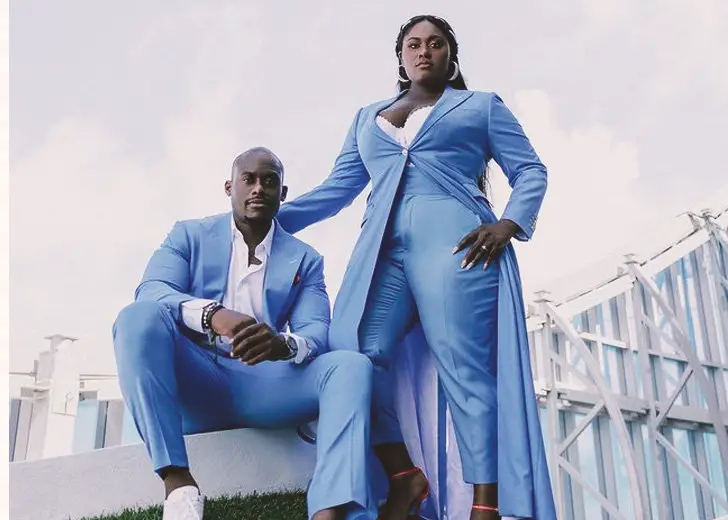 Danielle Brooks and her fiance, Dennis Gelin, released their engagement photos on August 16, 2021, and the images were nothing short of a statement.
The couple's stunning chocolate-hued shoot even went on to break the internet, with the post receiving over 270,000 likes on Brooks' Instagram.
"Richer than Godiva, sweeter than the sugar cane of Haiti, hotter than the Carolina sun," she captioned her Instagram post. "Our love is pure and honest. Withstanding and strong. Our love is ordained by the Divine. God- centered."
The first post was shot indoors by the team of REEM Photography, where the Orange Is the New Black star donned a brown silk dress with a matching hat. Gelin also complimented her looks by rocking a matching golden shirt and pants.
"It's one thing to style for press and editorial, but to style for a wedding is so intimate and personal. You have to really trust someone," Kelly Augustine, who styled Brooks for her engagement photos, told Popsugar.
Augustine further shared that the team tapped into the idea of a marriage of "you and your partner against the world" and applied it to the couple's personalities during the shoot.
The same day, Brooks, who played Mahalia Jackson in Robin Roberts Presents: Mahalia, posted a series of photos from part 2 of her engagement shoot, writing, "We gonna ride til we die baby. Time to wake up the east coast."
In the outdoor photo series, she wore an off-shoulder white bodice wedding dress tailored with shiny white beads while her beau rocked black knee-cut jeans with a half coat and hat. Both of them posed for the pictures as they sat on the bike.
One image was snapped around the beach, with another being captured at the top of the building around a swimming pool.
"Just beautiful !!! The entire series...congrats to you both. Thanks for sharing your love with us! We wish you a lifetime of happiness," someone commented under Brooks' post. Another chimed, "these pictures are STUNNING."
Engagement Announcement
Although Brooks and Gelin had their engagement shoot recently, they have been engaged for a long time now. The actress previously confirmed her engagement with her boyfriend on December 31, 2019.
In her announcement post, she shared that she was engaged to her "best friend" and excited to become his wife in the future.
The news of her engagement came after she welcomed the couple's first child, a daughter Freya, in November the same year.
Wedding Plans
From the couple's side, there has been no official word on when they will walk down the aisle yet.
However, speaking to Popsugar, Augustine revealed Brooks has already fixed her wedding look, saying, "The only thing I can say is to expect her to look FABULOUS! We wouldn't expect anything less."
The publication also reported that the actress would be keeping her wedding look under wraps until the big day.
In another report, Popsugar stated that the couple has been working with D'Concierge, a wedding planner in Fifth Street, Texas, to plan their wedding.