Did Camila Cabello Ever Have a Crush on Matty Healy?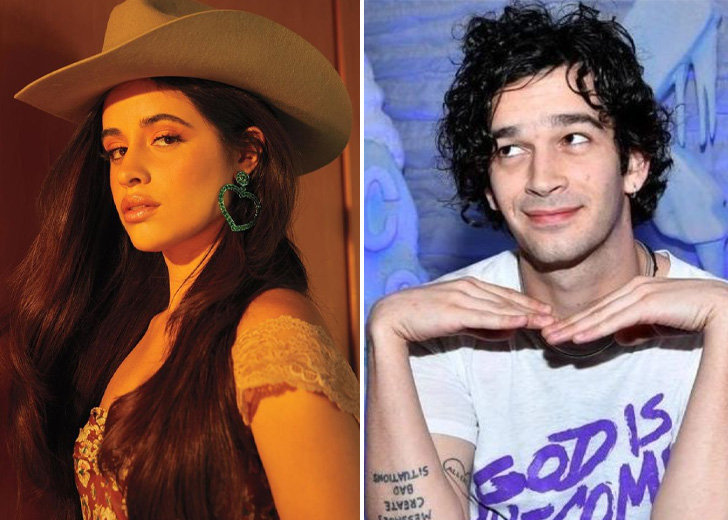 Camila Cabello has been a fan of the English pop-rock band, The 1975, since forever.
The singer-songwriter has sung praises about the band in the past, even expressing her adoration for the band's lead vocalist and rhythm guitarist Matty Healy and her desire to work with him.
You could say she had a "musical crush" on Healy. But was it just musical, or was there something else, too?
Camila Cabello Wanted to Work with Matty Healy
In January 2018, during an interview with Zane Lowe, Cabello expressed her love for The 1975.
When Lowe brought up Healy, saying he was a master at continually changing lyrics with different contexts, Cabello just screamed out her desire to work with him.

Camila Cabello once wanted to collaborate with The 1975's Matty Healy. (Photo: Matty Healy/Instagram)
"Oh my god I wanna work with him so bad!" the singer exclaimed, banging the table with her hands. She then named a few of his band's songs, citing them as being brilliant.
She even recited the lyrics of 'Somebody else' in excitement.
Then, she revealed going through a 1975 phase. "I'm on a 1975 roller coaster right now. I can't stop listening to them," she added. "I wanna work with them so bad."
She even had urges to "DM Matty Healy" and ask him if they could work together in the middle of her car rides.
When asked if she knew him, Cabello responded with, "I think I've met him before." She had been to two of Healy's concerts and even said she was "obsessed" with the British singer.
She, however, did not go into her feelings about Healy any further. Cabello just asked Lowe to text Healy and make the collaboration happen.
The collaboration she wanted hasn't happened yet. We never know what's cooking behind the curtains, though.
Camila Cabello's Past Relationships
Cabello's relationship history, at least the ones the public knows about, starts in 2015.
That year, she was linked to three different men — Austin Mahone, Michael Clifford, and Jacob Whitesides.
She was first linked to musician Jacob Whitesides after he posted a bunch of pictures with her on Instagram.
But these dating rumors were not true, and even though Whitesides had once confessed that she was his celebrity crush, they never dated. He denied the romantic connections and said they were just good friends.
That same year, she and Louis Tomlinson were thought to be going out. But this was a classic case of the internet going crazy more than anything else.
Then, in 2016, she was linked to Nick Jonas. This, too, started after an Instagram post by Jonas.
Adding to the rumor mill, Cabello even blew kisses at him at a red carpet event. These speculations were also never confirmed and petered out after a while.
In February 2018, Cabello was spotted with ex boyfriend, Matthew Hussey. They started dating around the same time and were together for over a year.
"He makes me the happiest I've ever been in my life," she once gushed about Hussey.
But the relationship fizzled out with little noise. After their split, Cabello posted a long message to everyone who was sending Hussey hate on social media.
Then came her and Shawn Mendes' fan-favorite relationship. The dating rumors started after their 'Señorita' video was released in the summer of 2019.
Their relationship lasted for over two years. After many cute moments and songs for one another, they announced, to everyone's shock, that they had broken up in November 2021.
They still promised to maintain their relationship as best friends and co-parents to their dog, Tarzan.
Mendes and Cabello made their first public appearance together after their break up in January 2022, walking Tarzan.
After this, the songstress was spotted spending time with her Cinderella co-star Nicholas Galitzine in February 2022. It's not clear if they're dating yet.