Danny Koker Enormous Net Worth Revealed! Richest Among Fellow American Pickers?
The 54-year-old is best known for his reality TV show Counting Cars -- a show chronicling daily activities at Count's Kustoms. He has also made several other TV appearances as an automobile expert on Pawn Stars; Getting A Head; and American Restoration, to name a few.

Quick Information
Date of Birth

Jan 05, 1964

Age

59 Years, 10 Months

Nationality American
Birth Place

Cleveland, Ohio

Profession

Television Personality

Relationship Status

Married

Wife/Spouse

Korie Koker

Divorce/Split

Not Yet

Wedding Date

2015

Dating/Affair

No

Gay

No

Net Worth

$13 Million

Ethnicity/Race

White

Religion

Christianity

Father

Danny Koker Sr.

Mother

Mary Koker

Sister/s

Kim Koker

High School

Valley High School

College

University of Nevada

Height/ How Tall?

6' 2" (1.88 m)

Weight

N/A

Hair

Long

Hair Color

Black

Eye Color

Light Brown

Children/Kids

Not Yet
Before Danny Koker began to make regular appearances on American Pickers as a guest appraiser, he was already a multi-millionaire. His co-stars (Robbie Wolfe, Mike Wolfe, Frank Fritz, Danielle Colby) may have 'picked' a lesson or two on how to amass an impressive net worth as he has.
The 54-year-old is best known for his reality TV show Counting Cars -- a show chronicling daily activities at Count's Kustoms.
He has also made several other TV appearances as an automobile expert on Pawn Stars; Getting A Head; and American Restoration, to name a few.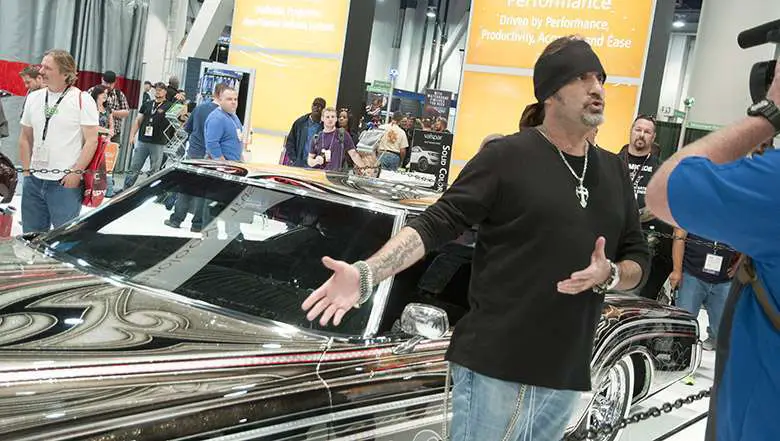 Car Fanatic: Counting Cars star Danny Koker showcases one of his car collection at SEMA in 2015 (Photo: cokertire.com)
Learn: Gretchen Carlson With Adorable Husband & Family; Where Is She Now & Net Worth Details
When he's not on TV, Danny is running his businesses and spending quality time with his beautiful wife, Korie Koker. 
Danny Koker's Bio: Automobile Background
The reality star was born in Detroit, Michigan on 5 January 1964 to father Danny Koker Sr. and mother, Mary Koker. Because almost all of his relatives were in the automobile industry, he began growing affinity towards the act of restoring cars and motorcycles very early in his life.
Given the fact that his father was a Ford executive, he got to know tidbits of the car industry when he was young.
After moving to Las Vegas, the Motor City native began hosting a local weekly show called Saturday Fright At The Movies.
He soon followed up his business acumen by opening the vehicle repair and restoration shop, Count's Kustoms, in the early '90s. His shop has a history of producing high-quality body parts and materials for custom cars, choppers, and trucks.
His LA Mansion Houses His Multi-Million Dollars Worth Car Collection
Danny's refusal to re-work newer cars is very telling of his personality. As someone who prides in indulging himself in car collection, the notion of customizing is anything but offensive -- a true car aficionado.
His Las Vegas mansion houses his car collection. Friends of the reality star have often time dubbed his house a museum referring to his insane car collection.
Read Also: Man vs Food's Casey Webb Bio: From Age To Family Details & More
Cars Love: Danny Koker's car collections that he has vowed never to sell (Published on 15 Apr 2018 )
Rumor has it: his car collection constitutes over 58 customized classic cars.
American TV Series; Counting Cars (Third Spinoff)
History Channel in 2012 aired the first episode of Counting Cars. The show follows Danny and his staff -- an airbrush artist nicknamed Horny Mike, a detailer named Roli and his best friend, Kevin -- as they modify and restore classic automobiles and motorcycles with occasional conflicts among themselves.
Counting Cars series is known as the third spinoff of the American TV series, Pawn Stars. Over the years he has developed a good relationship with the stars of Pawn Stars, appearing regularly on the show as a car expert.
So, when the news of George Harrison's death on 27 June 2018 he appeared despondent talking to FOX5 Las Vegas. He said: 
Mr. Harrison was exactly like he was on TV. He was not playing a part in any way shape or form. 
He stressed that the show wouldn't be the same without George in the same interview.
As of 6 August 2018, Danny's show has aired 151 episodes over seven seasons. Season 8 of Counting Cars was aired in July 2018.
More About Danny: The famed restorer is married to Korie Koker. Over the years, she has slowly transitioned into his business partner.
Danny Koker's Businesses: Bar & Grill, Tattoo Company Music Band, & Car Restoration
Danny hasn't limited himself to automobile cars and motorcycles. The witty businessman has invested in a wide array of business ventures. His list of businesses includes Count's Vamp'd Rock Bar & Grill; Count's Kustoms; and Count's Tattoo Company.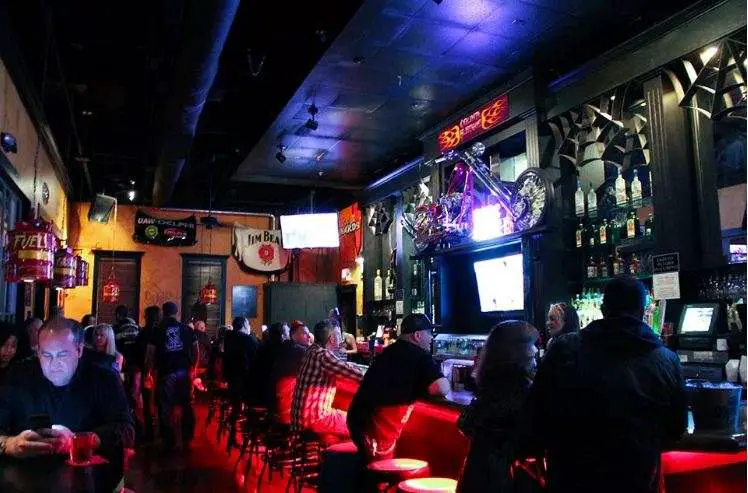 Chill & Drink: Danny Koker's famous Vamp'd Rock Bar & Grill serves customers with style (Photo: Vegasbright)
The multifaceted reality TV star is also the frontman of a Las Vegas hard rock band, Count's 77.
Whether he's restoring cars and motorcycles, or running a successful tattoo and restaurant business, or rocking the stage with his band, the Detroit native has kept his finances at check. 
As a result, Danny has been able to add a certain sum every year to his already burgeoning net worth, which is reported to be around 13 million  US dollars.
Danny's Net Worth Is Higher Than Frank & Mike's Combined Plus Others 
History Channel has the history of casting character of one of its show in another as an expert. Following this age-old tradition, Danny was cast as a recurring guest in American Pickers, mostly limiting his role to appraisal.
American Pickers closely follows Mike Wolfe and Frank Fritz as they travel to various locations in the US looking to pick the best deals in antiques. They often hire Danny to estimate and restore their picked automobiles as he's often referred to as an 'in-house automobile expert' in the show.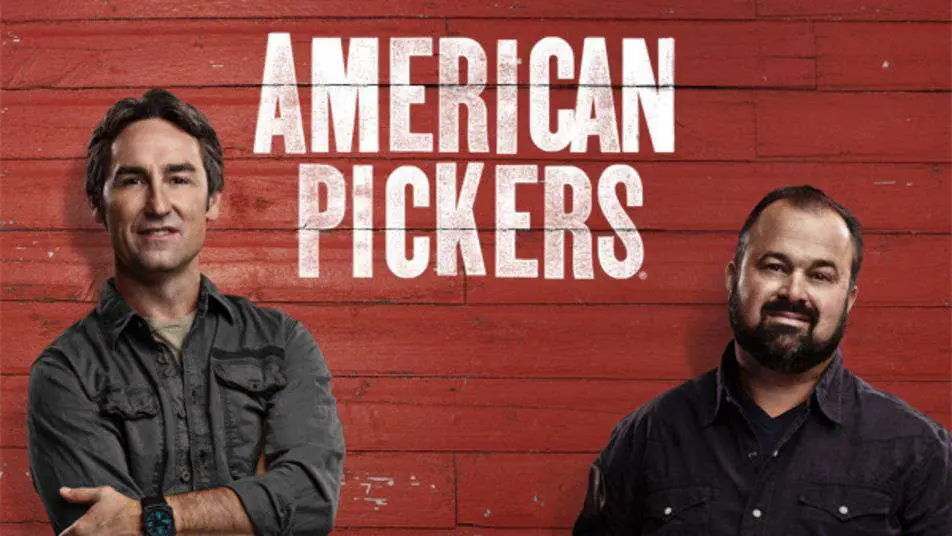 Danny's co-stars of the History Channel's show American Pickers, Frank(right) and Mike(Left) (Photo: Ohama World-Herald)
Questions as to how much he makes in salary for his guest appearance on American Pickers is not public knowledge.
Despite making half a million each every new season in salary, neither Frank nor Mike has bypassed Danny in amassing net worth. The former is reported to have the net worth around $5 million, while the latter has a net worth of $13 million. The same is the case with other American Pickers Robbie Wolfe and Danielle Colby. 
On the other hand, Danny boasts net worth equal to $23 million, placing him considerably higher than his co-stars, Mike and Frank.
It's an amazing fact that Danny's the wealthiest American Pickers without actually doing any picking.
You Don't Want To Miss: Rick Dale Fascinating Bio: Once Fired, Wife & Family Reigns Over Massive Net Worth Now
Danny Koker's Wife; Together For More Than 16 Years
Danny has been married to wife Korie Fera Koker since a long ago. Korie is the co-owner and entertainment director for Count's Vamp'd Rock Bar & Grill in Viva Las Vegas, founded by Danny.
The couple has been together for almost 17 years, and they celebrated their 16 years of togetherness on 30 September 2017. Marking the occasion, his wife Korie shared an Instagram picture of them celebrating together on their bar in Las Vegas.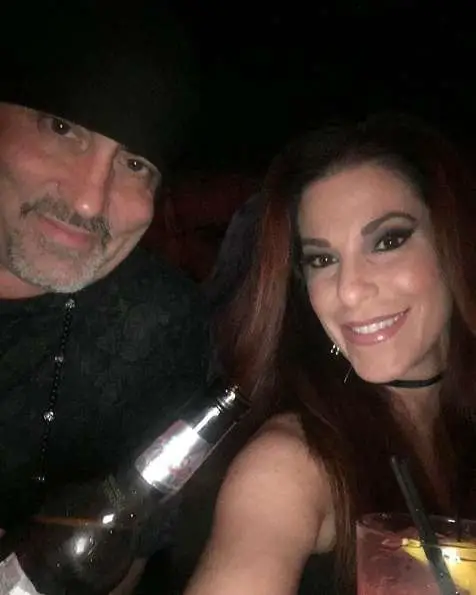 Cheers for togetherness: Danny Koker celebrates 16 anniversary of togetherness with wife Korie Koker in September 2017. (Photo: Korie Koker's Instagram)
Danny seems to be a fortunate man as he got the perfect partner as a wife for holding his hands on both personal and professional front. As an entertainment director, she timely updates the performance of her husband in their bar.
Interesting: Maurice DuBois On Overcoming Obstacles With Wife! Married The Right Person
Quick Facts On Danny Koker
He was born as Daniel Nicholas Koker II.
Working in weekly movie series Saturday Fright at the Movies, he adopted an on-screen persona called Cool Count Rider.
His most expensive vehicle acquisition is the 1942 Ford Roaster.
Danny's favorite ride is the 1965 Cadillac Fleetwood, which he drives daily.