Danielle Colby Living Larger Than Life. Has She Left American Pickers?
Before rising to prominence, Colby was a part of a female roller derby team for three years. However, injuries forced her to give it up. Today, she is an American reality television personality known for her role on History's American Pickers alongside co-stars Mike Wolfe and Frank Fritz. In addition to her television appearance, Danielle is also busy doing what she truly loves — burlesque dancing.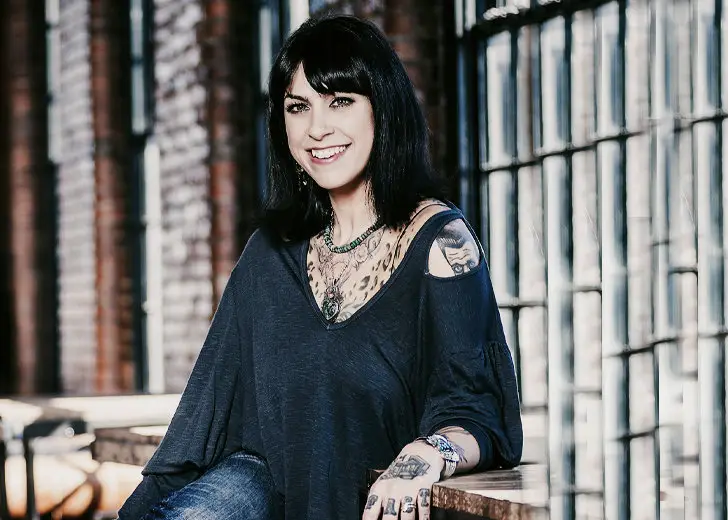 Quick Information
Date of Birth

1975/12/03

Nationality American
Birth Place

Davenport, Iowa

Profession

Television Personality

Relationship Status

Dating

Ex-Husband

Alexandre De Meyer(?-?), Kevin Colby(?-2004),

Divorce/Split

Yes (Twice)

Official Site

daniellecolby.com

Daughter/s

Memphis Colby

Boyfriend

Jeremy Scheuch(2015-present)

Net Worth

$1.5 Million-$2 Million(Estimated)

Ethnicity/Race

White

Tattoo/s

Yes

Lesbian

No

Son/s

Miles Colby
Before rising to prominence, foxy TV star Danielle Colby was a part of a female roller derby team for three years. However, injuries forced her to give it up. 
Today, she is an American reality television personality and burlesque dancing. While not appearing in the series, Danielle can be seen performing burlesque with her troupe, and also on tours with her band. Her busy lifestyle and as well as her love life has prompted the show's fans to question if she was leaving the show for good. Details of which you will soon find out. 
Daniell's History With The American Pickers Was A Coincidence
Danielle Colby-Cushman came to the spotlight after she was cast in the antique treasure hunting show American Pickers (2010). 
Danielle was not just the sex-appeal of the show. In a show filled with men, she was also the main person to hold the store together. She was the witty woman who made sure their treasures were in order while the two duos, Mark Wolfe and Frank Fritz, went out treasure hunting. 
While the show has been on air since 2010, Danielle became a part of the show only when it was sold to History Channel. Danielle was a close friend of co-star Mike Wolfe before the concept of the show had even been imagined.
She first met Wolfe at a garage sale over 15 years ago. At the time, Danielle was looking at a lamp and thinking about whether to buy it or not. As she put it down for a moment, Wolfe scooped it up and quipped, "The time to buy it is when you see it."
After the show was created and sold to the History Channel, Wolfe asked Danielle to work at the office of the antique shop Antique Archaeology. The show premiered in 2010 and went on to become a major hit; Danielle getting praise for her chic and savvy personality. 
Burlesque Dancing Is In Her Blood And Still Pursues It
Prior to becoming the TV star that she is, Danielle Colby-Cushman was a burlesque dancer. 
Danielle's desire to become a burlesque dancer arose when she attended a burlesque performance starring comedian Margaret Cho and dancer Satan's Angel while living with her family in Chicago.  
Later, Danielle had dabbled in a risky sport that she would later abandon. She owned a roller derby team with other "Irish girls" called the Big Mouth Mickies for three years. She decided to leave the team when she realized that a roller derby player's "shelf-life", as she puts it, was only about three to five years. 
So, she formed a burlesque troupe with the same girls and they named themselves Burlesque Le' Mustache. Later, in 2014, she also formed a burlesque academy called Dannie Diesel's Bump And Grind Academy, designed to teach burlesque to other would-be enthusiasts. 
Despite her TV career, she hasn't given up on her dancing dreams. Burlesque is still in her blood as her profile and Instagram posts seem to suggest. 
Danielle Has Put Her Passion To Good Use To Increase Her Net Worth 
Danielle boasts an estimated net worth of $1.5 million to $2 million, as per Celebrity Net Worth. 
Her prominent source of income is definitely her stint as the savvy store-keeper. Reportedly, she earns $15,000 per episode, making her annual salary just over $54,000. Her Pickers co-stars, Wolfe and Fritz, reportedly earn $500,000 and $300,000 per season. 
The show isn't just her only source of income, though. Being the adventurous person that she is, she also owns and operates a retro clothing based company, 4 Miles 2 Memphis. She is also an ambassador for Batey Girls — a jewelry design program dedicated to empowering women facing sex trafficking and domestic violence within the Dominican Republic. 
On top of that, Danielle also seems to be earning a significant amount pursuing her actual passion. According to Comparably, the average salary of a burlesque dancer is around $34,000. Couple this with the money she makes selling autographed posters and mercs on her website, her net worth of $1.5 million seems to pan out. 
If that were not enough, Danielle also hits the road touring with her band, Gin Rummy.
Danielle's First Marriage Broke Down Due To Her Immense Publicity
Danielle's first husband was Kevin Colby. She was pregnant with her first child in 1996, and gave birth to their son, Miles, on 2 September 1996. Four years later, she was pregnant for the second time, and this time they welcomed a daughter named Memphis to the family.
Once Danielle's showbiz career started to take off, her husband did not enjoy the amount of attention she brought. This led to rifts in their marriage, which finally ended in divorce in 2004.
Danielle didn't close the book on her love life despite her first failed marriage. She remarried a few years later to French graphic designer and artist, Alexandre De Meyer. 
The two started living together in Chicago after their marriage. Danielle's two children from her previous marriage and one niece also filled the house. The duo was adamant about providing them with a stable family life that they could relish. But things didn't go well for them and the pair later separated without any official news about a divorce.
Currently, Danielle has been openly dating Jeremy Scheuch. She can be seen vacationing with Scheuch. Although this was good news as it meant that she was having the time of her life, it, however, did prompt an important question from the fans that was a little disconcerting...
Has Danielle left American Pickers in 2020?
There has been much hype surrounding Danielle's current status with the show. Since the show's production has been halted in light of the ongoing COVID-19 situation, not much up-to-date information can be found regarding the show's status. 
The rumor of Danielle's departure was from Danielle's vacation with her boyfriend itself. Her latest post seems to suggest that she is in Puerto Rico with her current boyfriend, Scheuch. While that by no means suggests that she is leaving the show, her interview with The New Times did strongly hint at the new direction that the show might be going in.
In the interview, when asked about the possibility of a "Danielle spin-off" in the future, she replied that she was open to whatever the future held. She added that though her job at the Antique Archaeology shop was cool and all, she strongly felt that this was not the last job that she would have. She had a contract with the show and she would honor it. But finished off by saying that she would indeed love a spin-off.