Are Casey Webb and Garci Carli Married? Inside His Career, Net Worth & Personal Life
Casey Webb is the face of the popular food reality show 'Man v. Food.'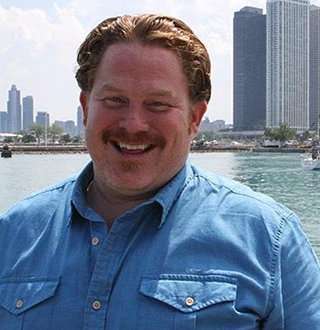 Casey Webb is a reality television star who is renowned as the host of the food reality series Man v. Food. His other reality television appearance includes Santa's Baking Blizzard, Food Network Star, and Beat Bobby Flay.
In addition to that, Webb has also showcased his talent as an actor in several movies and TV shows. Some of them are Top Dog, The Elevator, Part Timers, Gender Bender, and The Speed Creeper.
His Career before Man v. Food
The food enthusiast became the face of the food show Man v. Food after being brought as the replacement of the original host Adam Richman in the fifth season in 2017.
But before reaching that position, Webb, who grew up in Little Silver, New Jersey, has had his share of struggles and long working experience.
He was only 14-year-old when he worked in restaurants as a dishwasher. Subsequently, he did every work that came his way — from working as a bartender to the general manager; he did it all.
"I started working in restaurants when I was 14 washing dishes at a pizza place, and then did everything from bartending, to general manager, and I even sold wine and spirits," Webb told Travel Channel in 2017.
In the interview, he also stated that he was bartending in Brooklyn when he got a call to be the new host of the show. 
When I was called to be the new "Man" I was bartending in Brooklyn.
Since becoming the host of the show, he takes on legendary eating challenges and continues the quest to find America's most delicious and unique eats. The show completed its 9th season in October 2020.
How Much Is Webb's Net Worth?
Webb's major source of earning is the payments that he receives as an actor and television host. According to IMDb, he has also produced some projects, which must have added to his net worth.
That being said, the television host has neither revealed the figure of his salary nor net worth so far.
He Keeps His Personal Life Private
Being a popular television star has provided Webb with lots of loyal fans and followers. However, they have been deprived of the details about his personal life.
The reason being, the Top Dog star prefers to keep his love life to himself lately.
That being said, there were rumors of Webb being married to actress Graci Carli. The buzz came around after he posted a picture with the 50 Central actress on Instagram on June 1, 2018, along with the hashtag "#husbandwife."
Despite the rumors, both Webb and Carli are yet to comment on the matter.
However, in the early 2010s, the television host was, indeed, in a relationship with a girl named Elle Dee. He used to post pictures with her on his Instagram.
Webb Is Close To His Brother
When it's about family, Webb is quite open about them and regularly posts stuff related to them on social media.
On April 9, 2020, on National Sibling's day, Webb took to Instagram to wish his brother.