Who Is 'Married to Medicine' Star Toya Bush-Harris? — From Life and Career to Net Worth and More
Toya Bush-Harris is a reality TV star who runs a medical concierge family business, mentors young girls, and publishes a nursery book series.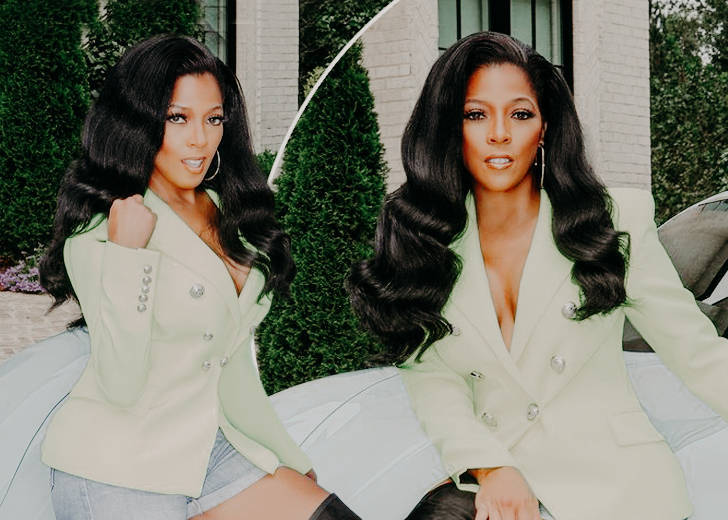 The Married To Medicine star, Toya Bush-Harris is always on the go with medical missions across the United States with Nomad MD, her family medical concierge business.
Biography and Early Life
Born on April 15, 1976, Bush-Harris is a reality TV star and a businesswoman. She was born and raised in Michigan, USA.  Bush-Harris attended Southfield-Lathrup, a senior high school in Southfield, Michigan.
She received her bachelor's degree from Tennessee State University and completed her Master's in Pharmaceuticals from The University of Phoenix.
The 44-year-old is a prolific career woman who runs a medical concierge family business named Nomad MD, mentors young girls, and also publishes a nursery book series. 
In the Bravo TV Reality Show, Married To Medicine, Bush-Harris portrays herself as a confident and committed African-American woman. The gorgeous lady maintains a perfect work-life balance.
Career
As a master's graduate, the reality TV icon moved to Detroit to pursue her career as a pharmaceutical representative in July 2009. She represented over 500 companies in eighteen months.
Bush-Harris's professional life revolves around medicine and helping people. The socialite's knowledge in medicine helped her expand Nomad MD, her family medical concierge business. 
Nomad MD was Established in 2011. The Atlanta-based company is a medical boutique that advocates better and accessibility to healthcare services across the USA. It also provides services for evolving wellness and health needs.
The Michigan native co-owns the business with her husband, Dr. Eugene Harris.
In August 2013, Bush-Harris joined the team of Married To Medicine, a show that revolves around women who are doctors or are the wives of doctors. The show follows the lives of these stars.
The Bravo TV series has completed seven seasons as of 2020. Post pandemic, the team is back with their eighth season which premiered on March 7, 2021.
In an interview with NBC New York on March 3, 2021, the reality TV star revealed that COVID-19 took them (the Married to Medicine stars) on a roller coaster ride. "My husband and I didn't expect this," she added.
While talking about her husband, she elaborated that Eugene had to see people die every day because of the virus which brought a "level of depression" into their thoughts and lives.
To keep his family safe, Eugene changes his clothes in the garage to this day.
Family Life 
Bush-Harris has been happily married to Dr. Eugene Harris for over twelve years and lives in Atlanta with her family. The couple first met through speed-dating in Detroit. Back then, Eugene was finishing his studies as an Emergency Medicine Physician, while she was working as a pharmaceutical representative. 
They exchanged vows in 2008 and took their relationship to next level.
The couple is blessed with two handsome sons — Ashton and Ashley. After the birth of her eldest son, she took a break from her work to look after him. The mother of two is evidently a loving mother and a supportive wife as seen in the reality TV show and her social media.
On March 6, 2021, she took to her Instagram to share a beautiful family portrait.
Eugene also shared a series of family vacation pictures after returning from the trip on March, 8,2021. The family enjoyed swimming with dolphins and went on a desert safari in Dubai as seen in the pictures. He captioned it, "Vacation over back in the grind"
Weight Loss Journey 
The Married to Medicine star pledged to love her curves and accept herself the way she is through a post back in January 2019.
She shared a fierce picture of herself wearing a black and white polka-dotted crop top and a pair of white ripped jeans accessorized with big hooped earrings and black heels. Her tied hair, bold eye makeup, and red lipstick completed her amazing look.
In November 2019, she shared two pictures side by side that showed her weight loss progress as an advertisement for 'flattummyapp,' a fitness app. 
In the caption, she revealed the app was her gym buddy and followed the workouts instructed by the app to lose extra weight.
At age 44, she continues to stick to her fitness routine and looks gorgeous than ever. 
Net Worth and House
The boss lady has an estimated net worth of $4 million as per Celebrity Net Worth, which is mainly contributed by her work as a cast member in the Reality TV Show, Married to Medicine and her family business, Nomad MD.
As per reports, she is paid approximately $100,000 per episode for appearing on the show.  Apart from that, the impressive figure is also supported by the sales of her book — 'Sleepy Head Please Go To Bed.' 
Despite all the fame and business, she faced a major financial crisis back in 2016. It was reported that the couple had to clear a tax debt of $170,000 to the IRS (Internal Revenue Service).
The financial problems led the family to bring a major lifestyle change as they moved to a relatively small house with their children. Bush-Harris also had to work an extra shift to clear all the house debts. 
However, the Harris family bounced back and moved to a newly renovated and well-furnished place which they referred to as their "dream home." But just a year later, in 2020, the couple listed their property back on the market for a whopping $3.525 million. 
The millionaire recently showcased her massive Atlanta bungalow to Bravo on March 1, 2021. The couple exclusively designed and customized nearly every room of their abode.
Their "dream home" comprised six custom-built fireplaces, custom leather doors, a huge chandelier above the staircase, a customized two-story closet, a hand-drawn wine cellar by Eugene, a playroom, a chef's kitchen, and views of the outdoor golf course area.