Candace Bailey After Divorce With Husband; Married Again, Ecstatic In Family Affair
Candace Bailey After Divorce With Husband; Married Again, Ecstatic In Family Affair. A wise man once said that there is only one happiness in this life, to love and be loved. Although the American TV host Candace Bailey agrees with the quote, she interprets it in her own way, as to her, it doesn't necessarily have to come from a single man.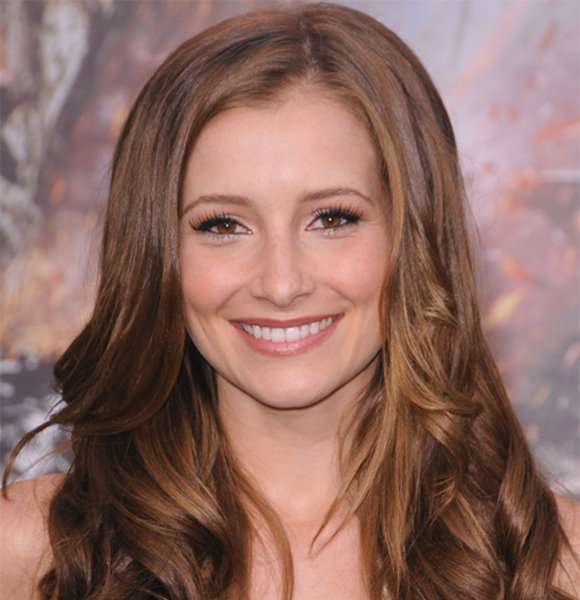 American TV host Candace Bailey has known the thrill of a new romance and the anguish of a heartbreak. She's been married, divorced and married again. But, those cycles seem to have ended now that, she has found her perfect soulmate.
The Birmingham native is famous for hosting the G4 network's live television program, Attack of the Show! She hosted an episode of a television series, Slime Time Live on Nickelodeon in 2003 and co-hosted a children-oriented Super Bowl XXXVIII pre-game show on Nickelodeon in 2004.
Full On Entertainment: Candace Bailey alongside Kevin Pereira appears on the episode of Attack of the Show! (Published on 13 Jul 2013 )
Bailey appeared as Skylar Stevens on the CBS post-apocalyptic action-drama series, Jericho from 2006 to 2008. She appeared in the music video of "Goodnight, Goodnight" by American pop-rock band, Maroon 5 in 2008.
Also Read: Tyra Banks On Weight Gain, Pregnancy Issue, Baby Daddy Split, Daughters - Measurements & More
In 2011, she joined Attack of the Show! as a co-host and remained on the show until its final episode on January 2013.
Her Relationship History; Brian Corsetti, Seth Green
Before Ajay, Candace was married to writer and producer Brian Corsetti. Candace and Brian tied the knot on October 22, 2011, and the marriage lasted for three years. Later the couple got divorced in 2014; however, no further details about their marriage or divorce has surfaced the media yet.
Also, back in 2006, Candice's name was linked to actor Seth Green. Reportedly, the two were dating for about a year and even were spotted at the premiere of the movie I Now Pronounce You Chuck And Larry. The couple broke up in 2007. 
Candace is now married to Ajay Rosen after giving birth to a son.
Married To Husband, Ajay Rosen After Welcoming First Child
Candace, 35, and her partner welcomed their first child, Manning Baldwin when the couple decided that they no longer wanted each other as boyfriend and girlfriend. But that wasn't a sad ending to their relationship, instead, a new beginning of their love life!
In early July of 2015, Candace and Ajay Rosen tied the knot and pronounced each other as husband and wife. Candace posted a picture on her Instagram where the newly wedded couple were seen flaunting their son and expressed her happiness.
Interesting: Inside Cheryl Hickey Family: Wedding, Husband, Divorce, House & More Personal Life Details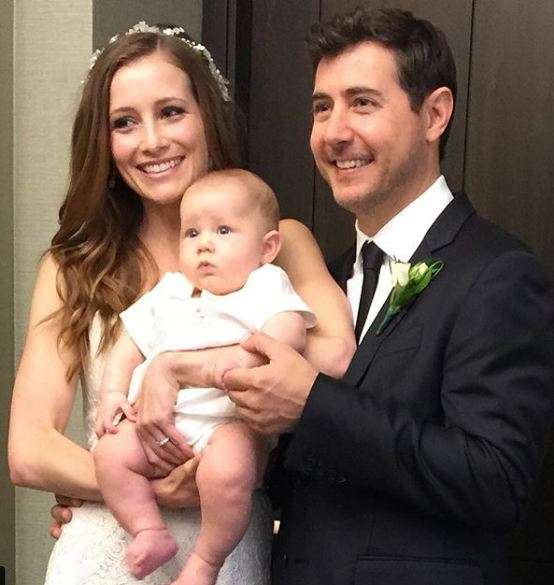 Family Time: Candace and her husband, Ajay Rosen with their cute son (Photo: Candace Bailey's Instagram)
Earlier in 2016, Candace became pregnant for the second time and on 19th of October, the same year, the couple became parents to a lovely daughter, whom they named Annabelle Gracie Rosen. Candace posted a picture to share the good news and confessed that she was feeling like the luckiest woman in the world.
Moreover, she celebrated the first birthday of her adoring daughter in October 2017. Marking the occasion, she wished her daughter via an Instagram post thanking God for blessing her with the little angel on Earth.
Do Not Miss: Linzie Janis Bio: Married Life And Work Harmony - Meet Producer Husband
Candace even unveiled the delightful news of her baby daughter being featured on the clothing brands, Gap and Macy's websites in November 2017. Confessing about posting the numerous pictures of her baby, she stated that they are her life now and she is just so in love with them.
Currently, Candace is living a happy family life with her husband and children. Also, it seems like their love is blossoming with each passing day and the only arguments the couple ever have is where to eat dinner or where to send their children to school.
Candace Bailey Is Inactive On Social Media Since 2017 
Motherhood and married life is keeping Candace happily busy in her daily life.
The last time the former TV host had posted a picture on her Instagram was on 25th of November which was of her second child, Annabelle Gracie Rosen, posing for Target and Gap website. In the post, along with the picture of her daughter she clearly mentioned that she had been busy with motherhood lately and she was more than happy to become a mother.
As in now, Candace is a full-time mother to her two beautiful children; a boy named Manning Baldwin Rosen, and a girl, Annabelle Gracie Rosen. We wonder when she would be back in TV hosting like her good old days.
Talking about her another social media, Twitter, Candace has been inactive on it since December of 2014, right before getting married to her husband, Ajay Rosen.