Why Marshmello Hide His Face? His Face behind the Mask Revealed
Chris Comstock is reportedly the man behind the mask of Marshmello!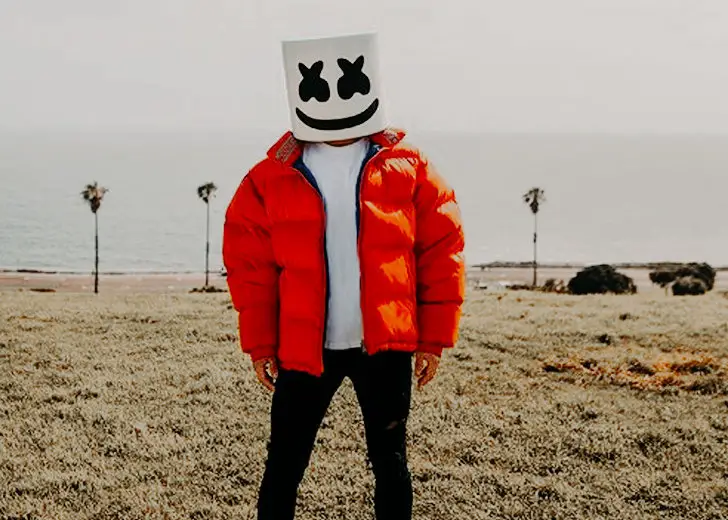 Quick Information
Date of Birth

May 19, 1992

Age

31 Years, 4 Months

Nationality American
Birth Place

Philadelphia, Pennsylvania, United States

Birth Name

Christopher Comstock

Profession

DJ

Career

2015-present

Relationship Status

Dating

Net Worth

$40Million

Awards

MTV Europe Music Awards, Remix Awards

Nominees

Teen Choice Awards, Radio Disney Music Awards

Ethnicity/Race

English, French, German, Scots-Irish/Northern Irish, Scottish

Height/ How Tall?

5'11"

Hair

Short

Hair Color

Black

Girlfriend

Kelsey Calemine

High School

The Shipley School

Eye Color

Black

Tattoo/s

Yes

Official Site

https://www.marshmellomusic.com/

Real Name

Christopher Comstock
Marshmello is an American electronic music producer and DJ who first rose to fame after his single 'Alone' became a massive hit after its release in January 2016. The song's YouTube video currently has over 2 billion views and 20 million likes.
Since then, the musical sensation has continued to drop massive chartbuster singles like 'Silence,' 'Wolves,' 'Friends,' and 'Happier,' and collaborated with popular musicians such as DJ Khalid, Selena Gomez, Anne-Marie, and James Arthur.
But who is the man behind the white LED mask — and remained a mystery for a long time?
Why Marshmello Hide His Face?
Ever since Marshmello rose into the public conscience, the questions like "Why marshmallow hide his face?" and "What is Marshmellos real name?" are some of the most asked questions about him.
His public appearances have all been donning a white helmet, keeping his fans in a puzzling mystery.
Marshmello stated through a tweet on August 5, 2017, that he kept on the mask because he didn't want fame.
I don't take my helmet off because I don't want or need fame. I'm genuinely trying to create something positive for people to connect with — marshmello (@marshmellomusic) August 6, 2017
Even previously, on July 3, 2016, he has explained that he wanted to make a difference and didn't care about fame. 
"If I wanted the fame that 90% of you crave I would take off my helmet. But I don't care about that shit. I care about making a difference," the DJ wrote.
Christopher Comstock Is the Face behind the Famous Mask of Marshmello
In November 2017, Forbes confirmed that Christopher Comstock, shortly Chris Comstock, was the face behind the famous mask of Marshmello.
To prove the report, the magazine shared multiple proofs and sources. One of the first sources was when Marshmello's first single was released, established rappers Dotcom and Skrillex supported his songs.
Marshmello's songs resembled the songs of Dotcom, whose real name is Chris Comstock, leading to speculations if Comstock was Marshmello without a mask. Interestingly, both Dotcom and Marshmello were represented by the same label, which provided foundations to the claims.
The most definite proof came during Skrillex's interview with Forbes, the same month Forbes confirmed Marshmello's identity.
According to the reports, Skrillex's phone rang during the interview, and the interviewer, Couric, alerted Skrillex that it was Comstock's call. Putting the call on speaker, Skrillex responded, "Oh Marshmello."
Encouraged by the fact, Skrillex revealed that Marshmello's real name was Comstock.
Forbes even dug into the BMI portfolios of the song producers. To everyone's amusement, Comstock's page and Marshmello's page in the BMI repertoire contained the same songs and credits, which confirmed the fact that Comstock was the man behind the mask.
Marshmello's company's name was also registered under the real name Comstock.
Previosuly, the FPIA, renowned for exposing celebrities, had also shared a series of photos through Twitter on March 20, 2016. The photos showed that both Dotcom and Marshmello had a tattoo at the same spot in the body, revealing his identity.
Further, in July 2017, Bollywood actress Urvashi Rautela posted a picture of her with Comstock, Maejor, and Moe Shalizi on her Facebook and tagged Marshmello's FB page in the photo. The picture has does not exist on Facebook anymore.
Another interesting event happened in March that year when dubstep and electro house producer, Feed Me posted a picture on his Instagram Stories, where he tried the mask of Marshmello.
However, he did not realize that Comstock was visible in the mirror-clad in Marshmello's signature all-white attire, which further strengthened the fact that Marshmello was indeed Comstock without a mask.
All that being said, Marshmello or Comstock has not confirmed the details by himself to date. The reason, as stated by Marshmello itself, is, possibly, that he was given birth to make a difference and not claim fame.