Who Is Marshmello? Face Identity Without Mask; Age & Real Name As Bonus
Marshmello has continuously made the audience dance through a fantastic mix of Electronic Dance music, which has led to worldwide fame. But who is the man behind the white LED mask, wowing the audience? Marshmello, age 26, first rose to fame after his single Alone proved to be a huge hit on Youtube.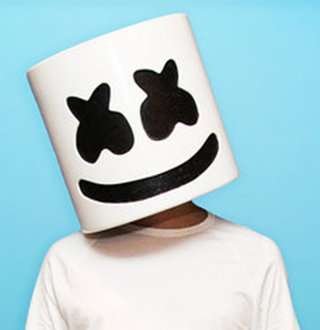 Quick Information
Date of Birth

May 19, 1992

Age

28 Years, 11 Months

Nationality American
Birth Place

Philadelphia, Pennsylvania, United States

Birth Name

Christopher Comstock

Profession

Music Producer

Career

2015-present

Relationship Status

Single

Divorce/Split

Not Yet

Gay

No

Net Worth

$22 Million

Awards

MTV Europe Music Awards, Remix Awards

Nominees

Teen Choice Awards, Radio Disney Music Awards

Ethnicity/Race

English, French, German, Scots-Irish/Northern Irish, Scottish

Height/ How Tall?

5'11"

Hair

Short

Hair Color

Black

Children/Kids

Not Yet
Marshmello continuously made the audience dance through a fantastic mix of Electronic Dance music which has led to worldwide fame. But who is the man behind the white LED mask, wowing the audience remained a mystery for a long time?
Marshmello, age 26, first rose to fame after his single Alone proved to be a massive hit on YouTube. The song has already garnered more than 869 million views on his YouTube channel. After Alone, his stars have continuously been on the up which has seen him collaborate with international stars such as Slushii, Omar LinX, Khalid, Selena Gomez, and Anne Marie.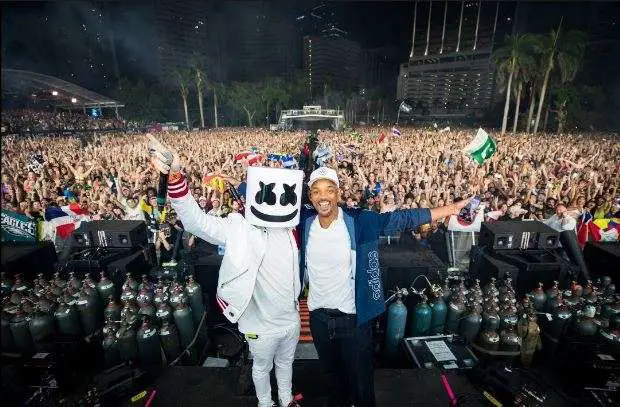 Will And Marsh: Marshmello poses with actor Will Smith at the Ultra Music Festival Miami 2018 (Photo: Youtube.com)
Marshmello is an Instagram freak and has around 12.7Million followers.
Marshmello's Musical Career Kicked Off At Age 23!
Marshmello's music career got off at the age of 23, after releasing his single WaVeZ on his sound cloud page in March 2015, which was supported by well-known DJs including Skrillex and Dotcom.
Read: Stephen Nolan, Nolan Show Host Could Get Married - To Crazy Wanna-be Partner
After the songs positive reception, Marshmello started posting more songs in the Soundcloud, and toured various parts of the states in his signature mask and concealed identity. He released a compilation of his previously unreleased songs Joytime in 2016. The song was so well received that it was listed in the 5th position of EDM album charts.
His first collaboration with Omar LinX for the song Keep It Mello also got included in the compilation and hit the right notes in the audiences. The year 2017 saw more collaborations, including with Khalid for the song Silence, which was a worldwide hit. After Khalid, he collaborated with Selena Gomez for song Wolves.
Marshmello's success can also be measured by the fact that he was the highest paid DJ in the world for the period of 2016-17. What's more, he has amassed a massive net worth of $21 million at a young age of 26.
The masked producer not only lavishes his life with all the fame he's possessed but also gives back to the society that supports him. Well, it can be said, he is an artist with a big heart. He has been involved in various social works which have even added more fame to his successful career. Marshmello recently dropped over a half a million dollars to support the KIND, charity which benefits refugee and immigrant children. Moreover, the artist seems to be following, "its what you do when nobody is watching that is most important" as he kept everything behind the limelight until the organization publicly thanked him.
Marshmello's bass-heavy electronic dance music style along with soothing grooves has made him a firm fan favorite. His appearance which involves covering his whole face with a custom-made white helmet and an all-white attire has been inspired by famous DJs DeadMau5, and French DJ duo Daft Punk.
Popular Rapper: Lil Pump Age 18 Wiki: Net Worth, Real Name, Height & Necessary Details!
In 2018, Marshmello released further collaborations including with the now deceased Lil Peep, and also released his second album Joytime II. Also, he's worked with various artists Bastille and plans to work with Post Malone, talented rapper.
He also has a series of tours starting over from 12 October at Q11: Q-topia Fest in Atalanta, GA, United States and ending at Snowta NYE Festival in Minneapolis, MN, the United States on 30 December 2018.
Despite all his success, his songs have not always been his talking point; it's the face behind the mask that has been talked about.
Who Is The Inspiration Behind Marshmello's Hidden Face?
Ever since Marshmello rose into the public conscience, "Who is he without mask and what is his real name?" is one of the most frequent question asked about him. His public appearances have all been donning a white helmet which has kept his fans in a puzzling mystery.
And the inspiration behind this mysterious approach to conceal his identity with a mask is DJ Deadmau5 who concealed his identity wearing a dead mouse mask. The DJ has been such a huge influence on his career that he also has a pet mouse named after Deadmau5's real name Joel.
Besides the inspiration, he revealed in a tweet, one of the other reason for hiding his real face stating:
I don't take my helmet off because I don't want or need fame. I'm genuinely trying to create something positive for people to connect with.
But the question is being this popular how long will he be able to hide his real face without mask?
Chris Comstock Is The Face Behind The Famous Mask Of Marshmello
And the answer to the question is not much longer as in 2017, Forbes confirmed through several sources that the DJ's true identity was Chris Comstock.
One of the first sources was when Marshmello's first single was released, established rappers Dotcom and Skrillex supported his songs. Marshmello's songs resembled the songs of Dotcom, whose real name is Chris Comstock, leading to speculations if Chris Comstock was Marshmello, without a mask. What's more, Dotcom and Marshmello were both represented by the same label which provided foundations to the claims.
Interesting: Josh Bernstein And Wife Face Divorce? Married Status Of Heart-throb Author
Similarly, in the same year, twitter handles The FPIA, shared a series of photos which showed that both Dotcom and Marshmello had a tattoo at the same spot in the body, which added to reveal his identity.
In June 2016, Marshmello playfully asked the audience if they wanted to see him without the mask at the EDC Las Vegas in 2016. However, the man behind the mask was not Marshmello but his good friend DJ Tiesto.
Furthermore, in July 2017 Bollywood actress Urvashi Rautela posted a picture of her with Chris Comstock, Maejor and Moe Shalizi in her facebook and tagged Marshmello's Fb page in the photo, referring Chris to Marshmello.
Back in March 2017, dubstep and electro house producer, Feed Me had also dropped a hint about Marshmello's identity accidentally after posting a story on his Instagram where he tried the mask of Marshmello. However, he did not realize that Chris Comstock was visible in the mirror clad in Marshmello's signature all-white attire, which further strengthened the fact that Marshmello was indeed Chris without a mask.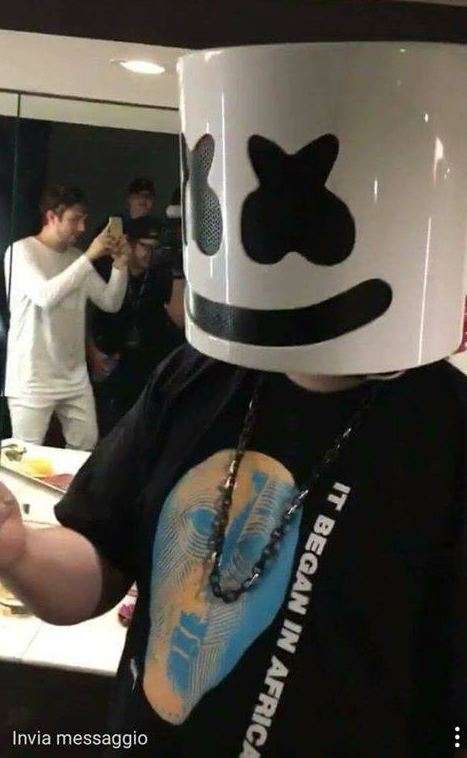 Marshmello's Real Face: Marshmello flashing his face without mask appears in an Instagram story of Feed Me (Photo: edm sauce)
The most definite proof, however, came in Forbes' interview with Skrillex in November 2017. Amidst the talks, Skrillex's phone rang and the interviewer Couric alerted Skrillex that it was Chris' call.
You Do Not Want To Miss:AGT Finalist Brian King Joseph, 26, Bio: Family, Net Worth, & Health Issues
Putting the call on speaker, Skrillex responded "Oh Marshmello." Encouraged by the fact, Skrillex revealed that Marshmello's real name was Chris.
Forbes dug into the BMI portfolios of the song producers, and to everyone's amusement, Chris Comstock's page and Marshmello's page in the BMI repertoire contained the same songs and credits which confirmed the fact that Chris Comstock was the man behind the mask. Furthermore, Marshmello's company's name was registered under the real name Chris Comstock.