Selena Gomez Launches 'Mental Health 101' Campaign with Rare Beauty
Selena Gomez is drawing people's attention to mental health with 'Mental Health 101,' a new campaign for Rare Impact by Rare beauty.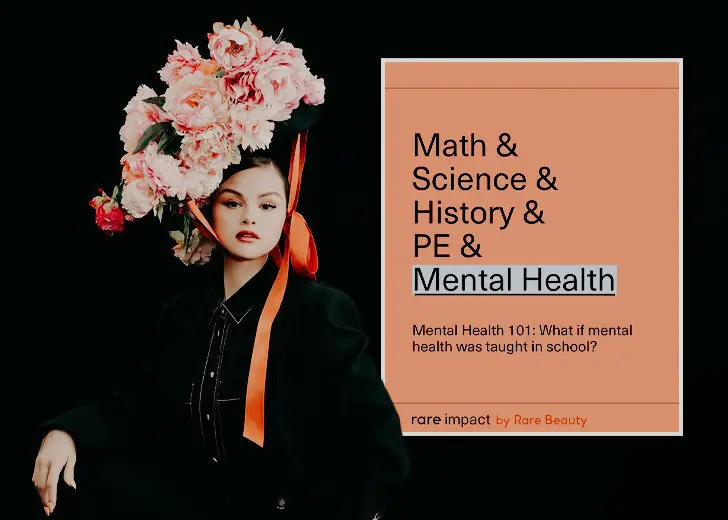 Selena Gomez is drawing people's attention to mental health with 'Mental Health 101,' a new campaign for Rare Impact by Rare beauty.
The campaign will connect people, especially youngsters, with the resources they need to get support and educate themselves in regards to their mental health. 
A Campaign Close To Her Heart
The songstress took to her socials on April 29, 2021, to announce the launch of the 'Mental Health 101' campaign with a letter. In the letter, she addressed that the campaign was close to her heart because of her personal struggles around mental health. 
Gomez faced anxiety and depression from a young age, and so she understood firsthand how scary and lonely mental struggles felt. However, at the time, she knew very little about what she was going through. 
Now, with the reach she has as a global icon, she wants people to properly understand that mental health is just as important as physical health.
She also brought up the fact that people had acknowledged the importance of mental well-being in words but not through action. 
You Are Not Alone
The latter part of her message was directed at those who are grappling with these issues today. She affirmed to those reading her message that they were not alone, and things could be better if they sought help. 
Getting support and educating myself on mental health has changed my life, and it can change yours too.
'Mental Health 101' was designed in the spirit of creating stepping stones for others that she wished she had back in her day. The campaign will provide the resources required to empower the youth in ways that were not previously possible. 
The Alarming Statistics Surrounding Mental Health
In another Instagram post made shortly after the letter, Gomez entertained the idea of teaching mental health in schools, much like how science, math, and history is taught.
The series of four slides that followed drove her argument home and opened up a way for the philanthropy committee and the general public to step up to the task. 
The post also discussed the alarming rate at which mental illnesses were claiming lives, especially in Gen Z.
These cases were in no way limited to Gen Z either. According to her research, one in five adults experiences mental illness each year. 
Despite the alarming statistics, only 16% of all children receive mental assistance in school, and only 1.3% of overall philanthropic efforts went into addressing these issues.
So, in honor of Mental Health Awareness Month this May, Gomez launched her campaign with Rare Impact by Rare Beauty. 
The campaign will advocate for more mental health services in schools, empower the community, and encourage financial support to expand access to mental health resources.
Those who want to help the songstress pursue this noble cause can sign a petition with Change.org, fund the campaign on Go Fund Me, and promote the post for added reach. 
Gomez's creation, Rare Beauty, will be matching donations worth $200,000 for the cause.