Zoe LaVerne Apologizes after Being Exposed by Caleb Finn and Fans Following Baby Pics Backlash
Zoe LaVerne will donate money to a local charity.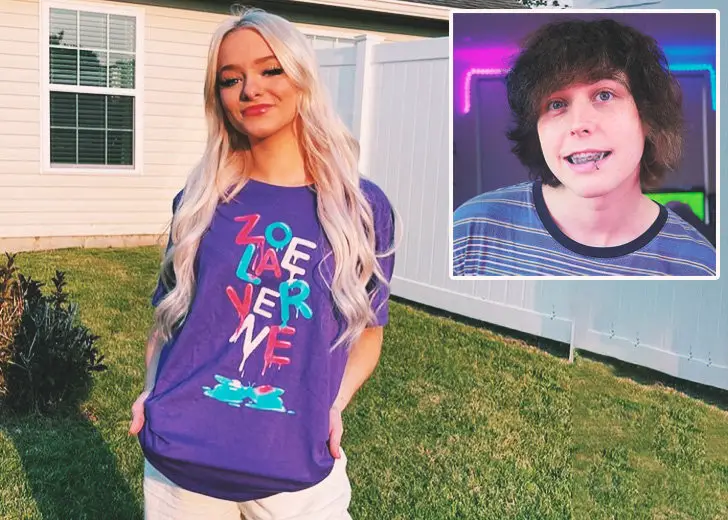 Zoe Laverne has been a topic of discussion ever since she was exposed for kissing a 13-year-old fan. She faced backlash, and the internet trolls branded her a "pedophile" and accused her of "grooming" the minor. 
She took a hiatus from her life online and quit social media, but it wasn't long before she rejoined with a new boyfriend, Dawson Day, whom she got engaged to and had a baby with. 
In a now-deleted Instagram post, TikTok star Zoe LaVerne announced that she had delivered her baby girl, Emersyn, on October 3. 
The picture featured was a selfie of Laverne and her fiancé in a hospital room with a glimpse of the baby. As followers congratulated the new parents, many criticized her, as she had included a paywall for fans to receive "exclusive" baby pics of her newborn in the caption. 
Fans had to pay $15 to get access to photos of the new parent and their child.
Many spoke out on LaVerne's questionable actions, including TikTok star and YouTuber Caleb Finn. 
Caleb Finn Goes off on TikTok
In a TikTok video titled "please do better @zoelaverne," Finn called out LaVerne for her actions. 
He explained that he felt compelled to speak on the matter because he was expecting his kid in February. 
Finn iterated that LaVerne and the baby's father were selling photos of her baby less than 24 hours after she was born. He also mentioned that LaVerne had already set up an Instagram account for her baby, but she was promoting her merchandise in the bio. 
The TikTok transition king revealed that LaVerne had replied to a user's comment, saying that it was her management's idea to charge for the photos.
He then talked about LaVerne's other comment where she wrote that she was doing it for the support of her fans even though she was sharing more than she was comfortable with. 
He opined that her comment made it seem like it was her idea, but she was trying to blame the management. Finn also found another one of LaVerne's comments that suggested that her daughter was in the Neonatal Intensive Care Unit. 
This means that her baby is underweight and needs to be cared for by doctors around the clock. 
Finn was convinced that the money the parents received from selling the pictures were not going into a savings account for her daughter, 
Zoe Laverne Addresses the Backlash
After Finn's video went live, LaVerne took to Instagram to explain her actions. 

Zoe Laverne Explains Her Actions On Instagram Story (Source: Zoe Laverne's Instagram)
The new mother shared that she was still trying to recover from the complication of her birth and the surgery and that she was trying to keep everyone updated. She wrote that she wanted to answer some of the people's questions about her selling photos of her daughter. 
She explained that she had just become a mother, and the death threats and hurtful comments that came her daughter's way scared her. She added that she and Day even contemplated not sharing photos of her daughter at all. 
But in an attempt to protect their daughter and share their beautiful journey with their fans, they thought it was right to put up her baby's picture behind a paywall, which was not well received. She then apologized for the misunderstanding. 
She also added that she was donating all the money she received to a local shelter. 
Hopefully, LaVerne's decision to rectify the situation will stop the hate and death threats from coming her way.