Samantha Irby Run Things by Her Wife before Publishing a Book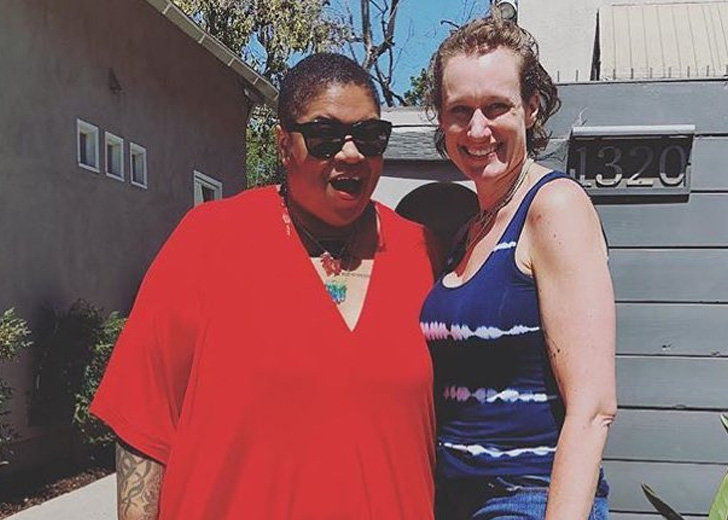 Samantha Irby rose to fame within the writer's community after her Blogspot site 'Bitches Gotta Eat' gained a cult readership. 
The success of her blog motivated the witty and insightful writer to release essay collections, including 2013's Meaty and 2017's We Are Never Meeting in Real Life.
We Are Never Meeting in Real Life became a New York Times bestseller, and since the success of her essay collections, Irby fell in love with Kirsten Jennings, who eventually became her wife. 
Jennings was a reader of Irby's work, and they fell in love after she tweeted the author. 
The couple tied the knot on June 17, 2016, in their Kalamazoo home, and joining them at the celebrations were Jenning's children. 
Samantha Irby Asks Wife For Permission
After marriage, Irby released her third essay collection, Wow, No Thank You, where she chronicled the changes in her life. 
As a writer who often wrote about her life, she talked about her marriage and her life with her wife and kids. 
During an interview with Bomb magazine, she iterated that she always received permission from her partner before publishing anything about their lives. 
"I only let my wife read things that mention her directly. I would never write anything that was actually embarrassing or revealed more than she is comfortable with, but I give her the courtesy of reading it before I send it to my editor just so nothing comes as a surprise," shared Irby. 

Samantha Irby and her wife on a trip. (Source: Samantha Irby/Instagram)
The best-selling author clarified she did not make any changes based on Jennings' feedback. 
However, in another interview, she added that most people she wrote about would not be getting a complete factual recounting of something that happened.
She shared that telling the story exactly how it happened was boring and that adding little details was what made her work funny. 
Irby continued iterating that her wife ended up being the "butt" of many of her jokes, and thankfully she did not mind. 
Samantha Irby Does Not Want to Be a Parent
Irby does not mind talking about her partner, but she draws the line at her stepchildren.
While being interviewed, she hated questions about the kids because it put her in an awkward spot. 
She understood people's fascination with her life, so she had to dance around the topic politely. 
But even though they were her stepkids, Irby does not like being called a parent, and neither does she want to parent the children.
In an interview with Time Out, the author revealed she told the kids she was their mother's friend and not their mother. 
She explained that the kids had their father, who shared custody with her wife, and she never wanted to "compete with their parents or eclipse their parents."
"Also, no one's consulting me about their education or what vaccines they should get. So I'm kind of living my life parallel to them. I don't ignore them—we talk, and we do things together. They call me Sammy, they don't ever have to call me Mom," said Irby.
Irby is happy being their mother's friend.