5 Coming of Age Series to Watch on Netflix
Here are five hand-picked coming-of-age series to watch on Netflix.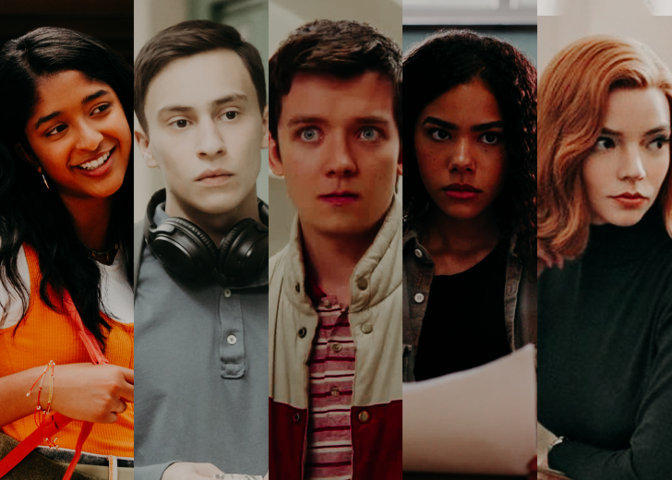 With a vast genre of films and series available on Netflix, the coming of age series are one of the most consumed contents on the over-the-top content platform.
And why wouldn't it be? The coming-of-age, commonly known as the teen series, celebrates experiences, emotions, hormonal fluctuations, love, and friendship.
At the end of the show, all those things bring the exquisite teenage years back, making one relate the story with their own fragile yet free days.
Here are five hand-picked coming-of-age series available on Netflix you'd love to binge on.
'Never Have I Ever'
Never Have I Ever, created by Mindy Kaling and Lang Fisher, is a teen comedy-drama that follows its protagonist Devi Vishwakumar seeking romance in her life.
The character, played by Maitreyi Ramakrishnan, is a 15-year-old Indian-American Tamil girl from Sherman Oaks, Los Angeles.
But the delightful and equally nervous Devi also keeps a deep abiding sadness from the unexpected death of her father, which makes her journey a ride full of fun and emotion.
The Netflix series is a must-watch for its narrators as professional tennis player John McEnroe, comedian Andy Samberg, and model Gigi Hadid mostly narrate the story.
Ramakrishnan, Richa Moorjani, Jaren Lewison, and Darren Barnet starrer premiered its first season on April 27, 2020. The second season premiered a year later, on July 15.
'Atypical'
Atypical, a story of an autistic teenager, also makes it to the list. The comedy-drama depicts the life of 18-year-old Sam Gardner, played by Keir Gilchrist, who is on the road to find a girlfriend and independence.
The Netflix sitcom is also critically praised for its inclusion of autistic actors and writers since its second season. Otherwise, it was criticized for its lack of autistic actors and inaccuracies in its depiction of autism.
"However, as it has progressed through the seasons, it has gained an emotional maturity and a new level of depth and warmth," columnist Rebecca Nicholson wrote in her review for The Guardian.
In addition, Gardner's comic timings, especially his fun facts about penguins and Antarctica, keep viewers hooked till the very end.
The series premiered its fourth and final season on July 9, 2021.
'Sex Education'
Sex Education definitely comes across as one of the most loved British comedy-drama series, starring Asa Butterfield, Gillian Anderson, Ncuti Gatwa, Connor Swindells, Emma Mackey, Aimee Lou Wood, and Kedar Williams-Stirling.
And just like its title suggests, the series constructs the complex emotions of teenagers that accompany physical desire.
The best moments in the series are the embarrassing conversations between 16-year-old Otis and his therapist mother, Jean, as she shares her vast knowledge of intimacy with her son.
With two completed seasons, the series is scheduled to release its third season on September 17, 2021.
'Ginny & Georgia'
If someone hopes for a crossover between Desperate Housewives and Gilmore Girls, Ginny & Georgia is for them.
The comedy-drama, created by Sarah Lampert, is the story of a 15-year-old Ginny Miller, played by Antonia Gentry, who is more mature than her 30-year-old mother Georgia Miller, played by Brianne Howey. Making Ginny and Georgia a great duo already.
The mother-daughter duo resides in New England town with Austin, Ginny's young brother, with Georgia wishing to give her children a better life.
The coming-of-age series released its first season on February 24, 2021. The second season was officially renewed on April 19, 2021.
'The Queen's Gambit'
Anya Taylor-Joy starrer The Queen's Gambit is a period drama miniseries based on Walter Tevis's 1983 novel of the same name.
Taylor-Joy portrays Beth Harmon, an orphan who grows up to become a competitive chess prodigy. She is fueled by a desire to become the world's greatest chess while hiding her drug and alcohol dependency.
The series, loosely set in the mid-1950s (which proceeds into the 1960s), follows Beth's journey to accomplish her dreams.
If you need more reason to watch the series, it won two Golden Globe Awards and received 18 nominations at the 73rd Primetime Emmy Awards.