Antonia Gentry Is Making Her Voice Heard through Shows Such As 'Ginny and Georgia'
Antonia Gentry is making her voice heard with the help of her character, Ginny, in the new coming of age series on Netflix, 'Ginny and Georgia.'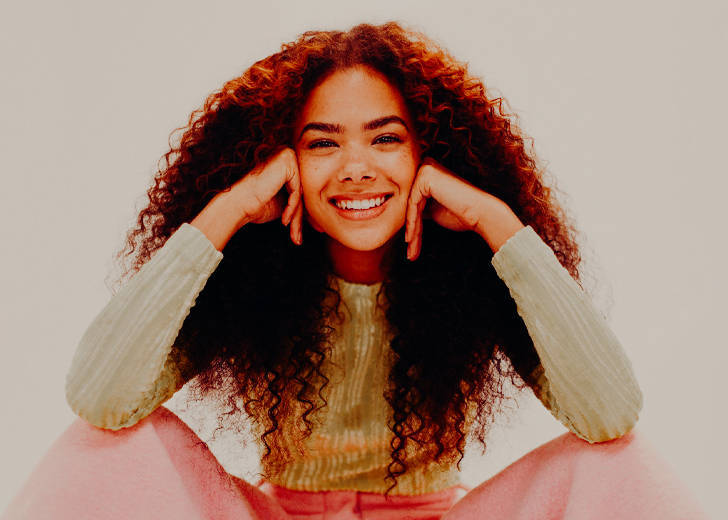 Fresh to fame, Antonia Gentry, the young star from Ginny & Georgia, one of Netflix's successful shows in recent times - has been practicing her way to Hollywood ever since she was five. Playing the lead in the Netflix series remains the first big role — 23-year-old Gentry has ever undertaken.
Gentry Has Always Been Into Acting
Gentry made her stage debut with a play written by her mother, Sandra, which she performed at their community theatre.  
In her Teen Vogue interview on February 24, 2021, the Atlanta native confessed that she'd dreamt of becoming an actor since she was five.
In the same interview, the actress revealed that as a child she used to make videos on her father's video camera and pretend to be different characters.
Two years ago, her mom accidentally stumbled upon one such video, where Gentry expressed her desire to be an actress. 
I actually have videos that I used to make on my dad's potato of a video camera… in one of [them] I actually say to the camera, 'I think I'm going to become an actress.' My mom found those videos about two years ago. It was so embarrassing but very cool to see.
After realizing her love for acting, Gentry attended a fine-arts school and performed several plays at the regional, state, and national levels. 
After finishing high school, the actress decided to further work on her acting career, leading her to attend the Emory University of drama. A year before her graduation, in 2018, the actress landed her debut on Netflix with a small part in the film Candy Jar.
In the midst of her graduation process, the actor tried her luck for the lead role of Virginia Miller, a.k.a. Ginny, in the Netflix coming-of-age series Ginny and Georgia. 
Reminiscing about the tough times she faced during her last year at university with final essays, exams, and the lead role, the actress expressed gratitude towards her professors for understanding and encouraging her.
My professors were understanding and encouraging for the most part, but it was pretty hard bouncing back and forth between being a full-time college student, working part-time, and also trying to pursue this career.
Hard work always pays off, and so was the case for Gentry as well. Two weeks after her graduation, the actress was officially booked for Ginny and Georgia.
Gentry Didn't Want To Lose The Role
In her Teen Vogue interview, the actress admitted that after getting booked for the role she had to do a lot of traveling for the chemistry read, which took her to different places from LA to Canada.
Because of all the traveling, Gentry developed blood clots in her leg, but she dealt with it in secret, as the role was very important to her.
That was kind of scary, but I [had] booked the role, and I wasn't going to tell anyone about my blood clot. I was like, this is too important. I'm just going to deal with it.
In her interview for Seventeen, the young actress mentioned how the first thought that ran across her head when she got the role was, "make sure they don't fire you." 
Since it was her first time in such a big role, the actress confessed that she wanted everyone on set to like her, and although she was playing the lead character in the series, she was constantly growing.
The Things 'Ginny' And 'Gentry' Have in Common
In multiple interviews, the actress has mentioned how she relates to her character Ginny. In her interview with Teen Vogue, the actress said; 
Very rarely do you come across scripts [with] characters that you can totally relate with. I felt like Ginny was finally that.
In an interview with Seventeen on March 7, 2021, Gentry expressed that to re-live her teen years through Ginny allowed her to go back to the memories and the experiences she faced as a bi-racial person. 
She mentioned being called by the scriptwriter, Sarah Lampart, as soon as they started filming. Gentry stated that Lampart invited her to share her experiences of growing up bi-racial and being in a predominantly white school - and having white friends. 
Gentry mentioned how understanding Lampart was on her quest to tell an accurate story that everyone could relate to. 
Having shared all her stories with Lampart, which helped build the script, the actress mentioned she felt like she finally has a voice, and the fact that it was a Netflix show, psyched her. Talking more about her experience, the actress stated:
Because as you grow up, you're already marginalized and you're thinking that you don't have a voice that people really want to pay attention to, especially the biracial experience. So having that platform really, really helped me go into it feeling competent and it was very cathartic.
The actress confessed that some of the lines from the show said to Ginny by other characters were actually quoted from Gentry's real-life conversations.
The Differences
Gentry mentioned that the major difference between her on-screen character and reality was that while Ginny had a white mother, her mother was colored and from Jamaica. 
She also mentioned that her mom was her best friend and always understood her struggles, especially related to race. Unfortunately, Ginny lacked that. According to the actress, this allowed her to get her head around multi-racial communities' different experiences. 
Another major factor that distinguishes Gentry from her on-screen character is her love life.
While Ginny is in a constant struggle between two men, Gentry seems to have a pretty solid love life with her long-time boyfriend, Ezra Pounds. 
Her boyfriend is bi-racial like her, with a Korean father.
The couple has been with each other for more than five years now. A post from Gentry's Instagram on February 15, 2019, contained a series of pictures of them holding hands.
Hounded By Swifties 
Despite all the glamour, fame has its downsides as well. In an interview with Elle, Gentry expressed that she knew what she was in for and was ready for it.
Recently, the young actress caught a feud with Taylor Swift fans (Swifties) when her character Ginny blurted a line to Georgia (Brianne Howey) in a fit of adolescent anger. After seeing Georgia change multiple partners, Virginia, the character played by Gentry, accused her of "going through men faster than Taylor Swift."
Quickly, the swifties came at Gentry with racist comments all over the social media.
The actress dealt with the situation quite diplomatically. She posted a thank you note to her fans on her Instagram on March 4, 2021, instead of addressing the controversy directly.


 (Source: https://www.instagram.com/_antoniagentry_/)   
In her long post, the actress points out that she was very grateful for the love her fans have been showering her with love. Alongside, she mentions that she is grateful for the appreciation received from young girls who relate to her and feel heard while watching her character. 
She further adds that she loves Ginny, as she is flawed and imperfect, just like all of us. The actress wrote that her character is just a normal girl who is open to making mistakes is and entitled to her biases, prejudice, and injustices.