How Did Katherine Langford Turn up to Become Netflix Star? Her Journey Explained
Katherine Langford is renowned for her Netflix shows '13 Reasons Why' and 'Cursed.'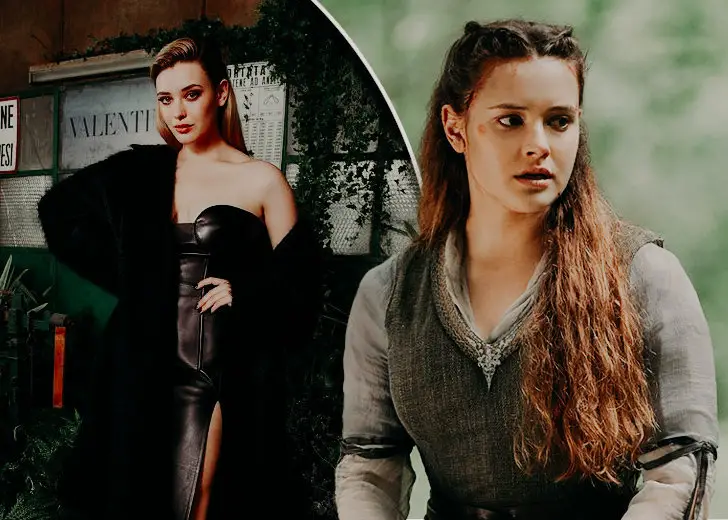 Katherine Langford is an actress who is best recognized for portraying the characters Hannah Baker and Nimue in Netflix shows 13 Reasons Why and Cursed, respectively.
But Langford isn't just troubled Hannah or warrior Lady of the Lake like her on-screen characters — there's probably a lot you don't know about the actress behind these iconic characters.
Who Is Katherine Langford off-Screen?
The 25-year-old actress is an Australian native, born in Perth, Western Australia, and was brought up in Applecross, a riverside suburb of Perth.
The diva is the eldest daughter of Stephen Langford and Elizabeth Green Langford, who are professionals in medical services.
Katherine's father, Stephen Langford, is a flying doctor who serves as the Director of Medical Services for Royal Flying Doctor Service Western Operations. 
On the other hand, her mother, Elizabeth Langford, is a qualified pediatrician based in Perth, Australia.
The Cursed star also has a younger sister named Josephine Langford in her family. The younger Langford, a renowned actress in Australia, has starred in movies such as After We Collided, After, and Wish Upon.
Acting Was Not Katherine Langford's First Love
It sounds surreal, but it is true that Katherine, who is an immensely skilled actress, had never thought of pursuing a career in acting.
Growing up, the Spontaneous star had an affinity to music. She started taking jazz, classical, and contemporary vocal training at the age of nine. Her love for music further led her to Perth Modern School, where she studied musical theatre.
As per EW, when she was in her high school years, her top three job preferences were: medicine, politics, and musical theater. Back then, she was also a national swimmer.
What Inspired Her to Pursue Acting?
Speaking to Entertainment Weekly in April 2017, Katherine shared that she was inspired to become a performer after she attended Lady Gaga's Born This Way Ball concert in Perth in July 2012 at the age of 16.
The actress was touched by Gaga's performance and was spiritually inspired. 
I don't know what happened. It was like a spiritual experience, and I was so moved by her performance that I went home and that week I taught myself how to play the piano.
Following her instincts, the 13 Reasons Why actress put swimming on pause and began taking acting classes at 17. Eventually, she got herself an agent who arranged acting auditions for her.
Langford was always fascinated by female protagonists and particularly loved watching Angelina Jolie and Jennifer Lawrence in Tomb Raider and The Hunger Games, respectively.
In an interview with Popsugar in July 2020, she stated, "I grew up watching people like Angelina Jolie in Tomb Raider, Jennifer Lawrence in The Hunger Games, and those kind of role models and characters were so inspiring to me."
How Did Katherine Langford Get into Acting?
After deciding to pursue acting, Langford struggled for about three years before she got herself admitted into a reputed acting school. Her admission applications were often turned down because of her lack of experience.
She opened up about that experience while talking to Glamour UK in July 2020. She explained that she "was just at rock bottom" at that point in her life.
One of the biggest lessons I think I've ever had was when I got into drama school after three years of auditioning. I was asked to test for two projects in the US and the UK. So I turned down drama school to do them and was rejected from both.
But Langford was not ready to give up at any cost despite being jobless and facing several disappointments. She kept auditioning for various projects in the hope of landing something good.
In the process, she sent an audition tape for Netflix's series 13 Reasons Why. A few days later, the show managers informed that they were impressed with her audition and that she had been selected to play the lead character of Hannah Baker in the series.
She was proud of her younger self during the interview with Glamour.
I had to harness a lot of strength to keep doing it. I nearly quit.I think I nearly wouldn't be here if I hadn't kept going. I'm very grateful and thankful that it all worked out and young Katherine kept doing her thing.
'13 Reasons Why' Made Katherine Langford an Overnight Sensation
Langford debuted as Hannah Baker in Netflix's 13 Reasons Why in March 2017.
Her effortless portrayal of a teenage girl experiencing loneliness, confusion, hopelessness, depression, and ultimately taking her own life brought the Australian rookie into the limelight. The actress also bagged six nominations, including one on the Golden Globe Awards for the breakthrough role.
Standing firm on her reputation of being a commendable actress, she impressed her audiences in the second season of 13 Reasons Why as well.
The overnight sensation then appeared in several other acting projects such as Love, Simon, and Knives Out in the coming years.
Langford had also filmed for the adult version of Tony Stark and Pepper Pott's daughter, Morgan Stark, in Marvel's Avengers Endgame.
However, her part did not make the final cut after the directors, Anthony and Joe Russo, felt the scene might confuse fans.
Her last Netflix release was the show Cursed which premiered on July 17, 2020. Her performance as the Lady of the Lake in the fantasy series was well-received, too.