Truth Behind Jennifer Aniston's Face Scar & No-make Up Look
Why was Jennifer Aniston seen with scars on her face in 2014? Here's the truth. Also, get to know about her personal life and more.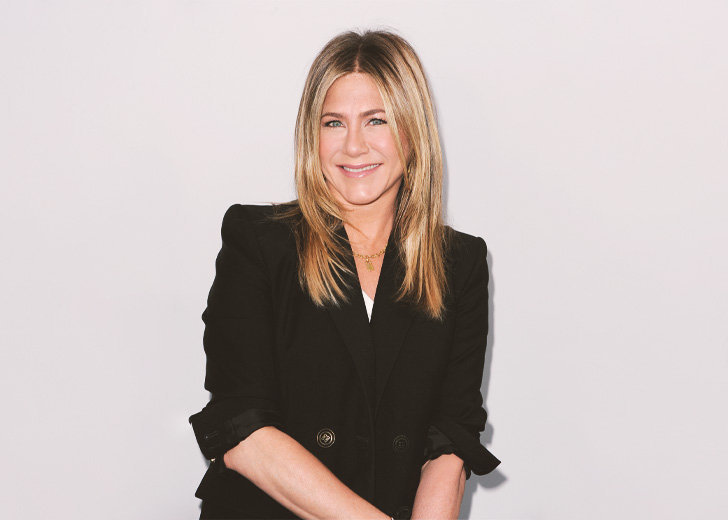 Almost whenever Hollywood actress Jennifer Aniston is seen or pictured without makeup, she makes huge "no-makeup" headlines in nearly all the major entertainment publications. But the year 2014 had a different story to tell when she looked like she had almost no-makeup
In 2014, audiences were shocked to see actress Jennifer Aniston with scars on her face at a cemetery in Los Angeles. Precisely, it was sometime between March and April 2014 that the Friends actress was spotted with scars on her forehead, chin, and neck in public.
For the drama movie Cake, directed by Daniel Branz and written by Patrick Tobin, it was later known that Aniston had undergone makeup with prosthetics for her role, Clarie Simmons. The place where onlookers first saw her was where one particular scene of the movie was to be shot.  
The role was that of a grieving mother suffering from chronic pain sustained from a car accident. She is in a support group that loses a member (played by Anna Kendrick) to suicide, and she ends up bonding with the late women's husband, played by Sam Worthington.
The movie bombed at the box office; however, her face scar is remembered even today. 
What Did Jennifer Aniston say about her facial scar?
It is understood that Aniston worked in the movie without regular makeup apart from the scars manufactured by the makeup artist.
The Bruce Almighty actress spoke about her work in the movie at The Contenders 2014 in the DGA Theater on Sunset Boulevard in California. She described the opportunity to work in a film without traditional movie makeup as "so fabulous, and so dreamy and empowering and liberating."
Talking further about the movie and her role as Claire Simmons, Aniston said, "It's our little love project. When I read the script, I was ready to disappear." However, the no-makeup concept brought her character to life and successfully reflected the hardships faced by Simmons. 
During the event, Aniston stressed keeping movie productions alive in California. As per her, this is "our industry," and filmmakers "should be able to make our movies here."
Furthermore, in an interview with Cosmopolitan in December 2014, she talked about going physically unattractive to "get recognization and respect of some sort." "Oh, finally, she's acting!" Aniston joked. 
Aniston's facial scar got her work recognized
Even though the movie did not do well in theaters, Aniston's work was appreciated. Her powerful acting, tagged with real-looking makeup, made her character stand out.
She was nominated for the 'Best Actress in a Motion Picture - Drama' category at the 2015 Golden Globe Awards and was later in line for Screen Actors Guild Awards in 'Outstanding Performance by a Female Actor in a Leading Role.'
However, talk show host Ellen DeGeneres expressed shock after learning that Aniston wasn't nominated for an Oscar for her work in the 2014 drama feature.
Despite being limited only to nominations, the recognition for her acting chops proves that Aniston's work in the movie Cake did not go unnoticed. 
Another fascinating thing about Aniston's work in this particular movie is that many seem to notice her acting pedigree. She is widely known for her comedic roles and comic timings, and much of that credit goes to her long-time affiliation with the hit TV Sitcom Friends, which is now considered a classic.
Even though the popular show wrapped up after the successful ten seasons in 2004, her character Rachel Green is still celebrated by fans worldwide. However, the Aniston we see in Cake is the polar opposite of Green, which proves her acting range, especially in a primarily dramatic movie. 
But what about her personal life, Is Jennifer Aniston in a relationship now?
Aniston has been married and divorced twice. She was married to Bradd Pitt from 2000 to 2005. She married actor Justin Theroux in 2015, and they remained together until 2017.
The Los Angeles-born actress also has a rich dating history. Her first known serious relationship was with actor Daniel MacDonald in the early 2000s. She told Entertainment Tonight in January 2015, "He was my first love — five years we were together." Previously, she dated Counting Crows frontman Adam Duritz, briefly in 1995 and Tate Donovan from 1995 to 1997. 
Aniston has also revealed that she dated actor Paul Rudd at one point. And from 2005 to 2006, she was in a relationship with her The Break Up co-star Vince Vaughn.
As of now, she is single but open to a new romantic relationship. However, as per her interview with Allure in December 2022, she cleared that she didn't want a marital relationship or marriage at the moment. "It would be wonderful to come home and fall into somebody's arms and say, 'That was a tough day,'" she shared. 
How many biological children does Jennifer Aniston have?
Aniston has no children, but in the past, she tried to get pregnant through IVF in her thirties and forties, but she never got pregnant.
 "All the years and years and years of speculation... It was really hard. I was going through IVF, drinking Chinese teas, you name it. I was throwing everything at it," she shared.