'Friends' Cast Say They'll Never Do Another Reunion
This might be the last time we see the 'Friends' cast members together on camera.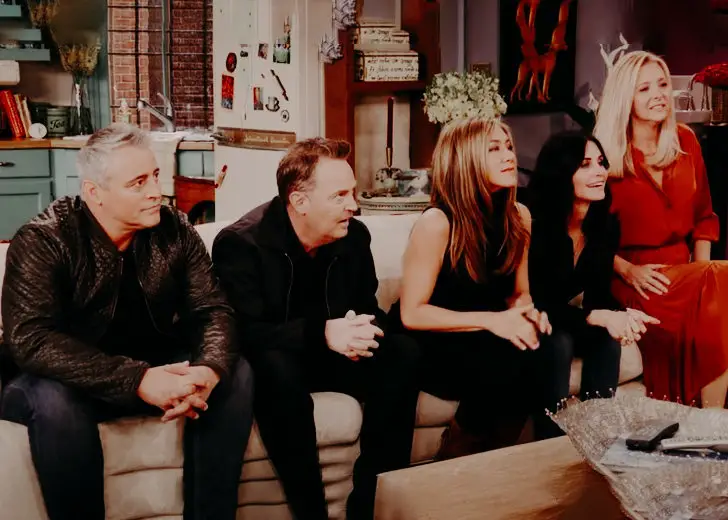 SPOILER WARNING: Plot and ending details for Friends: The Reunion. 
The long-awaited Friends: The Reunion finally aired on May 27 after being postponed three times. The One Where They Get Back Together featured the original cast members — Jennifer Aniston, Lisa Kudrow, Courteney Cox, David Schwimmer, Matt LeBlanc, and Matthew Perry. 
Along with the cast members, celebrities like David Beckham, Justin Bieber, Reese Witherspoon, Malala Yousafzai, BTS, Lady Gaga, Elliott Gould, Kit Harington, Larry Hankin, Mindy Kaling, among others, starred as guest stars. 
The reunion happened 17 years after Friends ended and sadly, we might not be getting another one anytime soon. 
Next 'Friends: Reunion' Might Not Happen 
While the six friends took a stroll down memory lane, discussing the show and meeting guest stars, Cox made a sad announcement. 
She revealed that this would be the last time they will ever be asked about the Friends as a group. She declared they would not be doing any reunions for the upcoming future. 
Honestly, this will really make me cry, but this will be the last time that we're ever asked about the show as a group that we will do this, like, we're not going to do this in 15 more years.
However, this doesn't mean that they would not meet each other. The six of them, who consider themselves siblings, will do their reunions, but everything will happen off-camera.  
Regardless, the Friends' cast enjoyed their reunion on camera. They were back at the Warner Bros. soundstage, which had been their second home from 1994 to 2004. They recalled their experiences, did a few skits with guest stars, and shared their thoughts on re-watching Friends on various platforms like Netflix and HBO Max. 
Fans React To Best Moments From The Reunion 
As soon as the Reunion aired, fans rushed to Twitter to talk about it. As a result, 'Friends: The Reunion' was trending on #1. 
Since many people were excited to watch the reunion, the traffic crashed HBO max's website. 
James Corden was the host of the special episode. While many people appreciated him being a part of the reunion, a lot of them couldn't help but think if he was stealing the thunder from the cast. 
The famous Friends intro song, 'I'll be there for you' got an updated video that made fans emotional. 
Lady Gaga appeared dressed up as Kudrow's character — Phoebe Buffay and sang 'Smelly Cat,' and the internet couldn't handle it. 
And, of course, Kudrow recreated Buffay's most iconic line, "My eyes! My eyes!"
LeBlanc dressed up as his character, Joey Tribbiani, and proved that some things never change. 
The BTS army couldn't hold their excitement when the K-Pop boy band made an appearance on the show, and they were called "BTS THE BIGGEST BOY BAND ON THE PLANET." 
Aniston and Schwimmer casually revealed they had feelings for each other; however, they channeled it through their characters — Rachel Green and Ross Geller. 
All in all, it was an emotional rollercoaster to the fans as well as the cast members.