'Friends' Star Lisa Kudrow Celebrates Son Julian's Graduation from USC
Friends alum Lisa Kudrow took to Instagram to post a picture of her son on his graduation day.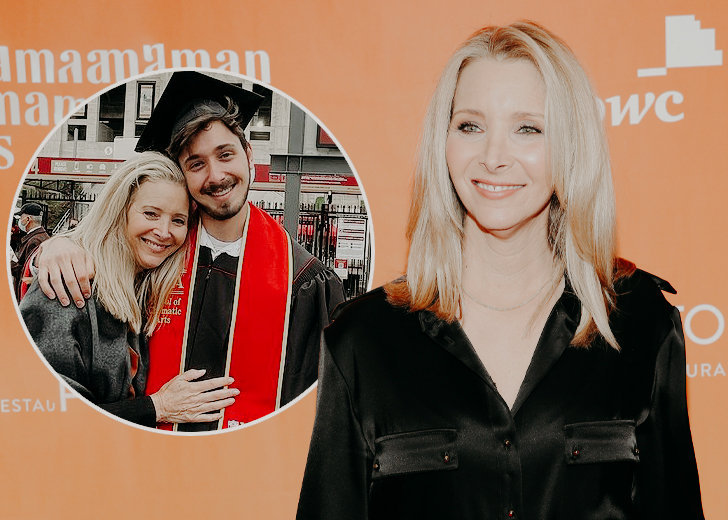 Just over a week ago, Lisa Kudrow, known for playing the eccentric Phoebe Buffay on Friends, gave a rare glimpse of her son Julian Murray Stern on her Instagram. It was her wishing him on his 23rd birthday via FaceTime. 
She also posted a picture with her son on the occasion of his graduation from the University of Southern California (USC). The proud mother shared a photo on Instagram to congratulate him for his achievement. 
Stern's Graduation 
Stern graduated from USC's School of Cinematic Arts on May 16, 2021. Kudrow attended the function in person, showing support to her son on his big day. 
In the adorable picture posted by Kudrow, the mother-son duo was hugging each other. Stern was wearing his black gown and cap with his arms around his proud mother. 
Along with the picture, Friends Alum penned how proud she was of the 23-year-old on the captions. She also confessed that she cried a little. 
Stern also shared a few pictures of himself on his Instagram. He admitted that even though it was not easy, he was proud of graduating from USC. 
Even though the 23-year-old might have just graduated, his career in the film industry has already gained traction. In 2019, he also had a debut as a director in his junior thesis titled Mind Made Up. 
On May 8, the young graduate took to Instagram to share that his thesis film had been selected for the Portland Comedy Festival. He thanked everyone involved in his project and claimed that this moment was a dream come true. 
Kudrow, the proud mama, showed her excitement at her son's feat by cheering for him via his comments. 
Kudrow's Pregnancy Was On the Script Of Friends
The 23-year-old is the only son of Kudrow and her husband of 26 years, Michel Stern. She was pregnant with her son while filming the fourth season of Friends. 
The writers of the famous series incorporated Kudrow's pregnancy into the show so that there wouldn't be any difficulties in filming the show. Her real-life pregnancy was well supported by the cast members, who included baby Stern in their group hug even though he was not even born. 
Surprisingly enough, Stern was not a fan of his mother's portrayal on Friends. But this seems to have changed now since Kudrow shared a sentimental moment for her on Conan.
While having a conversation about Friend's reunion, The One Where They Get Back Together, Kudrow revealed Stern had not watched every episode of Friends. However, he was able to attend the reunion while filming. Afterward, he came up to his mother and said that he was very proud of her. 
The Friends alum confessed Stern saying that was one of the most emotional moments for her. 
Friends: The Reunion was postponed three times because of the COVID-19 pandemic, but it has been confirmed that it will debut on May 27. It will air on HBO Max and feature the original Friends' cast — Kudrow, Jennifer Aniston, Courteney Cox, Matt LeBlanc, Matthew Perry, and David Schwimmer. 
Guest stars include David Beckham, Justin Bieber, BTS, Kit Harington, Mindy Kaling, and Malala Yousafzai.