Jennifer Aniston and Vince Vaughn Ended Their Relationship Amicably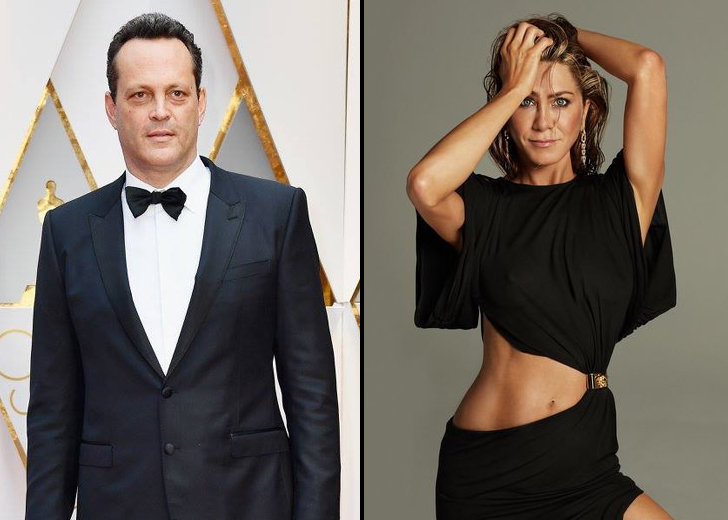 Jennifer Aniston and The Break Up co-star Vince Vaughn dated for a year before splitting amicably.
To this day, the two actors are great friends. They have also had nothing but good things to say about each other.
Here's a look at Aniston and Vaughn's relationship.
Jennifer Aniston and Vince Vaughn's Relationship
Aniston and Vaughn began dating in the summer of 2005 while working in the 2006 movie The Break Up.

Jennifer Aniston and Vince Vaughn on 'The Break Up' (Source: YouTube)
As soon as they began filming, rumors of the two starting a romance popped up. However, both Aniston and Vaughn shot the rumors down.
"I adore Vince Vaughn," Aniston told Vanity Fair. "But I'm not going out with Vince Vaughn."
Similarly, Vaughn also told Katie Couric on the Today show that they were having a great time shooting the movie, but that was the extent of their relationship.
It was eventually revealed that the two had gotten together, but they refrained from publicly discussing their romance.
Jennifer Aniston and Vince Vaughn Wedding Rumor and Split
Around April 2006, Aniston and Vaughn were plagued with wedding rumors. She took to The Oprah Winfrey Show to deny a tabloid report saying she was planning an $8 million wedding.
Aniston called the rumors unbelievable and confirmed they had nothing about any sort of wedding planned.
Vaughn also joked about the rumor, saying he was expecting a good band for $8 million. 
He also talked about his relationship with Aniston. "Jennifer's great. She's one of my favorite people… She's just really smart and funny and easy to be with - very considerate. She's great."
Towards the end of 2006, Aniston and Vaughn revealed they had agreed to mutually end their relationship.
While neither of the two has revealed why they went their separate ways, it's believed that the reason for their split was their busy schedule.
Jennifer Aniston and Vince Vaughn Are Good Friends
Though Aniston and Vaughn parted ways, they have maintained an amicable relationship.
In fact, they have shown their appreciation for the other on multiple occasions.
When talking to Vogue in 2008, she described him as "[her] defibrillator" as it had helped her bounce back from her divorce with Brad Pitt.
"He literally brought me back to life. My first gasp of air was a big laugh! It was great. I love him. He's a bull in a china shop," she said. 
"He was lovely and fun and perfect for the time we had together. And I needed that. And it sort of ran its course."
Vaughn also told Playboy Magazine that he had kept much of his relationship with Aniston under wraps because he never enjoyed the paparazzi side of celebrity relationships.
Following their split, Vaughn moved on with Kyla Weber. They tied the knot in 2010 and have two kids together — daughter Locklyn Kyla Vaughn (born December 18, 2010) and son Vernon Lindsay Vaughn (born August 7, 2013).
As for Aniston, she wed actor Justin Theroux in 2015. Unfortunately, their marriage didn't work out, and they went their separate ways after two years of marriage in 2017.
Like with Vaughn, Aniston has maintained an amicable relationship with Theroux.