Is Jeff Probst Married? — A Peek into His Personal Life!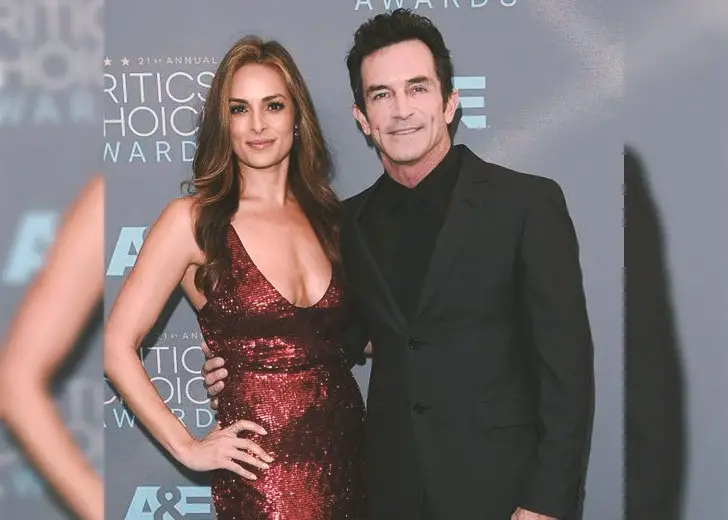 Who did Jeff Probst marry? This is something many fans ask repeatedly. Probst, an American reality show host, and producer, is quite popular for his work on the U. S version of the CBS show Survivor. 
He is the mainstay of the reality series, which first aired on May 31, 2000, and is currently into its forty-first season. The talented showrunner is highly credited for his work on the series, which has become popular among the followers of reality television shows.
Producer Probst has also written a book called Stranded, based on his hit show, Survivor.
Is Jeff Probst Married?
On December 5, 2011, showrunner Probst married his longtime girlfriend and current wife, Lisa Ann Russell. As per People, the couple married in a private wedding ceremony among his family and friends in Los Angeles. 
According to Men's Health, this was a second marriage for Probst and Ann Russell. Probst was previously married to Shelly Wright, who used to work as a psychotherapist.
The producer married his first wife, Wright, in 1996, but unfortunately, his marriage with his previous wife did not work out, and the ex-couple went their separate ways in 2001.
Likewise, his wife Ann Russell was previously married to American actor Mark-paul Gosselaar, notably known for his portrayal of Zack Morris in the American sitcom Saved by the Bell. 
She shares two kids, son Michael Charles Gosselaar and daughter Ava Lorenn Gosselaar with her former husband.
Based on a 2012 report by Entertainment Online, Probst and Ann Russell amicably share custody of the kids with Gosselaar and his second wife, Catriona McGinn. Probst exclusively talked about the subject in his sitting with legendary talk show host, the late Larry King on Larry King Now in 2012.
Shortly after his divorce from his former wife, Ann Russell, Gosselaar married McGinn in 2012. His wife McGinn works as an advertising executive in Los Angeles.
Jeff Probst Relationship History
Before meeting his current wife, Ann Russell, the producer was in a relationship with a former contestant on his show Survivor.
According to Suggest, Probst fell in love with a participant named Julie Berry during season four of Survivor: Vanuatu. Talking to the Philippine Daily Inquirer in 2008, Probst recalled his time with Berry and revealed how he was in awe of her beauty since the moment his former girlfriend walked in for an audition.
Recalling his first meeting with Berry, Probst said,
I was so struck by her beauty when she walked in. I threw the paper down. I was like, 'I know I'm voting for you to be on the show.'
In his 2004 interview with People, Probst admitted to being "madly in love" with Berry and admitted they did not date each other right from the moment their eyes met. Instead, they waited until the filming of the show was wrapped up.
Probst met his wife Ann Russell at a Christmas party hosted by Survivor's creator, Mark Burnett. 
In his sitting with Larry King, the producer called the-then gathering to be the "craziest Christmas party" that I've ever been to because of the "eclectic group of people there." And in that same party, he met his wife-to-be, Ann Russell, who was "with two other friends just there to see the spectacle."