Is Dan Levy Gay? Does He Have a Partner?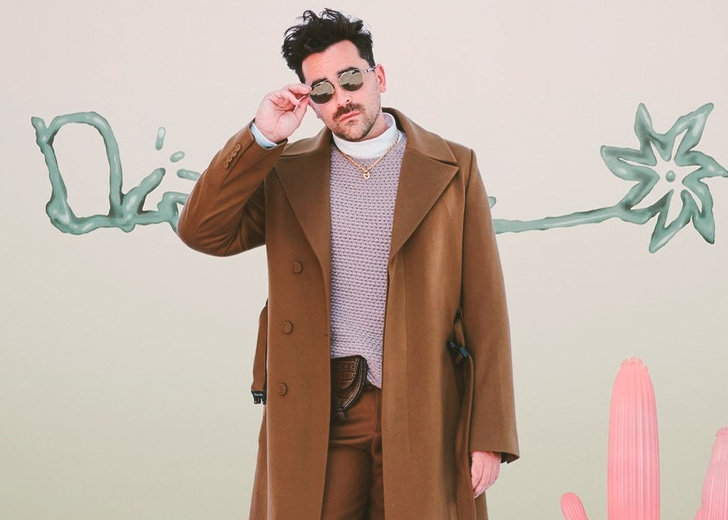 Dan Levy is an actor, writer, producer notably known for his work on the beloved television show Schitt's Creek. His work in the show as David Rose was critically acclaimed. 
Levy co-created the popular sitcom with his father Eugene Levy and, in the sitcom, worked alongside his sister actress Sarah Levy who was one of the actors in the show.
The Canadian actor made history in 2020 after becoming the only person to be awarded the Primetime Emmy Award as producer, director, writer, and actor in a single year for his work in the final season of Schitt's Creek.
The actor/showrunner holds multiple degrees in film production from York University and Ryerson University. Levy's glittering career began in 2006 after he was offered to work for MTV Canada as a television host. 
Despite his success, Levy's sexual orientation and dating history are often a topic of gossip as fans show interest in the actor's personal life. 
Is Dan Levy Gay?
Levy's sexual orientation isn't hidden, and the actor is publicly known to be gay.
In one of the episodes of the Watch What Happens Live, Levy was presented with the cast of the sitcom Schitt's Creek, which included his father, Eugene. During the show, Levy was asked when exactly he came out as gay to his dad.
In his response, Levy revealed his age at the time to be eighteen. His father Eugene spoke about how it wasn't him but his wife, to whom Levy came out as gay.
Per Levy, his mother understood what he wanted to talk about and asked Levy to come with her over lunch one day.
The actor further spoke about how his mother almost knew about her son's sexual orientation beforehand and decided the right time for her son to come out.
His father Eugene also stated how everyone in their family knew about Levy's sexual-orientation way before his confession. 
Does Dan Levy Have a Boyfriend?
Earlier this year, Levy was involved in a video questionnaire session with Vanity Fair. During the chat, he revealed to the tabloid to have gone on a number of dates while he was living in London before the pandemic began.
However, the actor did not reveal enough information regarding whom or how many people he dated. 
During the same conversation, the actor was asked, "What or who is the greatest love of your life?" Levy told the entertainment magazine that he "don't think" he's met his boyfriend yet.
The actor instead called his dog Redmond to be the love of his life. 
As of this writing, Levy is understood to be single. Therefore, It remains to be seen whether or not he's involved in a relationship with someone.
Levy Played a Queer Character in 'Schitt's Creek'
In 2015, Fashion Magazine asked Levy about his character in the popular show. In Schitt's Creek, actor levy portrayed a pansexual character named David Rose. 
He was asked whether it was important for the actor to use his art and voice to further the visibilities of the queer community or was it coming from a place of storytelling.
In his response, Levy told the magazine that his character was "really" about the story.
He further said,
It was about telling the best story we could and the most thoughtful story we could and creating characters that were dimensional and had something to say.