Hollywood Lookalikes That Make Fans Do a Double Take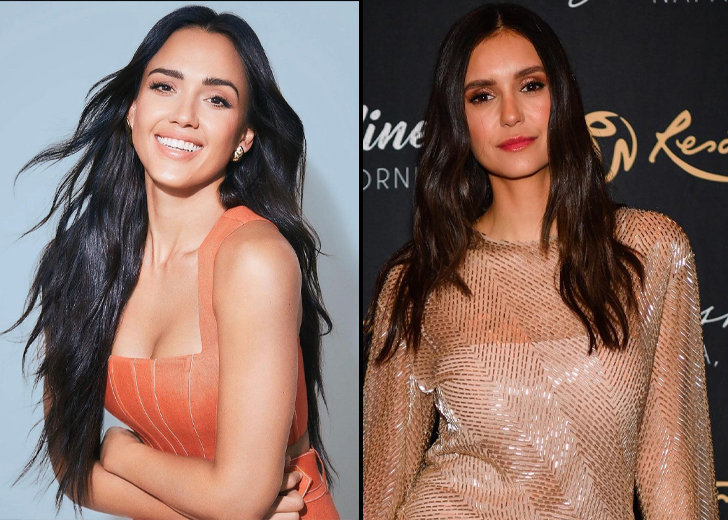 Scientists reportedly say every person has roughly six doppelgangers out there in the world. So going by that, there are seven people with your face, including you, out there.
So it is likely for you to have a doppelgänger, and they might not even be your twin, related to you, or connected to you in any way.
Things are not too different for Hollywood celebrities, so to say.
Over the years, we have had many instances of celebrities having famous lookalikes, unrelated identical twins, that resemble them uncannily. Here are some of them!
Emmanuelle Chriqui and Nina Dobrev Are Look-Alike
One of those many instances includes actresses Emmanuelle Chriqui and Nina Dobrev, who have fans often confused over them.
Y'all keep talking about Victoria Justice and Nina Dobrev but what about Emmanuelle Chriqui and Nina Dobrev ??? pic.twitter.com/9uBEsibJtQ — 𝐌𝐞𝐥𝐢𝐳𝐳𝐚 𝐭𝐡𝐚𝐭 𝐠𝐢𝐫𝐥 🔪 (@Alexthelion5000) May 4, 2021
"...Nina Dobrev, is a Bulgarian Christian with olive skin, and she's sometimes Mistaken for actress Emmanuelle Chriqui, who is a Moroccan-Jew. Both have olive skin, and they don't look like Black people," a user on Twitter once wrote about their resemblance.
Rightly so, the two actresses lead a very different life, too.
Chriqui, the daughter of Moroccan Jewish parents, is a Canadian star known for her roles in Wrong Turn, Entourage, and Superman and Lois.
Her lookalike Dobrev, also a Canadian star, is known for portraying Elena Gilbert and Katherine Pierce on The CW's supernatural drama series, The Vampire Diaries.
Sarah Gadon and Lili Reinhart
Alias Grace star Sarah Gadon and Riverdale actress Lili Reinhart are other fine examples of celebrities' lookalikes.
In 2019, Reinhart took to Instagram stories to post a screenshot of a picture posted on a Kit Harington fan account.
The post showed a movie still of Harington and a mysterious actress who looked eerily similar to her.

A picture comparing the similarities between Sarah Gadon and her lookalike, Lili Reinhart. (Photo: Twitter)
"Saw this on my [Instagram] Explore page and thought it was me??" the actress wrote.
No prize for guessing that the other actress who looked like her was none other than Gadon.
Jane Lynch and Jamie Lee Curtis
61-year-old Jane Lynch and fellow actress Jamie Lee Curtis, 63, also look akin.
So much so that both flaunt short grey hair, which makes it hard for fans to differentiate between the two.
"People say Jamie Lee Curtis and Jane Lynch look identical??? Sisters... Sure...," The Vampire Diaries star Daniel Newman tweeted, implying he was shocked to see the two actresses' resemblance.
Elizabeth Perkins and Millie Bobby Brown
The Stranger Things star Millie Bobby Brown has an identical lookalike, too.
A recent TikTok video posted by user @shuhuhuh compared the actress with Elizabeth Perkins, a 61-year-old actress who starred in Last Night, Big, The Flintstones, and Miracle on 34th Street.
The creator pasted Brown's recent and Perkins' old pictures to showcase that the two looked similar in the video.
Samara Weaving and Margot Robbie
Fellow Australian actresses Samara Weaving and Margot Robbie also make it to the list of celebrities' lookalikes.
The two, both of whom are in their early 30s, are often confused by fans; sometimes, people have approached them but thought they were the other person.
Speaking with WHO magazine (via Dailymail), Weaving shared that she was once approached for a photo by a young Margot fan who thought she was finally meeting her idol.