Top 10 Gay Makeup Artists You Need to Follow Right Now!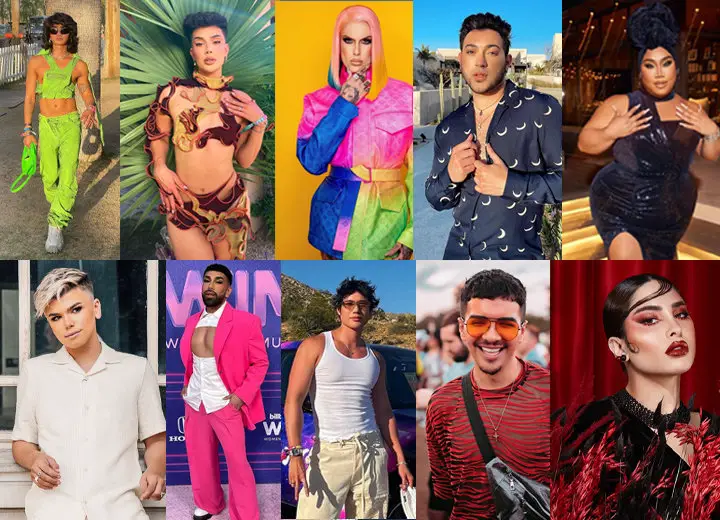 Time and again, talented makeup artists worldwide have proven makeup is gender-free and for everybody. 
From beauty bloggers to professional makeup artists, these creative minds have shared some of the most ground-breaking beauty secrets in the beauty community. 
They have also shared their personal stories and started conversations that the mainstream beauty community can often overlook. And in doing so have inspired and uplifted so many and impacted the world around them.
Below, meet the top 10 gay makeup artists you would want to follow ASAP.
1. Bretman Rock
Starting off the list is none other than one of the most beloved makeup artists — Bretman Rock.
Rock found his admiration towards makeup at the tender age of five or six. "I think I've always been fascinated by women, colors, and makeup," he told Elle, recalling how confident his grandmother used to be after every makeup session.
Following his passion for makeup, he started making funny makeup tutorials and soon rose to fame. With over 18 million followers on Instagram and almost a decade-long career on the internet, he has plastered himself as one of the most influential beauty gurus. 
He earned the Beauty Influencer of the Year title at the E! People's Choice Awards in 2019. Since then, he has evolved to include lifestyle, activism, and fashion-related content on his social media. 
So it's not just his individuality-inspired makeup ideas that you will gain from following him; you may finally find your ultimate fashion inspiration.
2. James Charles
James Charles might have involved himself in some serious controversies over the years, but he is still one of the best gay makeup artists you would want to follow. 
In 2016, his makeup skills made him the first male CoverGirl ambassador and skyrocketed him to fame as one of the top male beauty influencers on social media.
From bright, colorful looks to character-based looks, there is a lot you can grab from his makeup tutorials, which he shares on his social media platforms. 
3. Jeffree Star
Jeffree Star is one of the most famous influencers in the beauty industry today. 
In 2014, he launched his makeup line, Jeffree Star Cosmetic, starting with just velour liquid lipsticks. But, since then, he has expanded his product line to include eye shadows, highlighter palettes, and other lip products.
He has also expanded his fame with thousands of product reviews on his YouTube channel. His great fandom — 16 M subscribers on YouTube and 13.8M followers on Instagram — alone ensures that following him would be worthwhile.
4. Manny MUA
Manny Gutierrez, popularly known as Manny MUA, began his beauty career as an employee at MAC and Sephora. 
But he branched out on his own and started his YouTube channel in 2014, where he often reviews products. He became so famous that he became the first male ambassador for Maybelline. 
Following him could provide you with much-needed product reviews and creative makeup inspiration to save you from boredom.
5. Patrick Starrr
Patrick Starrr, originally born Patrick Simondac, is known as one of the first "men in makeup" on YouTube. 
He has been filming makeup tutorials since 2013, and if you have watched his videos, you will know his makeup techniques and tricks are not for people who love the natural no-makeup makeup look. 
Starrr prefers an elaborate full coverage foundation and contour routines that takes time and patience. 
6. Ruben De Maid
Ruben De Maid is a talented makeup artist like everybody on the list.
But what sets him apart from the other nine on the list is that he is the only one to have appeared on The Ellen DeGeneres Show at 12 years old. Maid, who had been wearing makeup since he was eight, shared tips and tricks to look glowy and refreshed after a long night. 
And more of his other tips can easily be found on his socials. 
7. Mac Daddy
Growing up, Angel Merino would wear makeup for a confidence boost even though he would get bullied for it. 
But he did not let the haters deter him and went from being a makeup enthusiast and working for MAC to becoming a makeup artist for celebrities, including Christina Milian, Ariana Grande, Eva Longoria, and Chanel Iman. Today, he is known as Mac Daddy
8. Arabia Felix
Arabia Felix is a self-taught makeup artist from Kuwait known for his stunning drag makeovers.
Even though he lives in a part of the world that isn't open and accepting of his passion, he hasn't let that stop him from doing what he truly loves. 
In 2017, he won the NYX Arabia Face Awards. And he hasn't ever looked back.
9. Gabriel Zamora
Gabriel Zamora is a self-taught makeup artist who made a breakthrough when he became the first to sign as an in-house stylist with the IPSY beauty community.
He started posting makeup videos on YouTube in 2014 and is still active on his channel. 
10. Patrick Ta
Patrick Ta is probably revered by everyone in the beauty community, for he is every celebrities' go-to makeup artist. 
The man behind some of the most iconic red carpet looks has worked for A-list celebrities, including Kim Kardashian, Bella Hadid, Kylie Jenner, Shay Mitchell, Jenna Dewan Tatum, and Blake Lively.
On landing celebrity clients, he told Cosmopolitan that he "got really lucky." He added, "I met them when I first moved to LA and they took me along for the ride with their career," explaining that such opportunities really helped his career.