Jeffree Star Says The James and Tati Stuff 'Ruined the Beauty Community'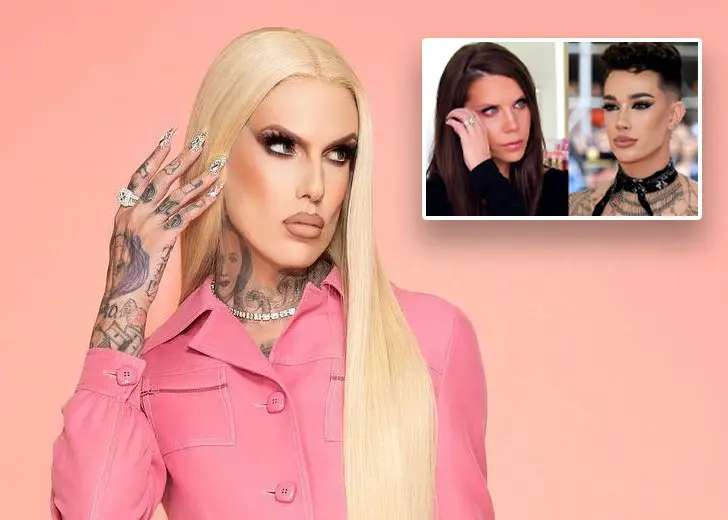 YouTube's wealthiest makeup artist, Jeffree Star, appeared on Logan Paul's podcast Impaulsive on June 15, 2022,
Star discussed everything from hooking up with Kanye West & pro athletes (NBA, NFL, Golf) to living in Wyoming with 100 guns & 1000 yaks.
He also expressed his thoughts about the fall of the YouTube beauty community, an event known as Dramageddon 2.0, that occurred in 2019. 
At the center of the drama was Star, YouTube's conspiracy theorist and documentarian Shane Dawson, and beauty gurus Tati Westbrook and James Charles. 
It all started when Westbrook made accusations against her former friend and mentee, Charles, in a YouTube video titled 'Bye Sister.'
In the video, Westbrook claimed Charles had exhibited predatory behavior toward other teenage boys who didn't identify as gay.

Jeffree Star talking about the beauty community and Tati Westbrook's feud on Impaulsive. (Source: Impaulsive/YouTube)
The accusations were condemning, causing Charles to bleed thousands of followers overnight and lose major sponsorship deals. 
After that, Charles released a video titled 'No More Lies' where he explained everything with concrete evidence. 
Jeffree Star Blames Tati Westbrook and James Charles for Fall of the Beauty Community
Star also supported Tati's claims, saying they knew things about Charles' predatory behavior. 
Unfortunately, he never produced evidence to substantiate his claims and later said he didn't know if they were true.
A year later, on June 30, 2022, Westbrook returned from her YouTube hiatus after the 'Bye Sister' saga, claiming everything she had said about Charles was poisonous lies fed to her by Dawson and Star.
After Westbook's video went live, Dawson and Star ranted on social media about how the beauty guru was lying. 
Unfortunately, netizens started scouring the internet for Dawson's past bad behavior and found old racist and pedophilic tweets. 
Dawson lost over a million followers on YouTube and a billion views from his channel because he had to delete his old content. 
He later released an apology video and took a break from social media. Netizens also tried to cancel Star, and he, too, laid low on social media. 
During the Impaulsive podcast, Star noted that the YouTube beauty community was "kinda dead" because of the craziness and toxicity. He also said that people tried to vilify him. 
"People were awful, and they wanted to villainize me because I and Shane were the most successful and had the biggest launch in makeup history and people got mad at how successful we got and they tried to take us down," said Star.
He added that the "James and Tati" stuff ruined the beauty community, and it affected him mentally. 
Jeffree Star to Address the Drama in His Autobiography
Star revealed little about the drama in the podcast, but the curious fans can read his version of Dramagedon 2.0 in his autobiography. 
In an interview with Women's Wear Daily, while promoting his new skincare brand, the YouTuber discussed the state of his brand market and autobiography. 
Star revealed he would reflect on his version of the Dramageddon in his new book.
"I think there was a pinnacle moment of the Dramageddon moments and these things that just made the beauty community and industry weird," he explained.
He added he was unsure how the event unfolded or when it did, but he was writing a book and offering the truth from his side. 
Star opined it was a nice change to see people wanting facts and information and not the drama.