Kim Kardashian Gets Backlash on Twitter for Apparently Damaging Marilyn Monroe's Iconic Dress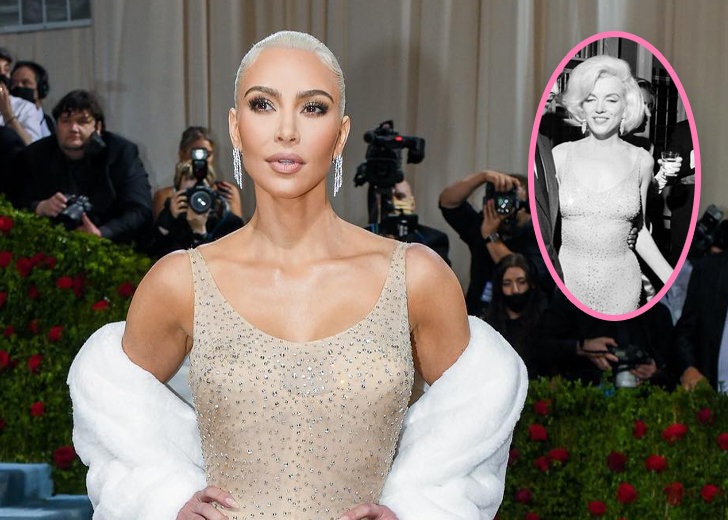 Kim Kardashian made quite the splash at the 2022 Met Gala when she walked the red carpet wearing an important piece of American history — Marilyn Monroe's iconic 1962 dress.
However, she is now in hot water after reports surfaced saying she damaged the iconic dress. Pictures are circulating on the internet that show the dress being damaged in multiple ways.
These reports have caused people to turn on the business mogul, and the outrage towards her deeds is especially visible on Twitter.
Did Kim Kardashian Damage Marilyn Monroe's Dress?
The first pictures of the apparently damaged dress surfaced on June 13, 2022, after a Monroe-related page on Instagram uploaded before-after comparison photos of the dress.
The account had obtained the pictures from another Instagram account, @1morrisette.
The account owner had apparently visited the Ripley's Hollywood museum on June 12, 2022, where they clicked pictures of the said dress while on display.

Kim Kardashian wearing the iconic Marilyn Monroe piece for her 2022 Met Gala appearance. (Photo: Kim Kardashian/Instagram)
Monroe's piece was reportedly missing crystals, and some were hanging by a thread. The dress also looked to be stretched in places, presumably when Kardashian put it on.
After these pictures were released, a few questioned the authenticity of the "before" or original pictures of the dress.
To prove that the original pictures were authentic, the page then uploaded what they claimed was a 4K video of the dress they had taken in November 2016.
The original post also called out Ripley's and other people responsible for the dress for being careless with something so important, writing, "Was it worth it?"
Further, the post also quoted things that Ripley's representatives had said over the past month about how great care was taken when allowing Kardashian to wear the dress.
In their reporting about these revelations, the New York Post claimed they had reached out to both Kardashian and Ripley's for comments. So far, no word back.
People Upset at Kim Kardashian for the Alleged Damage
After these pictures went viral on Twitter, many expressed their discontent with the whole situation. Many were blaming Kardashian for not respecting what has always been considered one of the most important pieces in American fashion history.
"This is like walking into the Louvre and throwing paint thinner directly onto the Mona Lisa. Fashion preservation is so important," someone named Sarah McGonagall wrote on Twitter. "This was the destruction of an irreplaceable historical artifact, all for a walk down a red carpet."
This is horrifying. This is a truly impressive amount of damage that can now never be undone, and will only worsen over time. The whole thing is going to end up falling apart eventually, so much sooner than it ever would have otherwise. Oh my god. pic.twitter.com/ukTrMPIfDl — Sarah McGonagall (@gothspiderbitch) June 13, 2022
Then, providing a few other examples of historical artifact preservation, she added that the damage that had been done to the dress was "trully impressive" and speculated the dress would disintegrate sooner than it would have if nobody wore it.
People were ripping into Kardashian for ruining something as important as the dress, and they were even angrier because the mogul is from the fashion industry.
She wore it for 11 minutes and still managed to ruin the dress bruh doesn't matter if she changed she shouldn't have worn it in the first place — 6kzd (@6kzd1) June 14, 2022
People are mad because marilyn literally had that dress sewn onto her with the request that noone else could wear it. It was already needing special conditions to stay together in the museum. Kim's actions are mad disrespectful. This was the ONE request of Marilyn's we could keep — Absolution (@Absolutionem9) June 13, 2022
leave it to kim to destroy a historial piece of art — will smith apologist (@krustycombo) June 13, 2022
Many were asking Kardashian why she would put on a dress that didn't fit her, and others were telling her she shouldn't have gone forward with the idea in the first place.
But not everyone was blaming Kardashian. Some were of the view that it was not her fault she wanted to wear the dress but rather, it was Ripley's fault for allowing her to.
Kardashian went through a transformation to fit into the dress. She put herself through a strict diet regimen and claimed the dress fit her well after a few weeks of hard work.
And she did not even wear the dress for that long. Kardashian had the dress on only for a couple of minutes while walking up the stairs at Met Gala. Once she was up there, she immediately changed into a replica.
Nevertheless, the pictures suggest even a few minutes were more than enough to destroy the iconic piece.