The Domino Effect of DaBaby's Homophobic Rant during His Rolling Loud Performance
Elton John schooled DaBaby on Twitter for his homophobic rant.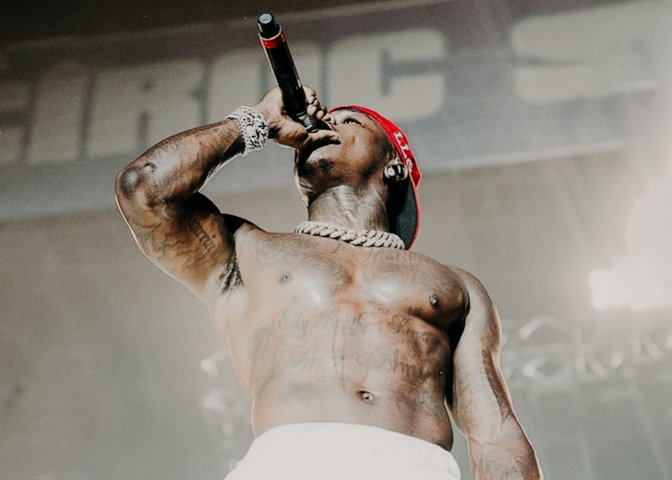 DaBaby's homophobic comments at Rolling Loud Miami on July 25, 2021, have been costing him dearly.
While he is receiving backlash from fans and several celebrities, the rapper's brands, collaborators, and followers are also distancing themselves from him.
Most recently, Manchester's Parklife Festival has decided to no longer promote DaBaby as one of the artists in their lineup.
Parklife Festival
The 29-year-old rapper had a place in the festival as recently as July 14. He was even included in their promotional flyers.
In the wake of the situation, DaBaby's team told TMZ the rapper pulled out of the festival months ago, when events were being canceled due to the ongoing COVID-19 scare.
In addition, the rep also mentioned the festival had mistakenly promoted DaBaby as a performer until last month.
Despite DaBaby's rep clarifying that the recent controversy had nothing to do with the rapper's removal from the England festival, people are not buying it.
The Parklife Festival 2021 is scheduled to take place in Manchester's Heaton Park on September 11 and September 12. The event has roped in Young Thug, Burna Boy, Megan Thee Stallion, Skepta, Slowthai, Kaytranada, and Jamie XX.
Slammed by High-Profile Critics
After initially being supported by fellow rapper T.I. for his homophobic comments, the 'Suge' singer later got slammed by some high-profile critics. 
Firstly, the rapper's recent collaborator Dua Lipa expressed she was surprised and horrified at his comments, saying, "I really don't recognize this as the person I worked with."
Following that, Elton John, Madonna, and Questlove condemned DaBaby's highly questionable comments.
John, an English singer-songwriter who is gay and a longtime HIV activist, took to Twitter to add a long thread, offering some factual data about HIV.
We've been shocked to read about the HIV misinformation and homophobic statements made at a recent DaBaby show. This fuels stigma and discrimination and is the opposite of what our world needs to fight the AIDS epidemic.
In the thread, he shared that HIV has affected over 70 million people globally - men, women, children, and the most vulnerable people in our communities.
He added that a gay black man has a 50% lifetime chance of contracting HIV in America. "Stigma and shame around HIV and homosexuality is a huge driver of this vulnerability," he wrote while urging people to break down the myths and judgments.
John also clarified that an HIV-infected person could live a long and healthy life with one pill a day, and HIV can even become undetectable in their body, so they can't pass it onto other people.
He indirectly targeted DaBaby in the end by saying that "a musician's job is to bring people together" instead of spreading homophobic and HIV mistruths in society.
DaBaby's Controversy
The rapper got himself into trouble after making false and insulting comments about gay men and HIV. He also talked crudely about women during his performance at Rolling Loud Miami.
"If you didn't show up today with HIV, AIDS, or any of them deadly [STDs], that'll make you die in two to three weeks, then put your cellphone lighter up," he said. "Ladies, if your [expletive] smell like water, put your cellphone lighter up. Fellas, if you ain't [expletive] in the parking lot, put your cellphone lighter up."
Three days later, he released a music video titled 'Giving What It's Supposed To Give' on YouTube, featuring a pseudo-apology.
The video saw him holding up a sign reading "AIDS," and at the end credits, rainbow letters display the message: "Don't fight hate with hate. My apologies for being me the same way you want the freedom to be you."
He also apologized to those who were upset because of his "insensitive" comments through a July 27 tweet. But he also iterated that he was not sorry for the LGBTQ community, and asked them to mind their own business.