DaBaby Shades Dua Lipa for Being a Culture Vulture after She Called Him Out For Anti-LGBTQ Comments
DaBaby said brands and artists can keep their money with themselves if they cannot respect Black rappers.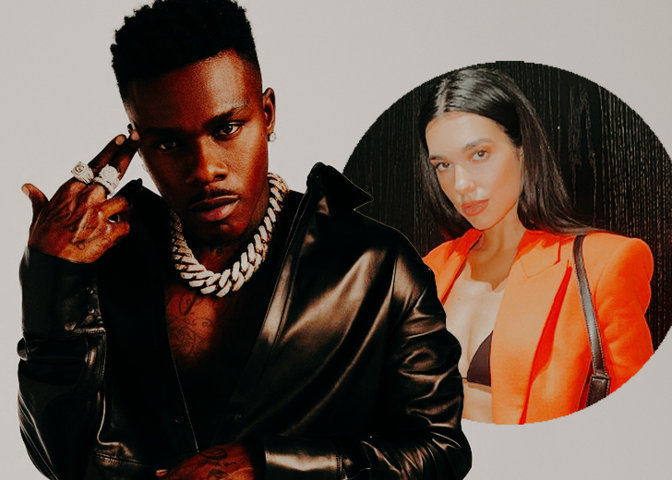 DaBaby has constantly faced backlash from fans and various celebrities since he made highly questionable comments at Rolling Loud Miami on July 25, 2021.
"If you didn't show up today with HIV, AIDS, or any of them deadly [STDs], that'll make you die in two to three weeks, then put your cellphone lighter up," the rapper said during his performance. "Ladies, if your [expletive] smell like water, put your cellphone lighter up. Fellas, if you ain't [expletive] in the parking lot, put your cellphone lighter up."
And despite some, including fellow rapper T.I., showing support towards the 29-year-old, the DaBaby controversy doesn't seem to be going down very soon.
Now, the controversy has taken a completely new shape after singer Dua Lipa, who had collaborated with the rapper on the single 'Levitating,' reacted to the story.
Lipa took to Instagram stories to state she was "surprised and horrified" at DaBaby's comments.
"I really don't recognize this as the person I worked with," she added. "I know my fans know where my heart lies and that I stand 100% with the LGBTQ community. We need to come together to fight the stigma and ignorance around HIV/AIDS."
After her statement on social media, DaBaby immediately took to Twitter and reacted to her words. Firstly, he offered an apology to those who were upset because of his "insensitive" comments.
Anybody who done ever been effected by AIDS/HIV y'all got the right to be upset, what I said was insensitive even though I have no intentions on offending anybody. So my apologies.
But in the same tweet, he called out the "LGBT community," saying he was not sorry for them and asked them to mind their own business.
With such a statement by DaBaby, he also implied that he wasn't thrilled with what Lipa wrote on her Instagram stories.
The rapper followed up his tweet with another post on Twitter, shading the 'New Rules' singer.
He said any brands, networks, or artists, who like to make a profit from Black rappers' influence on the culture without understanding it, could keep their money with themselves
"Or having the patience to deal with what comes with the position we play in our culture," he added. "...us [Black people are] human too."
Many seemingly agreed with the rapper's words as they started calling out Lipa for being a culture vulture, which according to Urban Dictionary, is "an inauthentic individual who attempts to identify with aspects of another culture and claim it as their own."
In an Instagram post by The Shade Room, entrepreneur Chairman Show commented a similar thought.

Chairman Show comments on DaBaby and Dua Lipa controversy. (Source: The Shade Room's Instagram)
He shared there was no need for Lipa to make a statement about a song that she did a year ago with DaBaby. He even said he was sure that she didn't know his real name as well.
"They not friends, this is what a culture vulture looks like stand with him when it's popular but soon as 1 thing happens jump ship?" he added.
Show further stated that DaBaby had a long history, even when he was working with her. But she never cared about him or said anything "as the streams was popping."
Over 32 thousand users showed their agreement on that thought by liking the comment. Interestingly, DaBaby also replied to the comment by dropping a mail emoji.
Lipa is yet to make any comments on the further discussion that took place after her initial statement. 
'Levitating' is getting less airplay
Following this recent controversy, 'Levitating' has been receiving less airplay.
According to the MRC Data, Billboard reported that on July 27, following the controversial remarks, 70.2 percent of radio stations playing 'Levitating' aired the remixed version over the original. By August 2, it was 49.5 percent.
11 HIV/Aids Organisations Pen Open Letter 
Eleven organizations, the likes of GLAAD, Black AIDS Institute, Prevention Access Campaign, among others, penned an open letter to DaBaby hoping for a private meeting to address his Rolling Loud remarks.
The letter explained how HIV was a preventable and untreatable condition and how his words could be misconstrued to ignite stigma and fear in those unaware of the nuances of the condition.
DaBaby did offer a second, more coherent, apology after his remarks. The Instagram post has since been deleted.