Did Megan Thee Stallion Get a Nose Job Amid Weight Loss?
'WAP' hitmaker Megan Thee Stallion left her fans scratching their heads and wondering if she went under the knife when she shared this photo of herself.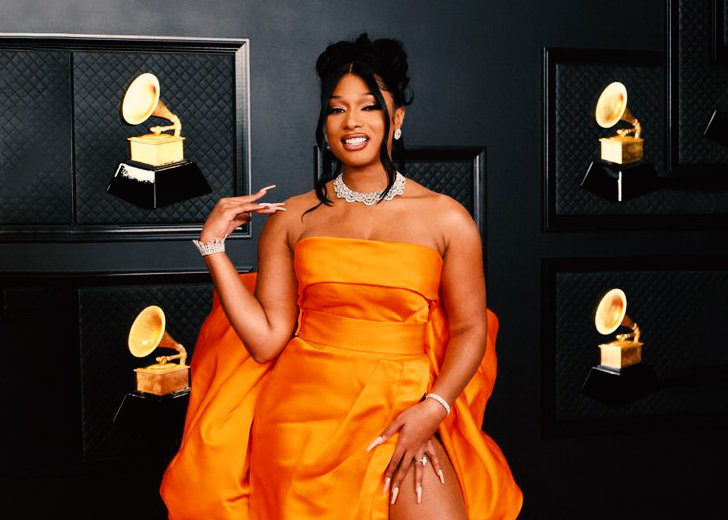 WAP hitmaker Megan Thee Stallion left her fans scratching their heads when she shared this photo of herself in a nightclub on August 18, 2020. She looked a little different than usual.
That is when eagle-eyed fans speculated the rapper must have had a nose enhancement surgery because her nose looked different. 
In the photos, Stallion wore a matching tight crop top and shorts and flaunted a shoulder-length, turquoise-colored wig with a pearl hair clip.
She accessorized with a slew of jewels while striking a pose with a stack of cash in her hands. The mustard yellow Birkin bag on the couch was hard to miss.
Stallion looked gorgeous in the pictures, fans' theory is that she had a rhinoplasty done because her nose seemed to be smaller than before. 
 A fan even made a collage image of her before and after surgery pictures. 
Stallion is no stranger to these allegations. Fans have always wondered if her curvy body is all-natural, but she admitted during a Hot 97 interview in June 2019 that she's always been "comfortable" with herself and has never been under the knife for cosmetic surgery.
According to the Houston rapper, people constantly attack her about her body online. but no has the guts to confront her about it in person.
Stallion Is Going through a Body Transformation
Apart from her massively hit songs, the 26-year-old is also known for her envious curves and height of 5 feet 10 inches. In fact, she got her stage name "Stallion" because of her height.
"Since I was younger, probably about 15 or 16, I've always had the same body. Older guys would always be like, 'Oh, you a stallion,'" she told Houstonia Magazine in 2017.
She initially kept it as her primary name on Twitter, and ever since then everyone started calling her Stallion. 
The rap icon started her journey towards a fitter self in mid-January 2021. Stallion changed her eating habits and developed a more intense workout routine through "#HOTTIEBOOTCAMP."
According to her, it is more of a health journey rather than a weight loss journey. She even encouraged her followers to join along on her fitness adventure.
Stallion lost 10 pounds in the first week, and she had one thing to thank: hydration. 
The rapper is nearly three months into her fitness journey, and she's crushing it. She serves her fans with occassional doses of motivation with her transformation photos.