Know Cole Beasley's Wife Krystin Beasley & Three Children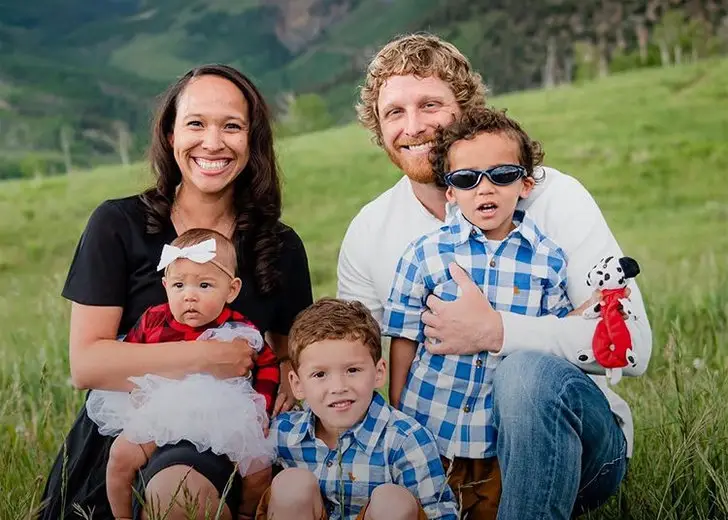 NFL pro Cole Beasley, who has an estimated net worth of 14 million dollars per Celebritynetworth,  began his career with the Dallas Cowboys as an undrafted free agent in 2012. And later, in 2019, he made a place for himself in Buffalo Bills.
Everything was going great, but he got Covid in 2021, because of which he was listed on the reserve. Still, he gave a fair share of performance with 82 receptions, 693 yards, and one receiving touchdown. However, the team released him at the end of the season, and he joined Tema Bay Buccaneers for the 2022 season.
The previous season in 2020, Beasley had a career-high performance with 82 catches, 967 wards, and four touchdowns despite playing playoffs with a partially broken fibula.  
And on 5 October 2022, Beasley announced his retirement but would later decide to unretire and sign for the Bills' active roster after a brief stint with the practice squad. 
But do you know why the hunky footballer decided to retire in October 2022 in the first place? Of course, everybody knows he is not the man to give up his career just because he suffered from Covid in 2021 or had a partially broken fibula in the 2020 season. 
If you are still guessing, the answer is that he is married, and he retired back then to give more time to his wife and family because his career had occupied most of his time, and he also had to travel a lot for most of his career. "He is ready to be with his family after playing in 11 seasons, and it's time to be a full-time dad and husband," his agent Justin Turner revealed to NFL Network's Mike Garafolo and Tom Pelissero in a statement back then. 
But many also deemed his decision to retire as his protest against the vaccine policy. The Buffalo Bills player occasionally used to share birthday posts and appreciation posts on his Instagram without giving out too much information about his family and his opinions on other issues. However, the relatively private football player in 2021 made headlines as he objected to the NFL's vaccine policy.
He took this matter to his social media handle, Twitter, and sarcastically shared with his fans that he would get vaccinated and promote Pfizer if they contributed a lucrative percentage of their earnings to his wife's name.
In this article, read about the personal life of the Dallas native and his relationship with his wife and children in addition to his Covid vaccination controversies.  
Why Cole Beasley declined to get Covid vaccines?
Beasley's fans and members of the NFL community went ballistic over Beasley's statement about declining to take Covid vaccinations. But he doubled down on his stance against taking the vaccines. 
"I may die of covid, but I'd rather die actually living…. [I'll] take my chances with Covid and build up my immunity that way. Eat better. Drink water. Exercise and do what I think is necessary to be a healthy individual," he tweeted.
Later, in July 2021, Beasley issued a statement stating that he was pro-choice. "I wanted to start this off by saying I'm not anti or pro-vax. I'm pro-choice." He added, "Information is being withheld from players in order for a player to be swayed in a direction he may not be comfortable with."
Later, NFL would fine Beasley in August 2021 for violating the mask policy for unvaccinated athletes. And when some of the stadiums made it mandatory to vaccinate 12 years old and up, he offered to purchase tickets for unvaccinated fans to road games, according to Forbes. 
Who is Cole Beasley's wife, Krystin Beasley?
Yes, Buffalo Bills wide receiver Cole Beasley's wife is none other than Krystin Beasley, who professionally is an assistant attorney general from Texas.  She is known among football fans as one of the most loving WAGs in the world of the NFL. 
If you didn't know, she is her husband's biggest supporter and is often seen cheering him up from the stands. Not only that, she has involved herself in Twitter's feud with trolls several times to defend her husband. 
Krystin was previously super active on social media, especially Twitter, but has gone low-key since she got into a controversy in 2015 for using expletives against some fans when she was defending her husband from some online ridicule for losing the game. Both of the pair later apologized to the fans publicly.
After that, Cole's wife Krystin deleted the tweet and made her social media accounts private.
I apologize to all the fans. I must be better. Thanks for all the support from the true fans. You know who you are. #cowboysnation — Cole Beasley (@Bease11) October 26, 2015
For a long time now, Cole's wife has only been posting occasional family pictures on Facebook. 
How many years of an age gap is between Cole Beasley and his wife, Krystin?
Cole and his wife Krystin have an age gap of just one year. The 33-year-old Cole was born on 26 April 1989 in Dallas, Texas. On the other hand, the 32-year-old Krystin was born on 7 May 1990 in Texas. She is of mixed ethnicity. She has a height of 5 feet and 7 inches. 
Krystin studied at the University of Nebraska, Lincoln. 
When and how Cole Beasley and Krystin Beasley did get married?
The NFL player lives a low-key life, and there isn't much personal information available about the footballer.
However, in 2014, when Beasley's wife updated her Facebook status from single to married, it was confirmed that the couple tied the knot in a beautiful ceremony held in Coppell, Texas.
Precisely, Cole and Krystin got married on 28 July 2014. Their wedding took place in Coppell, Texas. 
And the pair have managed to be together for so many years now, and importantly, they have sailed their relationship boat without divorce and infidelity issues.   
Cole Beasley and his wife's first Instagram picture
Beasley dropped the first picture of him and his spouse, Krystin Beasley, beaming at the camera on his Instagram in 2012.
After marrying her husband, Krystin Allain Willis, born and raised in Texas, she changed her surname to Beasley. She had a step-sister who died in an accident in 2007, but besides that, she has two brothers as her siblings. 
She holds American nationality but belongs to mixed ethnicity of African and Asian who follow Christianity as her religion. 

Cole Beasley with his wife, Krystin Beasley, and their kids. (Source: Cole Beasley's Instagram)
In 2018, Beasley shared a monochrome picture of his spouse on her birthday, and he said his companion was his best friend in the entire universe.
He said he didn't want to change anything about her and asked her to remain the way she was.
He captioned, "I wanna wish a very happy birthday to my wonderful bride and my very bestest friend in the whole entire universe. I love you more than anything in the world ... well, except for our boys 'cause I love them the same. Lol ... Please don't ever feel like you're getting old, baby, because you will never get old to me."
Cole Beasley has three children with his wife
Cole and his wife Krystin have — two sons and a daughter. The pair announced their pregnancy with their first kid, Ace, on 16 April 2014, through an Instagram post. They shared it just a week before their wedding date.
Beasley shared a picture of the sonogram with the caption, "I saw my little nugget for the first time today."
In 2015, Beasley posted a picture of his first son and shared his amazement, stating "time flies" as his son was about to turn one.
They later grew their family of three to five after welcoming their second son, Everett, and daughter Jovie Carter in 2017 and 2019. 
According to Beasley's posts on Instagram, they seem to be one perfect and happy family.