Inside 'Chilling Adventures of Sabrina' Star Luke Cook and Wife Kara Wilson's Beautiful Family
Know everything about Luke Cook's career and family.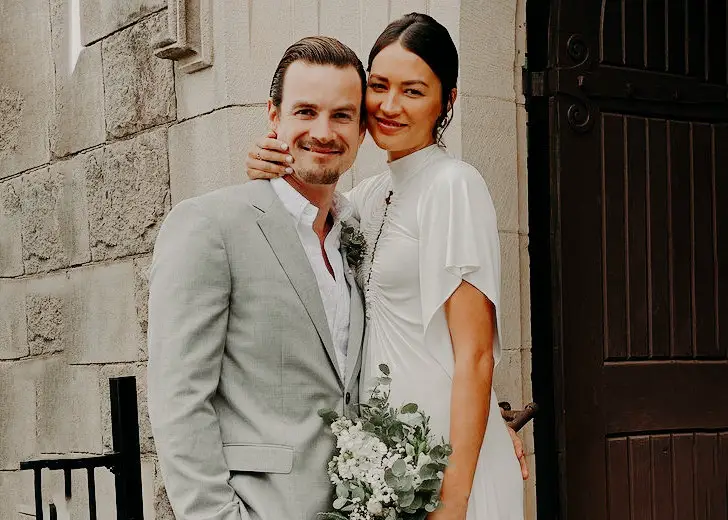 Luke Cook is an Australian actor best known for his roles in Chilling Adventures of Sabrina, Guardians of the Galaxy Vol. 2, and Katy Keene. 
The charming and funny actor has stolen everyone's heart with his role as the nefarious Lucifer Morningstar, aka the Dark Lord, in Chilling Adventures of Sabrina. 
Cook started acting when he was in school and has continued to this day. Here is a look at his journey from a young boy in Australia to a successful actor in Hollywood. 
Luke Cook's Early Life
Cook was born on December 19, 1986, in Sydney to a religious family. His father is a church minister, and his mother is a devoted Christian. 
Cook knew he wanted to be an actor from a young age. His first acting experience was when he was in Year 6 in school. 
He had auditioned for the school play as Frank Sinatra and impressed the crowd by singing 'My Way.' 
The audience liked his song so much that they gave him a standing ovation. Cook was delighted with the crowd's reaction. 
He questioned how he could make it happen more often. The answer was to be an actor to continue to impress his audience. 
From Australia to Los Angeles 
Taking his passion seriously, Cook started going to acting school full time. Then, one day he met a manager from LA who suggested he visit the city. 
He told me I should come check out LA and see if it was for me, and once I did, I knew it was.
Cook made his way from Australia to LA in the late 2000s. He was just 22 years old in the big town, trying to find his way. 
The actor started auditioning and booked two pilots within a few months of being in LA. When he got those two acting gigs, Cook wondered how he had secured the roles so quickly. However, the struggles had just started. 
He could not do those two pilots since he had no visa. He got rejected many times and lost a lot of big opportunities because of his visa. Eventually, he started getting acting gigs. 
His first job in LA was in Mystery Girls, where he played RuPaul's evil assistant. 
Over the past decade, the actor has appeared in many critically acclaimed movies and series. He has over 50 acting credits under his name. 
Cook has not become a household name yet. However, he has been a part of many big production movies and TV series. 
Some projects he was involved in include Guardians of the Galaxy Vol. 2, Zach & Dennis: How It All Began, How Do You Know Chris? Dynasty, How to Get Away with Murder, Riverdale, Good Morning, and Modern Family, among others. 
Cook won the Festival Prize award for his role in Good Morning at the Flagler Film Festival. 
He has three upcoming projects — Spare Me (pre-production), Follow Her (post-production), and Junk Mail (post-production).
Is Luke Cook Gay?
No, Cook is not gay. Regardless, there had been many speculations about him dating his Chilling Adventures of Sabrina co-star Gavin Leatherwood. 
On May 27, 2020, Leatherwood took to Twitter to address the dating rumors. He uploaded a picture of himself with a shirtless Cook and joked that they had been dating for more than a year. 
On that day itself, Cook also debunked those rumors on his Instagram. He posted the same picture uploaded by Leatherwood and clarified that the two were not dating. 
Cook is a cisgender straight man with a wife and son. He is married to his long-time girlfriend, Kara Wilson. 
Who Is Kara Wilson?
Wilson is an Australian stylist who has worked with many A-list celebrities. However, not much is known about Wilson's childhood. 
She was born in a small town in New Zealand and moved to Sydney. From a young age, Wilson knew she was interested in fashion. 
Her career gained traction in 2011 when she secured her dream job at Channel 9. Initially, she was the Assistant Stylist for the channel. 
Within the next five years, she became the Senior Stylist for the entire network in Australia. Wilson handled the wardrobe in many shows such as The Voice, Big Brother, The Today Show, and Married at First Sight. 
She also managed the TV Week Logie Awards for six years. Along with TV, Wilson has styled many celebrities for red carpet events in award shows like the Academy Awards and Golden Globes. 
Similarly, she has worked in movies, editorials, brand campaigns, and the music industry. Her work for Delta Goodrem's The Wings of Wild album cover was nominated for the 2016 ARIA Award in the category of the best album cover.
Wilson moved to LA in 2016, where she primarily consults, partners with various brands, ambassadorial works, and styles celebrities. She posts her work on her Instagram and uses the hashtag #styledbykara. 
Luke Cook, Kara Wilson, And Their Son Chaplin  
Cook and Wilson constantly post pictures of each other on their social media. However, not much is known about their relationship before their engagement. 
On December 2019, during the holidays, Cook popped the question to his girlfriend, who said "yes." They announced their engagement via Instagram. 
The actor posted a short video of the duo with open captions that said, "our kids are gonna look at this photo."
The pair never announced their wedding but have thrown subtle hints via their social media. For example, a couple of months after their engagement, Wilson started referring to Cook as her husband. 
On June 20, 2021, Cook posted a series of photos and a video on Instagram. The video was of the actor and his father in a car, singing a song. In the caption, he penned the moment as his dad driving him to his wedding. 
Looking at all those subtle hints, it can be presumed that Cook and Wilson got married in an intimate ceremony amid the pandemic in 2020. 
The duo shares one child together. On June 2020, Cook announced they were expecting a baby boy on Instagram. He opened up about how scared they were to go through pregnancy amidst a pandemic. 
Regardless, they welcomed their son Chaplin on November 11, 2020. Wilson took to Instagram to share the emotional yet precious moment with her followers. 
She posted a picture of herself crying and cradling her newborn. The photo was taken soon after Chaplin's birth at a hospital in Sydney.
Wilson penned a heartfelt caption thanking her son for making her a mother and completing the Cook-Wilson family. 
The couple has a deep love for each other, as evident by their respective Instagram pages. They constantly post adorable pictures of each other with funny captions. 
The duo is also close to each other's families. Wilson shares a close bond with his mother-in-law Stacy and often posts pictures with her. 
Cook and Wilson live happily with Chaplin and their rescued Chihuahua, Cindy. They shuffle between LA and Sydney.