Britney Spears' Ex Justin Timberlake Reacts to Her Pregnancy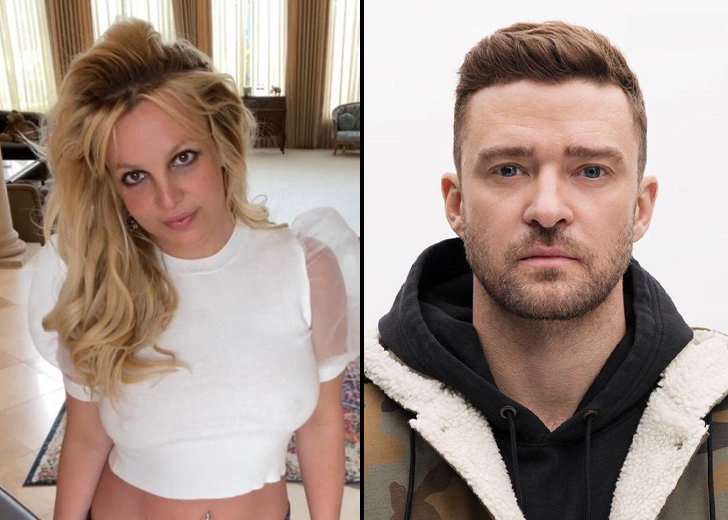 Britney Spears announced on Monday, April 11, 2022, that she and her fiancé, Sam Asghari, are expecting their first child.
Shortly after making the exciting announcement, the couple received warm congratulations from their family members, friends, and fans.
Actress Selma Blair commented, "I am so pleased for you both. To say the very least. Thrilled!!!"
"Congratulations sis!! I'm so excited for you!! Love you!!!" socialite Paris Hilton added.
Meanwhile, the paparazzi also followed the 'In the Zone' singer's ex-boyfriend Justin Timberlake to hear his reaction to the news. The former couple dated each other for a few years between the late 1990s and 2002.
Justin Timberlake Reacts to Britney Spears' Pregnancy
In a video shared by @ViralFinds on Twitter, an alleged reporter asked Timberlake how he felt about Spears' baby announcement.
To that, the famed singer immediately cut off the paparazzi, saying, "Stop! Go away."
He was less bothered by the news, and his response even hinted that he didn't like the paparazzi asking him the question about his ex-girlfriend.
Rightly so, Timberlake and Spears dated over two decades ago, and he would not enjoy being asked about something associated with his past relationship.
A few users on Twitter, therefore, took to the platform to back Timberlake's reaction.
"tbh I would do the same! Their relationship was so long ago, why do they have to bring her up! This behavior from the paparazzi is what led to Britney's situation in the first place," one wrote.
Another chimed in, saying, "They dated in the early 00's, imagine being asked 20 years later and throughout about your ex, many of us would have the same reaction."
That being said, a few also bashed the singer, as they implied he rose to prominence because of his relationship with Spears. And that, as per fans, helped him build a career, too.
For instance, a fan tweeted, "He built his entire career out of dragging her and ruin her name, he deserves everything coming his way tbh."
"He's only relevant cuz of her," another harshly added.
Ex-Husband Kevin Federline Reacts to the News Too!
While Timberlake had not so pleasing response to the news, Spears' ex-husband Kevin Federline issued a statement giving the singer his blessing.
"Kevin is aware of the recent posting by Britney regarding her announced pregnancy and wishes her a happy and healthy pregnancy," his attorney Mark Kaplan told E! News.
The statement continued, "...and congratulates her and Sam Asghari as they go through the excitement of planning parenthood together."
The Baby Announcement
On Monday, Spears took to Instagram to announce the baby news, sharing a photo of a teacup and flowers.

Britney Spears and Sam Asghari are pregnant with their first baby. (Photo: Instagram)
In the post's caption, she explained that she first noticed she had put on some weight after a recent trip to Hawaii with Asghari, whom she had referred to as her "husband" in recent social media posts.
But she soon realized that it wasn't just food bloat. She added, "I got a pregnancy test … and uhhhhh well … I am having a baby."
The happy news has also excited the baby daddy Asghari, who later took to his social media to express that he was looking forward to fatherhood.