Ben Rector and Wife Hillary's Candid Reaction to Having Twins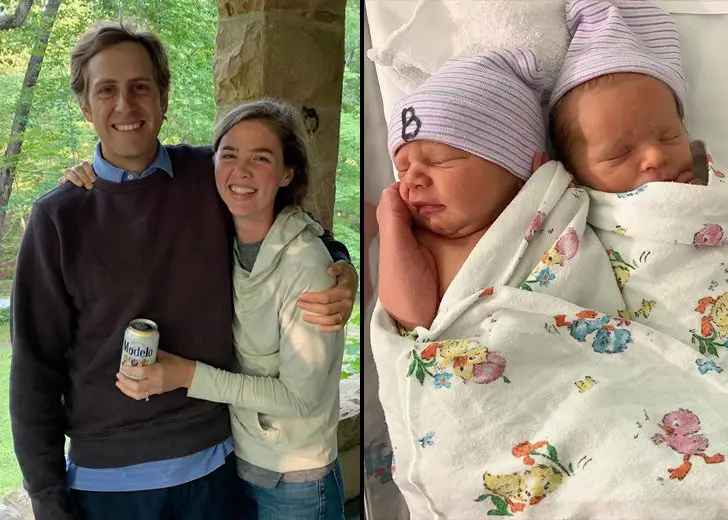 Ben Rector and his wife Hillary Swanton Rector welcomed twin sons back in June 2020.
And though the couple already had experience parenting their first daughter, he says his experience between his first and second pregnancy was vastly different.
When Rector and his spouse were expecting their first child together, daughter Jane, they were excited.
However, when they learned they would be welcoming twins, they were stunned and didn't know how to deal with the news.
I will be totally honest, I was terrified… I'm not excellent with chaos, never really have been. In the doctor's office, we were both stunned. There's no history of twins in our family… so we were both taken aback.
However, as time went by, Rector says he and his wife began looking forward to the birth of their twins.
A few weeks before the day of the twins' birth, Rector also posted a brief clip on his Instagram, where he asks his daughter if she is excited about her baby brother's arrival.
Ben Rector And His Wife
Though Rector has been very open about fatherhood, he has shared little about his relationship with his partner.
The two got married on June 14, 2009, and he takes to Instagram to mark their marriage anniversary on the same day every year.
In several of those posts, the singer has described his wife as "absolute favorite" and "best friend."

Ben Rector with his wife Hillary Swanton Rector. (Source: Instagram)
In an interview with The Oklahoman, Rector revealed he wrote his song 'The Thanksgiving Song' to better suit his partner's taste.
"My wife really doesn't like to listen to Christmas music until after Thanksgiving, and I knew that if I was going to release a Christmas record, it was going to have to come out before Thanksgiving because you just can't wait that long."
The couple welcomed daughter Jane in July 2017. He broke the news by posting a picture of himself holding his daughter on Twitter.
Rector's family grew larger in June 2020 after they gave birth to twins — Roy and Robert.
Ben Rector On Parenting
When appearing on The Art of Fatherhood Podcast back in March 2021, Rector spoke about his experiences with parenting and what values he hoped to instill in his children.
The singer shared he wanted his kids to know they were the most special beings for both of them and didn't want to spoil them.
He also said he was finally balancing things to raise his daughter well.
"It's a delicate balance. I want her to stay independent and be confident and assertive, but also I don't want her to feel like she can get her way all the time. It's an interesting balance of 'I wanna preserve everything that makes her and them unique but at the same time help none of those things become a hindrance for them.'"
Rector further added he wanted his children to be kind and responsible people.
He noted it was important for both the couple to instill in their children that they weren't entitled to anything.