Adin Ross Continues to Drag Lil Yachty into Fabricated Gay Romance — Says They Wouldn't Mind Sharing Bed
Adin Ross is never giving up on gay jokes.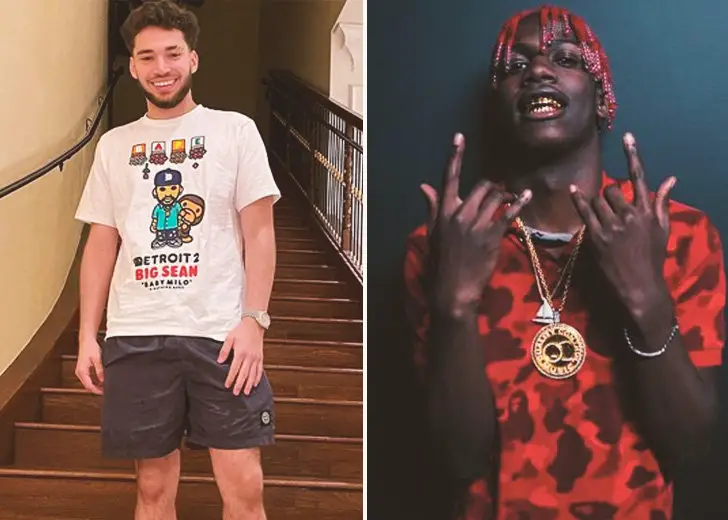 Twitch streamer Adin Ross isn't done pulling Lil Yachty, real name Miles Parks McCollum, into his gay jokes. Instead, he raised eyebrows with a recent surprising statement regarding Yatchy. 
On August 27, 2021, Ross gave a brief interview to Macy Ray for RapTV. The interviewer asked him which rapper he would choose if he were stuck on an island.
Without hesitation, Ross said he would choose Yatchy and reasoned that he and the rapper were alike. Then, making gay jokes, the 20-year-old added that the musical artist "didn't mind sharing a bed" with him.
Ross's joke comes months after Yatchy appeared on his YouTube video titled, 'Adin Ross Acts SUS Around Lil Yachty.'
In the half-hour clip, Ross confronted his gay rumors and asked Yatchy if he looked gay. The 24-year-old embraced honesty and asserted Ross sounded like a gay man. 
After a while, Ross teased Yatchy, asking if he would let the YouTuber be intimate with him, if that meant choosing between his life and death. The rhymer stated "no" and stressed Ross was gay. But is that really the case?
Is Adin Ross Gay?
Ross's gay jokes and portrayal in front of rappers make many believe he is gay. However, the professional gamer is straight in real life, or at least it seems so.
Even during the sit-down with Yatchy, when the rapper claimed he was gay, Ross denied it. Instead, the Florida native stated he hooked up with only girlfriends, which is true given he has a partner.
Ross has been dating fellow TikTok star Pamibaby since April 2021, the month they went Instagram official.
In June 2021, the streamer gushed about his relationship on his podcast Impaulsive while chatting with Logan Paul. He shared he was planning to get married to his girlfriend.
Paul added he was invested in their relationship, clarifying that their relationship update appeared more than the streaming content on his Instagram feed.
How Did Adin Ross Get Famous? 
Ross stepped into the entertainment industry through games. Initially, he played games such as Grand Theft Auto and NBA 2K and streamed on Twitch.  
In early 2020, Ross gained traction when he bet thousands of dollars on 2K with LeBron James' son Bronny. However, that was just the start of his burgeoning fame. 
At the end of 2020, he played GTA with his first rapper guest, Tee Grizzley. Following that, he moved to Los Angeles and hosted a stream in a hot tub with YouTuber Corinna Kopf. The video went viral and earned him new followers.
Ross upped his game and started collaborating with hip-hop artists, inviting them for on-air appearances. He also connected with the rappers through Twitch.
Soon enough, Ross started gaining attention with his 'sus' jokes. He made videos with Travis Scott, Sheck Wes, YBN Almighty Ja, Lil Tecca, Blueface, and even got into a beef with Polo G. 
As of this writing, Ross boasts 1.86M subscribers on YouTube, over 2 million followers on Instagram, and 4.8 million followers on Twitch.