Mike Wolfe Bio Unveils! 5,100 Square Feet House & Massive Net Worth 2018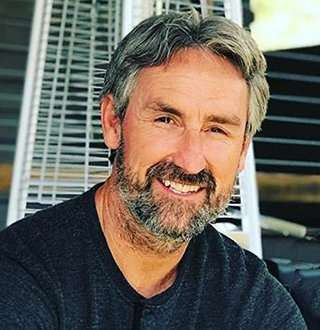 Quick Information
Date of Birth

Jun 11, 1964

Age

59 Years, 5 Months

Nationality American
Birth Place

Joliet, Illinois, United States

Profession

Television Actor

Relationship Status

Married

Wife/Spouse

Jodi Faeth

Wedding Date

2012

Gay

No

Net Worth

13 million dollar

Sister/s

Beth Wolfe

Brother/s

Robbie Wolfe

Height/ How Tall?

6' (1.83 m)

Hair

Short

Son/s

Charlie Faeth Wolfe
Mike Wolfe finally moved into his dream house in 2012. His humble abode wouldn't be considered humble if one were to take a tour of his lair.
The 53-year-old is renowned for creating and co-hosting the reality TV show American Pickers -- a show centered around pickers who go from town to town looking for antiques and collectibles. He's also an ambassador of the Operation Smile project, appearing on its awareness programmes from time to time.
In addition to making appearances on his show every year (alongside Frank Fritz, Danielle Colby, Danny Koker and Robbie Wolfe), the Joliet native currently runs an antique and apparel company Antique Archaeology.
Mike Wolfe's Bio: He Had Rough Upbringing
The famed picker was born in 1964 in Joliet, Illinois in a single parent household. He's the middle child of three children raised by a single mother.
Poverty permeated throughout his childhood. Later, his family moved to Iowa where he met his future co-host, Frank Fritz while attending high-school. In 1982, both of them graduated from Bettendorf High School.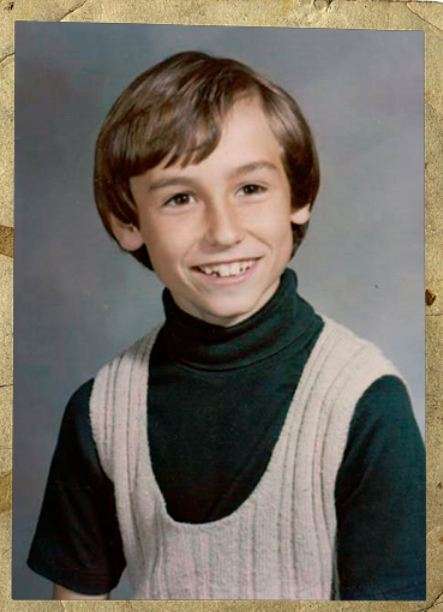 Young Mike lets out crooked smile for photo-op (Photo: fetchsport.com)
As a 6-year-old, he made his first pick. The profit from his very first transaction was $5. A decade later, he pocketed $4,950 in profit after he bought an abandoned bike from a farmer for $50.
American Pickers' Story: History Channel Picks His Picking Skills
Mike spent almost two decades specializing in 'picking' before his show was finally picked by History Channel. The executives at History Channel were so impressed by Mike that they broke the protocol of airing a pilot and handed Mike and his longtime friend and co-host, Frank a season deal.
Upon its release, American Pickers delivered History Channel's biggest first-week audience since Ice Road Truckers (2007). In 2018, American Pickers is in its 19th season and remains one of History Channel's biggest shows to date.
He has also published two books highlighting picking skills: Kid Pickers: How To Turn Jack Into Treasure; and Art Of The Pick.
Mike Wolfe's Net Worth 2018 Amidst Conflicting Reports
If we were to believe the reports, the reality TV star makes an astounding half a million dollars in salary for a season-long excursion at History Channel's American Pickers.
Mike and his high school bud, Frank, are reportedly paid $125,000 for first two episode of a season and a humbling sum of $20,000 per episode for the remainder of the season. Unless his actual tax filing is released, speculating his net worth will be a game for Tabloids.
As for his net worth, he has assembled an empire valued at 13 million dollars. However, there have been various other reports of his net worth in 2018 contesting the figures mentioned above.
Ranking His Net Worth Among Other American Pickers
Mike's colleague, Frank Fritz, is believed to have an estimated net worth of 5 million US dollars, which is 8 million less than him. However, he is still following the in-house automobile expert of the show, Danny Koker, who has an estimated net worth of $23 million. However, Mike is richer than his brother, Robie Wolfe, regarding earnings and net worth. He also beats another American Picker, Danielle Colby, who net worth is estimated to be between $1.5 million to $2 million.  
Mike Married His Wife In Fantasy Wedding
Mike got married to Jodie Faeth on 8 September 2012 in Leiper's Fork Tennessee. It was a playful wedding themed as 'Oh Brother, Where Art Thou?'
They had dated for ten years before tying the knot. Mike also fathers a daughter, Charlie and a son, Kyle from Jodie's previous marriage.
With the money he has made selling his way of life on TV, the Bettendorf alumni have been able to buy his dream house to accommodate his family.
House Of His Dreams Is Luxury Personified
Believe it or not, Mike Wolf bought his first home at an auction while he was motorcycle shopping.
A year before their wedding in September 2011, they were living in downtown, LeClaire, Iowa by the river. They had rented the ground floor to retail businesses while the duplex apartment above was their home -- a neat space, unlike what one would expect given his earnings.
The house he currently occupies is a complete opposite of the modest abode he flaunted to an NY Times reporter in 2011. After their wedding in 2012, he moved his family to a new dream house.
Spread over 32-acres-of-woodland, his dream house is 5,100 square feet. Upon entering his estate, one can't help but notice the 18th-century gate and front door. Inside, there lays his collection of over 40 motorcycles and a built-in telephone booth.
Related: Wolf Blitzer's Salary And Net Worth Is Massive! Among Richest Journalists?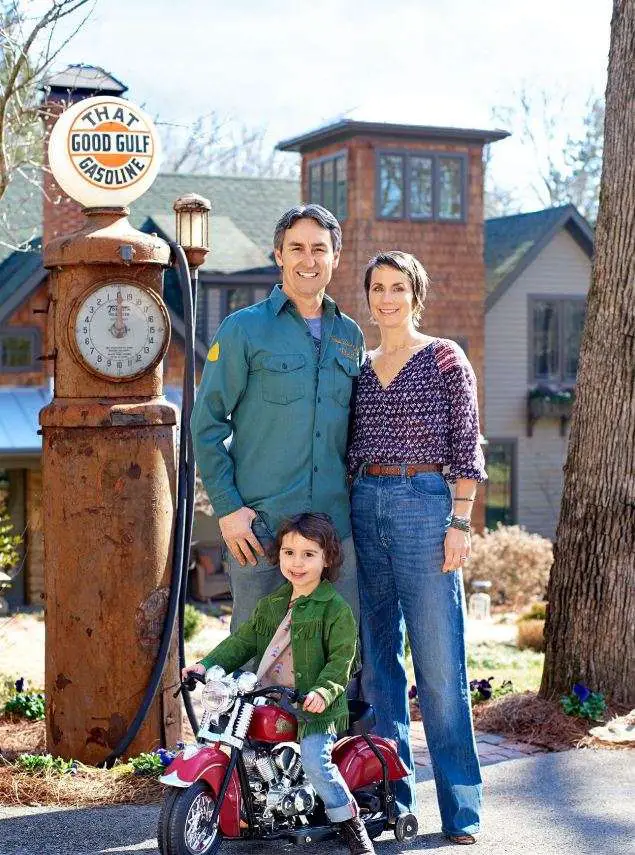 Mike, Jodie, and Charlie, outside their 5,100 square feet mansion posing for the online outlet, country living in August 2018. (Photo: countryliving.com)
The grandiosity of his house is reflected on a castle-like turret; he built for his daughter. Now, that's a man living according to his means in a house of dreams.