Geoffrey Zakarian, Restaurants Fanatic Attachment To Second Wife & Family
The Iron Chef has been married to his beautiful marketing executive wife...The undiluted love and affection he shares with his wife have certainly kept him far away from gay rumors...Geoffrey doesn't pay much attention to the gap he and his wife share in age...has got an estimated net worth of $6 Million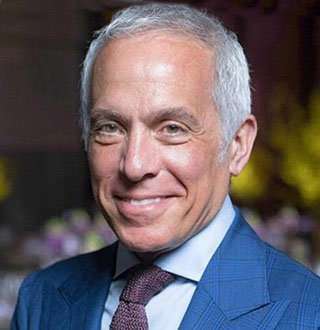 American Chef, Geoffrey Zakarian having made a more than successful career out of cooking didn't let the fame get to his head. An ultimate family man, he made most of his free time enjoying the marital perks with his beautiful wife and a family of five.
Geoffrey Zakarian is well known for appearing on different television programs on Food Network, like The Next Iron Chef that won him the right to join Iron Chef America and Chopped in 2011.
To the journey of Restaurants: Geoffrey Zakarian taking a trip to Dubai at the Arabian Tea House as he tries samples of traditional Emirati dishes for Visit Dubai Campaign (Published on 1 February 2018)
Geoffrey has subscribed to Reason for a very long time and considers himself as a libertarian in political ideology.
Geoffrey Zakarian's Bio: Age, Early Life & Cooking Career
Born on 25 July 1959, Geoffrey Zakarian was raised in Worcester, Massachusetts alongside his sister, Virginia, and brother, George.
Geoffrey finished high school from Burncoat High School in 1977 and graduated from Worcester State University earning a degree in economics. Carrying a passion for cooking, he began his culinary career at the Culinary Institute of America in Hyde Park, New York.
You May Also Like: Maurice DuBois On Overcoming Obstacles With Wife! Married The Right Person
The celebrated chef aged 59, began his cooking career by working under chef, Daniel Boulud at Le Cirque and was named Chef de Cuisine from 1982 till 1987. It wasn't long until Geoffrey became the executive chef at the restaurant, 44 in 1990.
In 1996, Geoffrey was hired to oversee Old Navy's coffee shop with the American journalist, David Brody. He worked for Delano Hotel's Blue Door in South Beach, Miami and became the executive chef at Patroon in 1998 which earned three stars from NY Times critic, Ruth Reichl.
Geoffrey Zakarian's Time in Television Shows
As a successful chef, Geoffrey has made his name through the platform of cooking and competition shows as well. He has made appearances several times as a judge on Food Network's Chopped with Scott Conant, Aaron Sanchez, Chris Santos, Amanda Freitag, Maneet Chauhan, Marc Murphy, and Alex Guarnaschelli.
Geoffrey has also appeared in Hell's Kitchen and Top Chef as a judge. In May 2010, he competed as a challenger on Iron Chef America, facing Masaharu Morimoto but didn't win. Geoffrey won The Next Iron Chef in December 2011 as he defeated Elizabeth Falkner.
Read Also: Meet Katie Lee's Spoiling Boyfriend/Husband-To-Be! Bio Reveals All Details
In January 2014, Geoffrey co-hosted the Food Network's series, The Kitchen alongside Katie Lee, Jeff Mauro, Marcela Valladolid, and Sunny Anderson. He began to host the series, Cooks vs. Cons in 2016 where the judges determine the winning dish of either a professional chef or a home cook.
Geoffrey's Acclaimed Restaurants: Country And Town
It wasn't long until Geoffrey owned two restaurants, Town and Country in Manhattan. The New York Times gave both of the restaurants three stars until Town closed in 2009. His other restaurant, Country has been staying tall since 2005 and has earned a Michelin star.
Geoffrey is currently an executive chef at the restaurant, Lamb's Club and a consultant at The Water Club.
Geoffrey Zakarian's Net Worth
According to sources, Geoffrey Zakarian has got an estimated net worth of $6 Million that he made through his successful cooking career.
Geoffrey earned his immense fortune from his success in running his modern restaurants that never fail to impress the higher-ups. His newest restaurants, Point Royal and Counter Point, bring him a considerable amount of wealth with their unique concepts, which has helped boost his net worth.
Another Chef In Our Vault: Scott Conant Has Wife & Family To Thank For Success; Divorce Rumors - Bad Recipe
He has also made significant money from his appearances on several cooking shows that pay a lot higher than imagined. Geoffrey's net worth has also been supplemented by his earning from his book, Geoffrey Zakarian's Town/Country which was released in 2006 and sold many copies in a short amount of time.
Geoffrey Zakarian's Married Life: Affectionate Wife Helps Allay Age Gap Differences 
The Iron Chef has been married to his beautiful marketing executive wife, Margaret Anne Williams since July 2005. They shared their wedding vows at Our Lady of Lebanon Roman Catholic Church in Niagara Falls, N.Y.
Geoffrey doesn't pay much attention to the gap he and his wife share in age (he is 59 while his wife's age is only 39) as he openly shares his love and affection for her, frequently posting pictures of the two on his social media sites. The undiluted love and affection he shares with his wife have certainly kept him far away from gay rumors.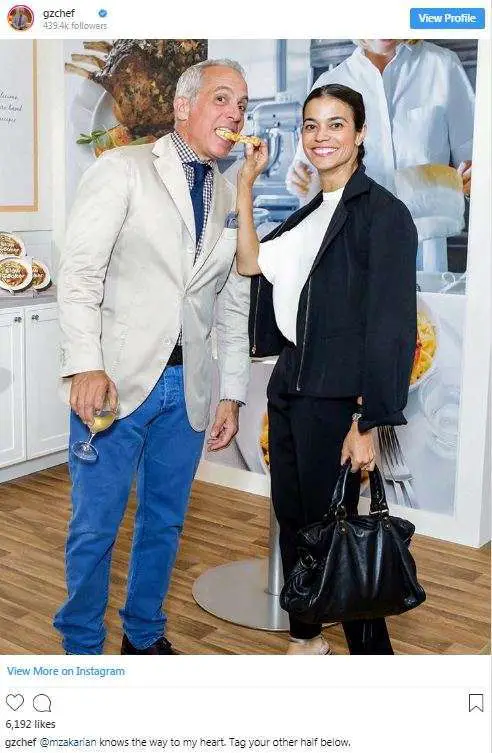 Literal Wife Goals: Geoffrey posts a picture with his wife as she feeds him food on Instagram on 27 August 2018 (Photo: Geoffrey Zakarian's Instagram)
Margaret is Geoffrey's second wife. He parted his way with his first wife, Heather Karaman after ten years of being married. But being the second wife has done little to dilute Margaret's love for her husband, as she has been making her husband happy since the very first day.
The happily married couple do not fail to attend huge events together and barely hesitate on showing how much they appreciate their other half.
Geoffrey has reached more than the extent of his happiness with his wife as the two embraces three beautiful children, a son, and two daughters who they treasure inexplicably.
Geoffrey Zakarian And Wife Are Blessed With Three Kids
Geoffrey and his wife share three kids who have become the ultimate source of their happiness. Geoffrey has two daughters, Madeline who's 11, Anna who's 9 and the youngest son, George who now ages 4.   
You Don't Want To Miss: Mark McEwan, Family Man With Wife! Facts: Net Worth, Restaurants, Bio And More
As a chef, Geoffrey doesn't hesitate to present his kids with extravagant and unique breakfasts every morning and considers himself more than blessed to have his kids in his life. He makes no exception for his children as he shows them off on his Instagram as often as he can.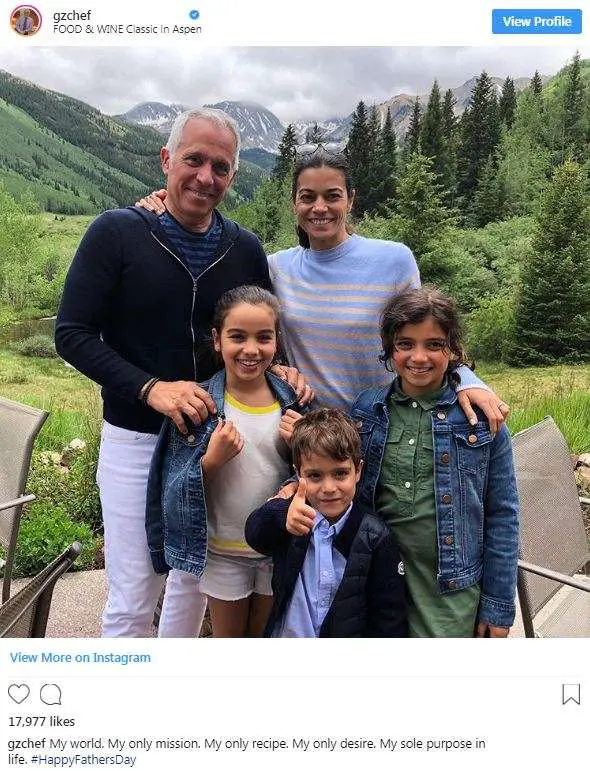 A Happy Family: Geoffrey posts a picture with his wife and kids on Father's Day on Instagram on 18 June 2018 (Photo: Geoffrey Zakarian's Instagram)
Geoffrey considers himself a proud father as his children share his passion for cooking and often show interest while he occupies himself in the kitchen.
As a married man, Geoffrey is more than happy just to be with his wife and kids and share peaceful meals every day.