Know about Gary Vaynerchuk's Girlfriend, Ex-wife, Divorce, Net Worth, Kids, Book & Age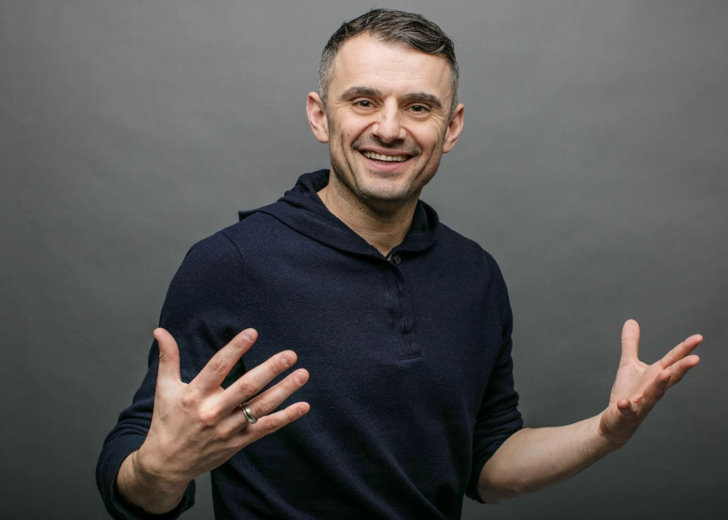 Soviet-born American entrepreneur, wine critic, and author Gary Vaynerchuk is best known as the co-founder of the restaurant reservation software company named Resy and direct wine e-commerce businesses Empathy Wines.
According to his LinkedIn, the Babruysk native has been functioning as the chairman of the communication company, VaynerX, and its subsidiary, VaynerMedia. 
The platform has also highlighted his current involvement in ventures such as Liquid I.V. (angel investor), VaynerSports (co-founder), MikMak (board member), Coinbase (investor), Bojangles' Restaurants Inc. (board member), Facebook (investor), and Venmo (angel investor). 
Read the full article to know about Vaynerchuk's girlfriend, ex-wife, divorce, net worth, kids, book, and age.
Who is Gary Vaynerchuk's Girlfriend?
Vaynerchuk has been dating Persian social media influencer and health & fitness entrepreneur  Mona Vand, who is also the co-host of the Core Self podcast.
On 21 February 2022, Vaynechuk posted a shocking picture of him with Vand with the caption," You make me so deeply happy @monavand (love emoji)." 
 He was seen standing close to the pharmacist and entrepreneur in the picture.
Clad in a black T-shirt and jeans, he rested his hand on her waist as they both displayed smiles for the picture. But more than the picture itself, what surprised everyone was the caption that accompanied the photo.
"You make me so deeply happy," he had written tagging along a red heart emoji and his supposed girlfriend's name.
Since then, the pair have flaunted their adorable moments with one another on their respective social media handles.

Gary Vaynerchuk with his new girlfriend Mona Vand in February 2022. (Photo: Instagram)
Interestingly, Vand also posted a cozy picture with her supposed partner the same day. She could be seen resting her head on his shoulder in an eatery. 
In the caption, she reflected on her affection towards him and wrote, "Life with you is beautiful."
The love-filled pictures obviously shocked his fans and followers, who thought he was still married to Lizzie. 
"is she Gary's wife? I thought it was someone else," wrote one confused fan. To which, another follower replied, "no, he got divorced." 
Did Gary Vaynerchuk and his Separated Wife Lizzy Divorce?
Although Gary and Lizzy are yet to make an official statement regarding their divorce, it is generally accepted now that the former pair had a private divorce and are ex-husband and ex-wife. They married in 2004. 
However, until it's official, we cannot confirm if they are legally a married couple or just separated. 
Still, the speculation that Gary got a divorce from his spouse has been substantiated by his new relationship with his girlfriend Mona Vand. 
And it can be possible, given his private nature, that he doesn't want the divorce to be public knowledge. 
Marca reported that Lizzy was entitled to half of his massive net worth of $200 million if they divorced. 
Gary Vaynerchuk Wants His Kids to Make Their Decisions
Five-time New York Times bestseller Gary Vaynerchuk is a family man with two children: daughter Misha Vaynerchuk and son Xander Vaynerchuk he had from his relationship with his estranged wife, Lizzie Vaynerchuk.
The Belarusian-American entrepreneur has always remained private about his little kids. He has barely shared any pictures of them.
Even his separated wife, Lizzie, has followed suit.
However, Gary has revealed the reason he has rarely been seen with his kids in public places.
Back in 2015, the 47-year-old author published a blog titled 'BEFORE YOU QUESTION MY WORK/LIFE BALANCE, READ THIS' on his website.
Gary stated that he and Lizzie had decided not to disclose much about their kids in public through the blog. He added he would like to keep his children behind the curtains until they decide to come out in public by themselves.
"I would prefer to keep that part of my life private until they can decide," he wrote. "But it was my personal choice to make sure this part of my career, the public image, didn't bring them into the limelight without it being their choice first."
Going by his statements, it seems that he is a doting and thoughtful father who does not like to make decisions about his children's lives by himself only.
Gary Vaynerchuk Admired His Estranged Wife Lizzie Vaynerchuk
Keeping his kids away from the limelight might be one thing. On the other hand, Gary often talked about his now-separated wife and her support as a proud husband.
I love my wife with every ounce of my soul! :) #lizzieFTW nothing happened just a burst 0f thought :) — Gary Vaynerchuk (@garyvee) July 20, 2013
On September 24, 2014, he dedicated a whole blog on Medium for Lizzie and titled it 'The Significance of Your Significant Other.'
In the blog, he stated he was amazed by the influence his wife had on his career.
He also said that his spouse had always supported him, whatever the situation was, due to which he could perform his duties at his workplace.
While concluding his blog, Vaynerchuk mentioned how important it was to have such a supportive significant other — which he got in his wife — to attain success.
Also on his website blog, he also commended her "inability to complain."
Gary and Lizzie Vaynerchuk Married in 2004
The GaryVee Audio Experience host exchanged wedding vows with his estranged wife Lizzie on November 13, 2004.
After that, they got to relish their marriage with their children.
Their first child, daughter Misha, was born on May 31, 2009. Three years later, on August 6, 2012, the family of three expanded as the duo welcomed their second child, Xander.
They lived together in their New York home until separation. 
How old is Gary Vaynerchuk?
Born on 14 November 1975 (age 47) in Babruysk, Byelorussian SSR, Soviet Union, Vaynerchuk moved to the United States with his parents at the age of three. He has two siblings, brother Aj Vaynerchuk, and sister Liz Vaynerchuk. 
His brother currently functions as the CEO of VaynerSports, whereas his sister Liz is a real estate agent. 
His Popular Books
Vaynerchuk has written a handful of books till now, including 'Gary Vaynerchuk's 101 Wines: Guaranteed to Inspire, Delight, and Bring Thunder to Your World (2008),' 'Crush It!: Why NOW Is the Time to Cash In on Your Passion (2009),' 'The Thank You Economy (2011),' 'Jab, Jab, Jab Right Hook (2013),'  'AskGaryVee: One Entrepreneur's Take on Leadership, Social Media, and Self-Awareness Hardcover (2016),' 'Crushing It! How Great Entrepreneurs Build Their Business and Influence—and How You Can, Too,' and 'Twelve and a Half: Leveraging the Emotional Ingredients Necessary for Business Success (2021).'