Five Underrated Actors In The Sci-Fi Series 'Dark'
Netflix's sci-fi time-travel thriller 'Dark' featured numerous talented cast members. but the focus on the main protagonists left many promising actors with less screen-time.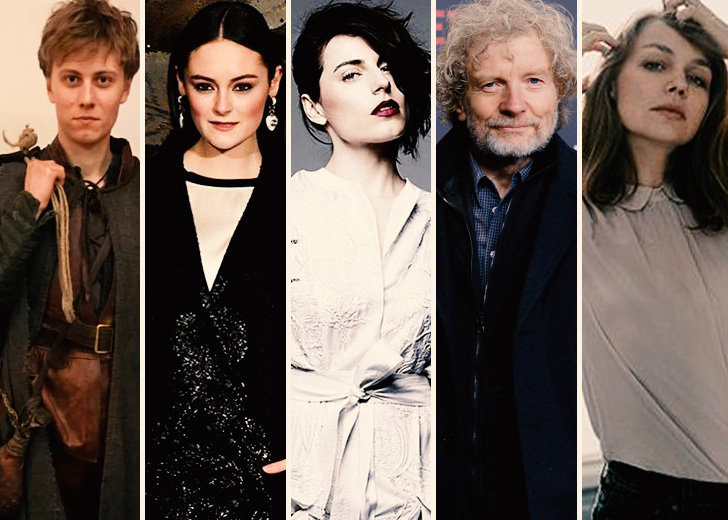 Although Netflix's sci-fi time-travel thriller Dark was a German-language series, it went on to receive an acknowledgment from the worldwide audience.
And the series indeed deserved to get admired, loved and binged for so many reasons, including the mysterious & twisted narrative, outstanding background score, well-placed science theories, and most prominently the performances for the actors.
But the series which featured a huge German cast somehow lacked in highlighting some of the talented and well-promising actors while focusing on the main protagonists of the story.
In this article, we'll talk about five actors who were featured in the mind-bending thriller Dark but were left underrated.
Lea van Acken
Lea van Acken is a German actress who made her first stage appearance at the Karl May Festival in Bad Segeberg in 2011. Following that, the 21-years-old actress made her film debut in 2014 satirical drama movie Stations of the Cross, portraying the role of main protagonist Maria.
Since then, Acken has appeared in several movies and TV shows depicting prominent roles that include Das Tagebuch der Anne Frank (2016), Bibi & Tina: Tohuwabohu total (2017), Abikalypse (2019), Dark (2017-2020), and Sløborn (2020).
In series Dark, Acken portrayed the character of Silja Tiedemann—the biological daughter of Hannah Kahnwald with Egon Tiedemann.
Initially, in the series, Silja was seen serving as a member of the band of survivors in 2052 along with the deaf leader, Elisabeth Doppler. Later, she is instructed by Adam to travel to the year 1890. There, she met Bartosz Tiedemann, and they together gave birth to two children, Hanno, and Agnes Tauber. We, then, watch Saija die while giving birth to Agnes in 1910.
If we talk about her screen time, she appeared in a total of 8 episodes throughout the three seasons of the series. And that in itself displays that she was not provided with screentime to fully showcase her talent, and thus, she comes across as an underrated actor in the series Dark.
Max Schimmelpfennig
Born in 1996 in Berlin, Germany, Max Schimmelpfennig is an actor with charm and talent. The actor is known for his portrayal of Wilhelm Müller on the 2018 Sky series Das Boot.
In addition to that, the Berlin native has also appeared as Valentin in German movie Der Zauberlehrling (2017), Lenny in The White Rabbit (2016), and teenage Noah in series Dark (2017-2020).
Speaking about his role in the series Dark, Schimmelpfennig played the young version of the mysterious villain Noah. And while the older version of Noah (played by Mark Waschke) received more applauds from audiences for showcasing his varied dark shade on the screen, Schimmelpfennig fell short of receiving appreciation, just because his version was not well developed and given more time on the screen.
Hopefully, we get to see Schimmelpfennig portray more developed character roles in the future.
Luise Heyer
German actress Luise Heyer is most noted for portraying a rape victim named Liv in 2018's crime drama movie The Most Beautiful Couple.
Her performance in the movie helped her win the 'Bambi Awards' in the 'Best Actress - National' category in 2019. In addition to that, she was also nominated by the 'German Film Awards' for 'Best Performance by an Actress in a Leading Role' in 2018.
Despite having such a notable recognition in the German film industry, the 35-years-old actress remained underrated in a big production series like Dark.
In the series, Heyer played a small role as Doris Tiedemann (wife of Egon Tiedemann). Her significance in the series is only limited to a few episodes where she has nothing much to do, apart from portraying a simple housewife. 
Antje Traue
Antje Traue is an internationally recognized German actress who is most famous for her portrayal of the villainous character Faora in the 2013's Superman movie Man of Steel.
The actress has also been part of several other movies and TV shows such as Pandorum, Seventh Son, Bye Bye Germany, Woman in Gold, Dead End, Dark and Criminal among many.
In the series Dark, Traue played the character of Agnes Nielsen—a member of Sic Mundus; secret follower of Claudia Tiedemann; mother of Tronte Nielsen; and the sister of Noah.
The character Agnes seemed mysterious and brutal when she killed her own brother Noah. She was one such character in the series whom viewers wanted to watch and follow her story.
But as the narrative unfolded, her character got less significant and eventually, the actress Traue remained one of the underrated actors in the series Dark.
Christian Steyer
Born in 1946, Christian Steyer is one of the veteran actors from Germany who has appeared in nearly 70 movies and TV shows. His popular acting projects include Too Skinny for Love, It's an Old Story, Me and Kaminski, Single-handedly - Elements of Doubt, Dark, Hands off Mississippi, and Our teacher Doktor Specht, amongst many.
Besides being an actor, Steyer is also a voice actor, musician, choir director of the Berlin Soloist Choir, and a film composer.
The Falkenstein, Saxony native played the role of H.G. Tannhaus, the clockmaker based in Winden town, in the series Dark.
In an overall narrative of the series, Tannhaus is one of the most prominent characters who formed the two alternate worlds with an unending cycle of pain and suffering while experimenting on a time-travel machine to bring back his son, daughter-in-law, and granddaughter from dead in his origin world.
But the show creators primarily focused on showcasing the suffering of other characters from two alternate worlds, and only gave Tannhaus (played by Christian Steyer) screentime at the very end story to unfold the background of the origin. And this makes Christian Steyer another underrated actor who appeared in the series Dark. 
Besides the above-mentioned actors, there are many actors who were shadowed or underrated in the German language series Dark. A few other names of underrated actors from Dark include Sylvester Groth, Jakob Diehl, Christian Patzold, Sebastian Hulk, and Lisa Kreuzer among many. 
The main cast of the series included German actors such as Lisa Vicari, Louis Hofmann, Oliver Masucci, Maja Schone, Jordis Triebel, Andreas Pietschmann, Dietrich Hollinderbaume, Stephan Kampwirth, and Gina Stiebitz.