'Dark' Actress Lisa Vicari's Favorite Character Is Noah
Amongst many amazing characters in the series 'Dark,' actress Lisa Vicari favorites the character, Noah. What makes Noah her all-time favorite? In this article, find details about Noah and his prominence in Netflix's mind-bending show.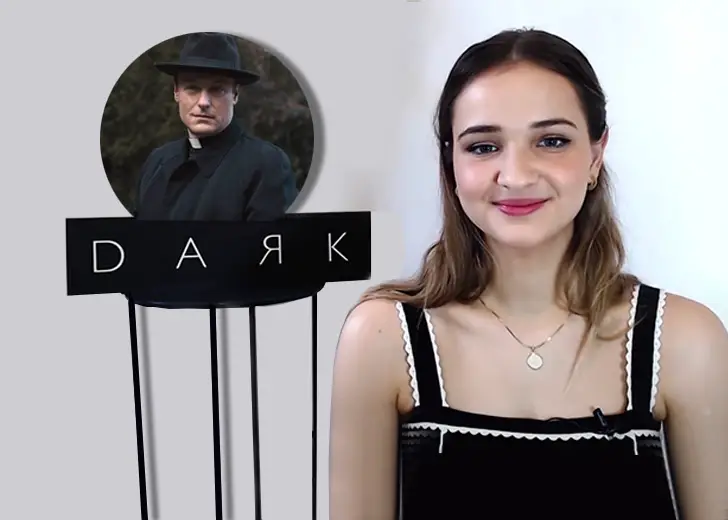 Lisa Vicari is a German actress who is known for working in heart-wrenching movies and TV shows. She has had many releases over the years, but recently, she appeared as Martha Nielsen in Netflix's supernatural sci-fi thriller Dark. The third and final season of the series released on June 27, 2020.
Prior to the release of the Dark's final season, actress Vicari was asked during a promotional interview to "chose any other character on the show," that she would have loved to portray.
In response, she disclosed that her all-time favorite character of the show was Noah. And if she was given a chance, she would choose to play Noah.
In this article, we will discuss Lisa Vicari's favorite character Noah from the series Dark.
Who is Noah in the Series 'Dark'?

Younger Noah (right) and Elder Noah (left) from Netflix series Dark (Photo: Twitter)
Noah is one of the prominent characters in the series Dark. In the series, he follows Adam's prophecy as one of the members of Sic Mundus. He was born to Bartosz and Silja Tiedemann in 1904 as Hanno Tauber.
Versions Of Noah
There are two different-aged versions of the character: young Noah is played by Max Schimmelpfennig and elder Noah is portrayed by Mark Waschke (elder Noah). 
Noah's Plots
Noah is a pastor of Saint Christopher church in the years 1953 and 1986. Plus, he is also the one who is behind the abduction of the town's children.
He abducts children with the help of Helge Doppler to use them on the time-travel experiments he conducts on the chair in a bunker. In that process, Noah and Helge kidnap Mads Nielsen in 1986, and Erik Obendorf and Yasin Friese in 2019.
However, Noah fails his experiment which results in the death of those abducted children in process of time-travel via the chair in the bunker. The failed experiment transports Mads Nielsen's body to the year 2019 and Erik Obendorf and Yasin Friese's bodies to the year 1953.
Besides that, Noah also constructs the time travel passage in the year 1921 inside the Winden caves. He constructs the passage with his father Bartosz on the instructions of Adam. But on a surprising turn of events, Noah also murders his father Bartosz when he learns that Bartosz had lost his faith in Adam's prophecy.
After killing his father, the teenage Noah meets his mysterious future-self Noah, who sends him to the year 2020 on the day of the apocalypse. There, the rookie meets Elisabeth Doppler and her father Peter Doppler for the first time.
Later, when Peter gets killed by a thief, teenage Noah gives shelter to Elisabeth and tells her about the prophecy of the future paradise. The two eventually get married after living together for decades. Together, they give birth to a daughter named Charlotte.
In brief, Noah manipulates people to complete his purpose of elevating humanity by controlling time travel. He believes time-travel would re-arrange events and undo the pre-determined cycle of suffering. Hence, he makes an experimental time-travel chair and abducts children which makes him a shady villain of the show.
Why Lisa Vicari Favourites Noah?
During the video interview with Egypt's NileFM, Lisa Vicari disclosed that her all-time favorite character from the Dark series was Noah. Elaborating her answer, she said that the mysterious element and different layers of Noah's character make him her favorite.
There are so many amazing characters in the show. But one of my all-time favorite characters is always Noah because he is so mysterious and he has so many different layers in his character.
Further, the actress, who also plays a prominent role in the series Dark, told that Noah's character unfolded in a different angle altogether in the third season. And that different angle made his character even more complex, yet, entertaining to watch.
Lisa Vicari's Character In Series 'Dark'
German actress Lisa Vicari plays a high-school teenage girl named Martha Nielsen. Initially, she is muddled between her family and relationship complications due to a supernatural time-travel twist.
As the series progresses, we get to see Martha from an alternate 'parallel' world who plays a great role in repeating the cycle of pain and suffering. But in the end, Jonas and alt-Martha (played by Lisa) find a way to end the cycle and undo all the pain and suffering of hers and Jonas' world.
Related: Read how Jonas and alt-Martha end the knot and delivers a satisfying end to the series.  All three seasons of Dark is streaming on Netflix.