Zawe Ashton Pregnant with Her First Baby Just Months after Tom Hiddleston Engagement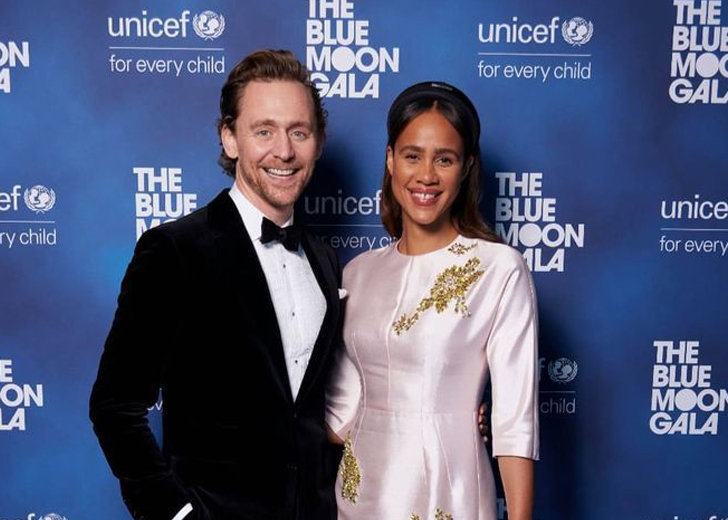 Zawe Ashton and Tom Hiddleston are about to be a family of three!
The Mr. Malcolm's List actress and the Loki actor are expecting their first child together. Their baby announcement came on the red carpet of Mr. Malcolm's List premiere in New York City on June 29, 2022.
It wasn't a written announcement, though. Ashton's baby bump was enough to speak volumes.
Zawe Ashton's Spectacular Announcement about Being Pregnant
Ashton graced the red carpet of her movie's premiere in New York City, sporting an amazing sparkling custom dress and a conspicuous baby bump.
The photographers and the reporters from the event, however, were far from being the first to know about her pregnancy. The first to know was the designer of her "beige bead-embellished tulle gown," as Vogue put it, Sabina Bilenko.
After Bilenko in the pecking order was Vogue magazine, who got to see Ashton get ready for her special night made even more special by her baby bump and the announcement she was going to make.

Zawe Ashton in her custom Sabina Bilenko Couture gown for the premiere of Mr. Malcolm's List in New York City on June 29, 2022. (Photo: Instagram)
Vogue documented her entire getting-ready process, including her hair and makeup, as well as her dress, jewelry, and shoes for the occasion.
The result was a stunning Ashton, who Bilenko gushed about, saying, "the way she carries a look on the red carpet is unparalleled."
Ashton gave no further details on her baby, like the due date. The actress hasn't posted anything about her pregnancy on her social media, either, further adding to the mystery.
Back in 2019, she revealed she wanted kids but added she wasn't ready to have one then. It appears that she is now as ready as she can be.
Zawe Ashton's Relationship and Engagement with Tom Hiddleston
Ashton and Hiddleston have been reportedly dating since 2019. Their relationship probably began after starring together in that year's film, Betrayal.
He has never confirmed this, though. Hiddleston is a very shy, or rather, reserved person when it comes to his personal life.
The news about Ashton being pregnant comes just months after the couple's engagement rumor, which was later confirmed.
Midway through March 2022, speculations started that said Ashton and Hiddleston were engaged. It began after AJ Odudu posted a selfie with Hiddleston and Ashton from the 2022 BAFTAs on her IG story.

Zawe Ashton with AJ Odudu and fiancé Tom Hiddleston at the 2022 BAFTAs in March 2022. (Photo: Instagram)
In the picture, the couple was standing behind Odudu, Ashton had her left hand on Odudu's left arm, and people spotted a big ring on THAT finger of hers.
It stayed a rumor for a few months until Hiddleston finally confirmed the engagement in June 2022, during an interview with The Los Angeles Times. In that interview, too, though, the Loki actor was rather shy about it.
"I'm very happy" was all he could say. The LA Times speculated it was perhaps his heavily publicized short romance with Taylor Swift in 2016 that made him reserved about his current relationship.