Engagement Alert! Zawe Ashton and Tom Hiddleston Are Engaged as the Actress Flaunts a Massive Diamond Ring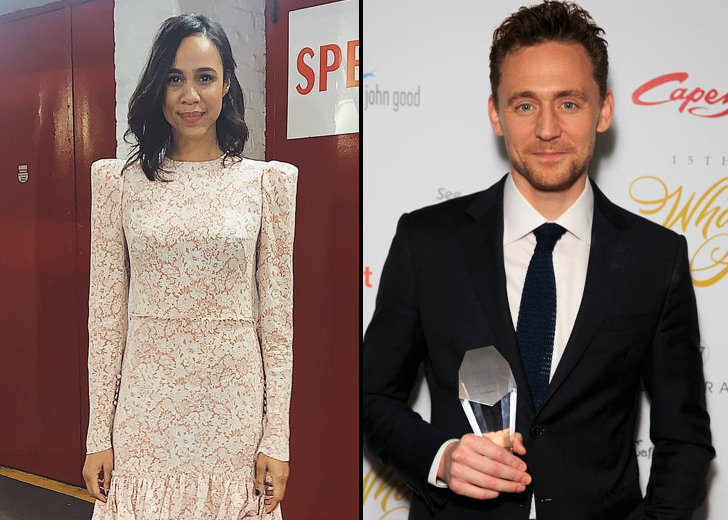 Zawe Ashton and Tom Hiddleston are officially engaged now.
The exciting news was confirmed just a few days after the Fresh Meat actress and the Loki star sparked speculation at the 2022 BAFTA Awards on March 13, 2022.
At the event, Ashton was photographed with a diamond ring on her left hand, while the pair held hands on the red carpet.
Zawe Ashton Clicked with a Diamond Ring
Ashton, however, tried her best to hide her stunning diamond-encrusted ring from photographers on the red carpet.
But later, in the ballroom of London's Grosvenor Hotel, the couple caught up with the TV personality AJ Odudu who snapped a picture that showed the diamond ring.
In the pictures, the actress was wearing a stunning flowing pink gown over her hand — apart from her shiny engagement ring. On the other hand, Hiddleston looked handsome in his black tuxedo and pants.
If flaunting her ring at the BAFTA wasn't enough to spark the speculations, the couple was also reportedly congratulated by industry friends.
Zawe Ashton and Fiance Tom Hiddleston Began Dating in 2019
Ashton and her fiancé Hiddleston were first linked to each other back in 2019. The dating rumors started following their meeting on the set of the West End's 2019 production of Betrayal.
"We were really lucky that we, on day one, had an incredible trust," the actress said during a conversation with AOL's BUILD series in November 2019 about working with Hiddleston and co-star Charlie Cox.

Zawe Ashton and her fiance Tom Hiddleston at an event. (Photo: Twitter)
"I feel a core connection to these people and it's because I can feel how open we are. I can feel the trust that we have."
Sometime later, they were done with their work on Betrayal, the couple reportedly moved in together in Atlanta, Georgia.
However, it wasn't until the Tony Awards in September 2021 that the pair confirmed their relationship as they walked the red carpet arm-in-arm and posed together inside Radio City Music Hall.
They Are Now Thinking of a Future Together
In a recent report by Us Weekly, an insider told the publication that the newly engaged couple was looking to build a long-term future together. 
The report further explained that they were hugely ambitious individuals but still "make time to relax and switch off from work as often as they can."
As per the source, their dedication to both their craft and their downtime has helped them better "recharge their batteries" and gives them "a chance to keep building" on their romance.
That said, Hiddleston is a "very private" person when it comes to his love life, which is probably the reason behind him taking his time before going public with Ashton.
But the pair's choice to keep their romance away from the spotlight apparently hasn't put a damper on their date nights.
And while the two Hollywood stars "love the finer things in life," they also enjoy letting their hair down from time to time.
"They also love to let loose and rock out with friends, whether it's at a house party or heading to a local bar or restaurant," the source told Us Weekly.
Now, fans are only waiting for the couple to go a step further in their relationship and announce their wedding soon.