Surprise! These 10 Male Celebrities Are Shorter than You Think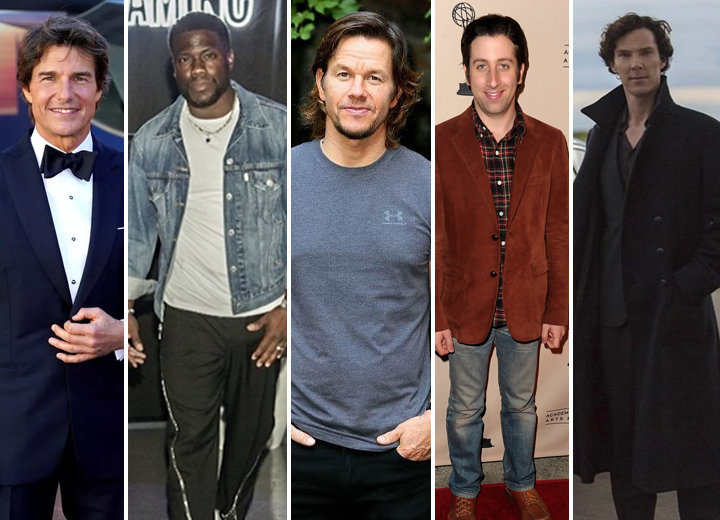 Don't be fooled by what you see on the screen, for we all know that looks can be deceiving in Tinseltown. 
Thanks to the movie magic, short celebrities appear larger than life on screen. A big presence in a movie or a career could make one think the actor might have the height to match, but it is not true. 
In Hollywood, there are no shortages of short male celebrities, and here are the ten actors who are short in real life. But let us reiterate that no matter how short they are, we love them either way. 
1. Tom Cruise 
Height: 5'7" (1.7 m)
We had to start the list with not only the most famous actor but one of the most famous short male celebrities — Tom Cruise. 
Despite his stature, Cruise has been terrorizing villains and strutting away from billowing explosions like the suave hero that he is. 
He has also married some of the most beautiful women who are taller than him, like Nicole Kidman, who is 5'11", and Katie Holmes, who is 5'9".
2. Kevin Hart 
Height: Around 5'2'' (1.57m)
Kevin Hart doesn't care how short he is. He is always making fun of his height in public. 
That being said, he has rarely talked about his exact height but has jokingly tweeted several times he had gotten taller.  
3. Mark Wahlberg 
Height: 5'8" (1.73 m)
While Mark Wahlberg's 5'8" isn't considered short for some, in Hollywood, with actors towering above 6 feet, he is unfortunately regarded as short. 
His height might not help much, but his ripped body commands authority over the bad guys he is up against in his action-packed movies.   
4. Simon Helberg
Height: 5'4'' (1.62m)
Simon Helberg catapulted to fame as Howard Wolowitz on The Big Bang Theory. 
But thanks to his other co-stars, who were not much taller than him, his short height didn't stand out much. He was only an inch shorter than John Galecki and three inches shorter than Kunal Nayyar.
5. Martin Freeman
Height: 5'6½" (1.69 m)
Martin Freeman looked way shorter than he was on Sherlock. He was four inches shorter than his co-star Benedict Cumberbatch and the height difference only made him appear shorter. 
6. Daniel Radcliffe 
Height: 5'5" (1.65 m)
Daniel Radcliffe is not tall, and he knows it.
When Playboy asked the Harry Potter star if his height held him back in Hollywood, he noted it did not and referenced Dustin Hoffman and Tom Cruise, who have had successful careers despite their stature.
The actor added it was about finding a role that suited him. 
7. Robert Downey Jr.
Height: 5'8½" (1.74 m)
Robert Downey Jr. was the first Avenger shorter than Ant-Man, played by Paul Rudd, who is 5'9". 
According to reports, Downey had to wear high heels while filming to create an equal height with other tall co-stars. 
8. Ken Jeong
Height: 5'4" (1.63 m)
At 5'4", Ken Jeong is five inches shorter than the average American male. While his height might be below average, his success certainly isn't. 
His estimated net worth is $14 million, much of which he earned performing as an actor and comedian. 
9. Michael J. Fox 
Height: 5'4¼" (1.63 m)
At 24 years old, Michael J Fox famously starred as the high schooler Marty McFly in Back to the Future. Even then, Fox was a short adult kid.
10. Rob Schneider 
Height: 5'3'' (1.61m)
Rob Schneider has starred in several comedy blockbusters like Hot Chick, The Animal, Big Stan, and more. 
It shows you don't need to be tall to be funny or have a successful comedic career in Hollywood.